Change starts here: Amsterdam mayor pledges new city style
Senay Boztas
The mayor of Amsterdam tells Senay Boztas why she wants to ban tourists from coffee shops, move the red light district and create a new model for public service government
There is a paradox of tolerance playing out on the streets of Amsterdam. Its internationalism, free spirit, compact size and buzzing city life have brought prosperity…and problems.
'I think Amsterdam has always been international, a city that has welcomed minorities, cultural opinions, a city keen on tolerance,' says Femke Halsema, mayor of the Dutch capital.
'We have a huge expat community, and a huge international student community. When you walk through the city centre, the language is English. That's one of the traits of Amsterdam but it's also becoming a little bit of a problem.'
This is where she wants to start, over morning coffee and canal house cookies at her official Herengracht residence, outlining both the challenges and her vision for the future of the city.
Tourism
'I think, in reaction to the economic crisis of 2008, Amsterdam probably sold itself short,' explains Halsema. 'We were longing for many more tourists and international travellers, and it changed the atmosphere. Not because of the amount of people but the kinds of people that were attracted to Amsterdam.
'[Karl] Popper said it's the two sides of tolerance, the paradox of tolerance. People come to Amsterdam because of the tolerance but show behaviour we cannot tolerate, behaviour we should call immoral, that they wouldn't show at home.
'If it we go on like this, I think in 10 or 20 years, people will no longer be living in the inner city. They will have moved out because they can't afford it, because the atmosphere is too common, because the city has become too dirty…in all of the senses.'
Winding back the clock, Halsema, Amsterdam's first female mayor, was selected in 2018. A year later, when tourists stayed overnight 18.4 million times, the city faced a crisis of 'over tourism' (which now appears to be back).
Two years of pandemic have seen riots and anti-racism protests that led to police action and questions about whether the mayor was getting the balance right in facilitating public protest while maintaining public order. Organised crime, meanwhile, is a national problem, played out most visibly on the streets of Amsterdam, with the recent shootings of a journalist and lawyer connected with a major gangland trial.
Drug law
In her time as mayor, responsible for public order and the inner city, Halsema has perhaps attracted the most attention for attempting to crack down on criminality, move the red light district to an erotic centre, and attract a more mannered tourist.
She is currently trying to shrink the size of the cannabis sector by enforcing a national residents-only law for 'coffeeshops'. The mayor, and others, think the open sale of cannabis in coffeeshops attracts some unwelcome visitors.
'They come to Amsterdam, they drink too much, they get stoned, do not reserve a hotel but stay out all night, they humiliate the sex workers, and they make a lot of noise,' she says. 'So for the people living in the inner city, it's not liveable any more. This is UNESCO world heritage. We are very proud of the history of our city, [it] deserves people behaving… and the beauty of the city also.'
Halsema – who supports legalising cannabis completely – believes the first step is to go residents-only. 'Most people in Amsterdam have always loved the inner city and its tradition of freedom, sex work, nightlife and, yes, there was also drugs,' she points out. 'It was all on a small scale, for Amsterdammers, Dutch people looking for freedom and a small avant-garde of international people who also loved the atmosphere of freedom. But now it has changed, commercialised, there is much more money involved and other tourists are attracted to it.
Temporary tourist ban
'One of the things that really needs to happen is that the market in soft drugs, especially in Dutch weed, needs to shrink. The market is too big, too hot, with too much money and also criminal money going around.
'It's very difficult for us to legalise the market and I would love for us to legalise the market. So that's the reason that temporarily I would like to introduce the "inhabitants' criterium" to calm the market down and make it exclusively for inhabitants of the city – which can also be international students.'
Her proposal – rejected by the city council in October – has provoked a debate which the former MP and GroenLinks leader welcomes, even if she can impose the rule without a city vote. 'I wouldn't do it without the city council, because it is culturally, economically, socially really ingrijpend [far-reaching],' she says.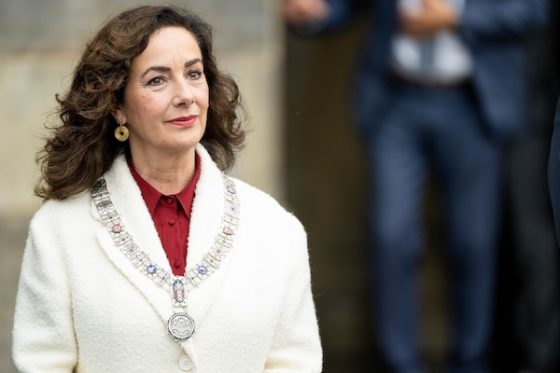 'You change your city while doing it. I don't think the mayor's mandate is big enough to do it on my own. I really need the democratic support and there is none at the moment.'
Erotic centre
Prostitution is another issue: to improve inner-city life, reduce the influence of organised crime and improve sex worker human rights, Halsema wants to move 100 brothel windows to a glamorous erotic centre elsewhere in the city. A shortlist of eight locations were not keen, so she hopes to present a new three to the council in December.
'Dutch policy differs very much from other countries, because prostitution is legal,' she explains. 'I was a member of parliament when the law passed, and I was really very much in favour. There are a lot of men who want to go to sex workers, if you criminalise the sex workers, they have to go underground, they become more vulnerable to violence, to trafficking. And part of prostitution being legal is the red light district.'
Halsema has a seductive vision of a new erotic centre inspired by the Bas Luhrmann film, Moulin Rouge. 'I think for a very long time, there was a romantic vision of the red light district of Amsterdam,' she says. 'It was more or less local, although there were sailors going to those proud, Dutch women who shoved them out in the street if they were violent.'
It has changed because 80% of the women working there are foreign and we do not know much about their background. And the clients have changed. Most people going to the red light district are not going to visit a prostitute. They are just going to look.
'I'm not interested in diminishing or reducing the amount of legal sex workers because I know that there will be more illegal sex workers. But it's important in future that sex work is out of the atmosphere of crime, of shame. I hope it's possible to create an erotic centre that has some class and distinction and isn't a place where only petty criminals, the most vulnerable women gather but also people who are not ashamed to go there…
'But now reality kicks in of course,' she chuckles, wryly, 'and I'm a realist. But I think you need the idea, to [build] some support.'
Trust
Support, she acknowledges, is a bit of an issue right now. Trust in government is at historic lows and there was a poor turnout at local elections in March. The Amsterdam ombudsman this year criticised a punitive, hard-of-hearing administrative culture where citizens too often hit a brick wall of bureaucracy. According to the local audit office, the last coalition government failed to deliver a third of its promises. Halsema, who sees herself as an outsider, a long-term member of the democratic opposition, wants things to change.
'I think as mayor, I do have a responsibility,' she says. 'Of all European countries, the Netherlands has been one of the most Anglo-Saxon, influenced by the idea spread by Reagan and Thatcher that there is no such thing as society, that public services have to be privatised and you can distrust your own people, creating bureaucracy and laws that punish people…
'I think we paid a price. We paid the price of our own distrust. The way we made our rules, the way we created a system of local judiciaries was not friendly, or was even a little hostile towards its own inhabitants. Being a mayor, your inhabitants are very close, you are much more aware of the pain. It makes the responsibility to change bigger.'
Change
The mayor has, she says, changed Amsterdam's complaints procedure and the way it structures legal procedures, aiming to 'rethink' the way government and inhabitants interact. 'I think the willingness to change in Amsterdam government is huge,' she says, thoughtfully. 'All the aldermen acknowledge we do not want to go on like this, we do not want legal procedures with our own inhabitants, we want, through mediation, to be dienstbaar [of service]. We want to reinvent public service!"
A recent attempt to invite mosques to sign a declaration denouncing violence towards sexual orientation minorities was dropped due to a lack of reciprocal enthusiasm, but the mayor feistily defends her efforts.
'A good fight is part of the game and it's not such a problem to me. It's also good that people speak out,' she says. 'As a governor, I'm not part of the governmental traditions in Holland. I have been part of the democratic opposition for quite some time. I come from a different tradition and a different culture, and I'm not afraid to speak out or to debate – or to be wrong sometimes. I like an open and public debate.'
Not everyone agrees with the couple (out of 1,600 annual) demonstrations that are banned, she acknowledges, especially when the subject is distrust of government: 'I think more protest is directed towards the organisation of government itself. For the past decades, most decades were against huge societal subjects: war in Iraq, climate, living conditions. But now, very often the subject of protests is distrust of government. Then your role as a mayor is difficult. You have to be very careful in how you operate and you have to explain a lot.'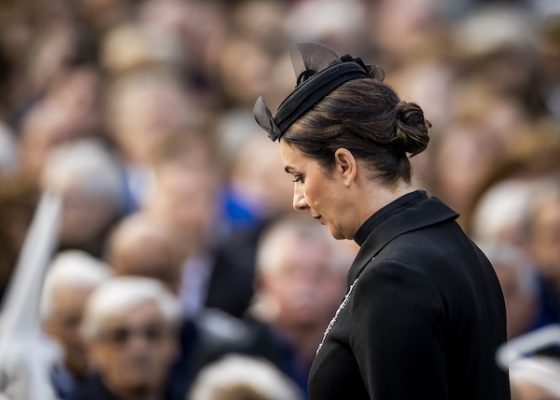 Be wrong
Still, the mayor says restoring civic trust begins with government changing its act:  'We have to change and then we may hope that people will trust us again. The most vulnerable citizens in Amsterdam, as everywhere in Holland and internationally…distrust the government. They are also vulnerable to our bad policy. We have to become more open, more talkative instead of authoritative. We also shouldn't be afraid to be wrong, to change our opinions, to listen to our citizens and if they are right, change our policy.'
Will she succeed? Some of Amsterdam's problems – criminality, for a start – are difficult to tackle without authoritarian action; some commentators suggest the city should concentrate on boring but broken city services, like rubbish collection, before thinking too big.
The dying wish of late mayor Eberhard van de Laan was for Amsterdammers to be kind to the city – and to each other. Halsema jokes about not wanting to bite on the Eberhardje biscuits made in honour of his message…but what would her one be?
She doesn't have to think for long: 'I would love to repeat the message of the former mayor, but let me add one, and it's a poem by Charles Bukowski: Style is the answer to everything.
'If you walk through life, you have to be kind, but if you meet people who are unkind or you really do not like… be gracious. I think in a democratic society, in most Western societies, most people are afraid of intimidation, threats, towards governments but also towards each other, and that's even more painful and damaging to democratic debate. Give the one who has a radically different opinion from yours some room. You can only differ in opinion if you have some style, if you are gracious.'
Thank you for donating to DutchNews.nl.
We could not provide the Dutch News service, and keep it free of charge, without the generous support of our readers. Your donations allow us to report on issues you tell us matter, and provide you with a summary of the most important Dutch news each day.
Make a donation