"The whole peak polluters story has been decisively debunked"
Gordon Darroch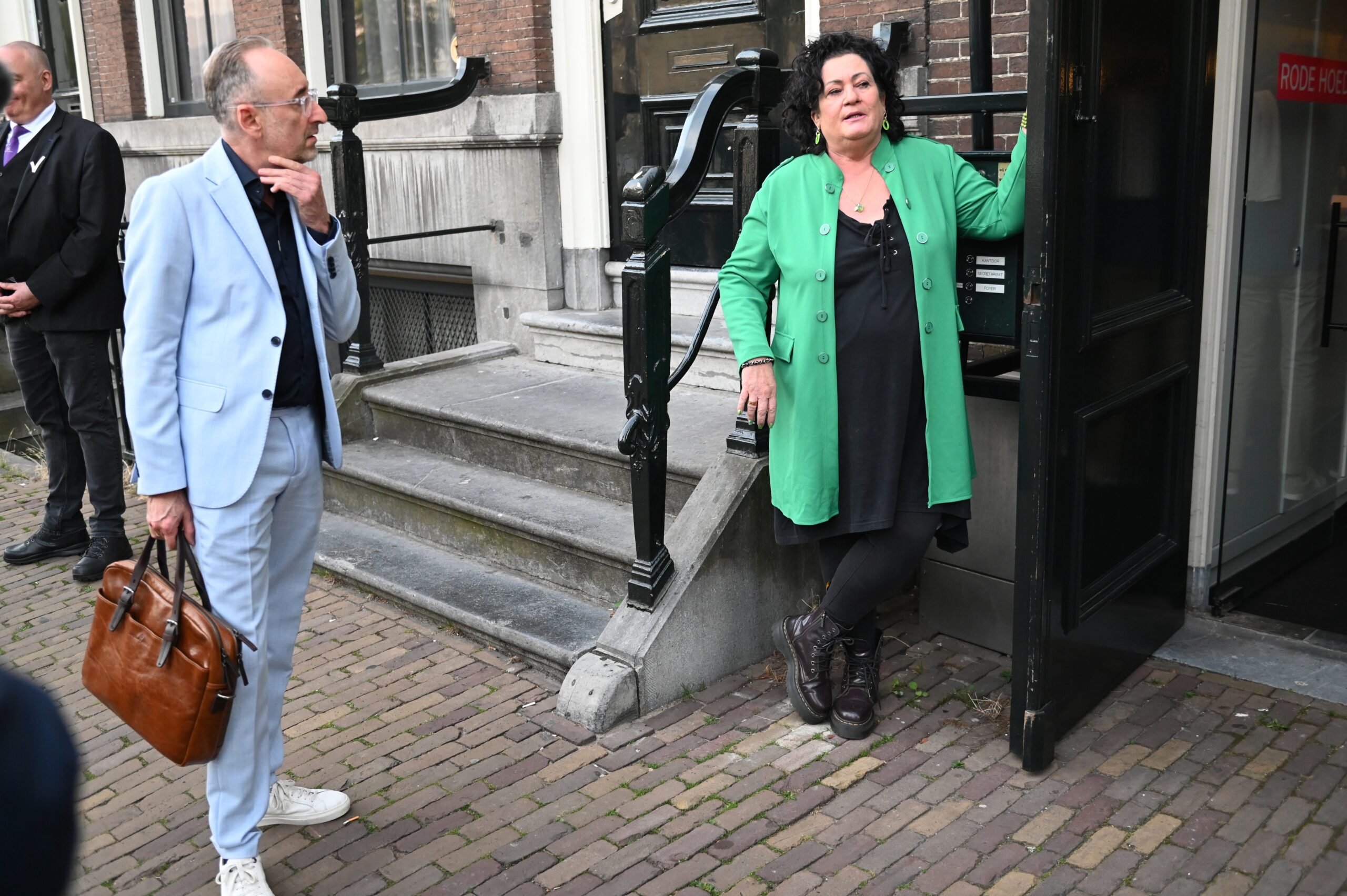 Henk Vermeer, fourth placed on the BBB list of parliamentary candidates, has been involved with the fledgling party since the very beginning. He believes government should behave like a good neighbour, but it should also have "respect for people's possessions".
For a party that emerged in tandem with the tractor protests, things have moved fast in the last four years for the Farmer-Citizen Movement (BoerBurgerBeweging).
If it was a surprise when its leader, Caroline van der Plas, won a seat in parliament at the 2021 general election, the BBB's victory in the provinces last March, when it became the largest faction in each of the 12 regional assemblies, was a landmark moment.
When Mark Rutte's government abruptly collapsed in July over the issue of migration, the party was challenging Rutte's right-wing liberal VVD at the top of the opinion polls. The question of who Van der Plas might propose as prime minister – she herself had no appetite for jumping on planes to Washington, Berlin and Tokyo – was a hot topic in The Hague during the eight-week summer recess.
But in the two months since MPs resumed their duties the BBB's campaign has spluttered. Van der Plas was unable to persuade the former Christian Democrat MP Pieter Omtzigt to team up with her party. And when Omtzigt launched his own faction, Nieuw Sociaal Contract (NSC), at the end of August, many of the former CDA voters who had switched to the farmers' party in March went with him.
The Dutch media, which had given the BBB largely favourable coverage during the farmers' protests and the provincial election campaign, started to take a more critical approach, epitomised by an interview in the popular Telegraaf newspaper in which Van der Plas struggled to answer questions about the party's spending plans and was quoted asking to be bailed out by her campaign manager and fourth-placed candidate, Henk Vermeer.
Next step
"In hindsight we should maybe have postponed that interview," Vermeer says ruefully. "It came in a week when a lot of things happened. The problem is that since the provincial elections we've had to perform as if we're the biggest party in the Netherlands, but we still have the budget of a one-seat party. That means having to do a lot with very few people."
Rutte's government collapsed just three weeks after the BBB's 16 senators took their seats in the upper house and while negotiations in some provinces were still ongoing. On the one hand the campaign has come earlier than the party would have liked, but on the other hand, says Vermeer, "it's not too early, because this is exactly what we need to take the next step."
Even if the BBB ends up with around 10 MPs, it will represent a big jump from their single seat in 2021 and the four they have held since three MPs defected from the far-right PVV and JA21 in September.
"We always said the perfect scenario would be to grow steadily to four or five seats in 10 years," Vermeer says. "Nobody expected our win in the provincial assemblies: the opinion polls only indicated it in the last few days. We thought we might be the biggest party in five provinces, but to win them all went far beyond our expectations. The press didn't expect it, the other parties didn't expect it and we didn't expect it."
Senate block
Vermeer is optimistic that the BBB will pick up votes in the last days of the campaign now that the commotion around Van der Plas has died down. She has sharpened her criticism of Omtzigt in recent weeks, even going so far as to accuse him of "D66 language" – about the worst insult in the BBB's political lexicon – with his plan to trim the dairy cattle herd by 10%.
But Omtzigt remains her preferred coalition partner, even though she acknowledged when NSC was launched at the end of August that it would cost the farmers' party votes.
The BBB's presence in the senate, whose support is required to pass all legislation, will give a big say in the shape of the next government no matter how many seats it wins on November 22. "There's no way to form a cabinet without us," Vermeer says. "It's going to be interesting, especially as NSC have no seats in the upper house."
Frans Timmermans's recent decision to abandon the accelerated deadline of 2030 for cutting nitrogen compound emissions is an admission of that reality, argues Vermeer. The leader of the left-wing alliance of Labour (PvdA) and GroenLinks told a TV debate that he had come to the realisation, while talking to young farmers that protecting nature was the priority, not setting target dates. Vermeer raises an eyebrow: "It's easy to be cynical, but it was odd that they put in their manifesto in the first place. At best you can say they had something they could exchange if they wanted to do a deal with us."
'New nitrogen law'
Another factor that makes 2030 an impossible dream is that the BBB is determined to redraft the entire nitrogen law, which has barely been an issue during the campaign. "All the ministry has done so far is draw up a buyout regulation, but all the other steps that need to be taken to enable innovation, management reforms and so on, haven't happened," Vermeer says. "Everything's come to a standstill. So the uncertainty for farmers is as big now as it was at the start of the year."
The BBB says the critical deposition value – the measure used to assess whether the level of ammonia and nitrous oxide in conservation areas exceeds European limits – is discredited and should be replaced. That would leave the last cabinet's detailed plans to buy out 6,000 "peak polluters" – a recommendation made by the government-appointed troubleshooter Johan Remkes after consulting with all parties a year ago – in tatters.
"There is no legal basis whatsoever for expropriating farmers," Vermeer says. "The whole peak polluters story has been decisively debunked by scientific research. The first priority for agriculture has to be a new, revised nitrogen law, because that is what's holding everything up and denying businesses a future."
Founder member
Vermeer, 57, was one of the three founders of the BBB, together with Van der Plas and Wim Groot Koerkamp. They met for the first time in July 2018, a year before the farmers' protests got going.
"During that introductory conversation we talked about how there are campaign groups and organisations representing interests, but we felt that the countryside in the broad sense got too little attention. We had all kinds of problems with laws and rules and policy decisions in The Hague, and if The Hague wouldn't come to us, we'd have to go to The Hague."
They rejected joining an existing party such as the Christian Democrats (CDA), which has historically had strong support in rural areas, because it did not offer the "counterweight" they were looking for. "We thought the established order was ignoring both the countryside and the agrarian sector and its interests, and we had the sense that a lot more people thought like us, so we'd be better off starting our own political party," Vermeer says.
His own political career started in Harderwijk, Gelderland, where he was chairman of local football club Zwart-Wit '63. "We wanted to put down artificial grass at our complex and needed funding from the municipal council. That's how I got involved."
More recently he was leader of local party Harderwijk Anders, which became the largest group on the council in 2022 with 10 of the 29 seats and formed a four-way coalition with the CDA, ChristenUnie and D66. "Politics is a means, not an end, but it's the best way to tackle things you think should be done differently," he says.
CDA heritage
The BBB's manifesto clearly owes much to the CDA's political heritage: it is a conservative programme, cautious on public spending but also determined to check the individualism that has been a hallmark of Mark Rutte's 13 years as prime minister. The welfare state should be a safety net but not a substitute for personal responsibility. At the heart of the BBB's plan is the idea of noaberschap, a term taken from the dialects of the eastern provinces that denotes a small, close-knit community.
"The government should behave like a good neighbour, but it should also have respect for people's possessions. It should be a safety net for people who can't manage but a trampoline for those who want to develop themselves," Vermeer says.
Like most parties, the BBB says the tax and benefits system needs to be simplified to support working people, but it is not a redistributive plan. "We've said the minimum wage should rise to €16, but not too quickly, because then you get a wage-price spiral if companies have to factor in the costs in consumer prices," says Vermeer, who is the party's spokesman on economic affairs.
"But what we really need to do is overhaul the whole allowances system, because it doesn't stimulate labour market participation. We need to make it much more attractive for people to work a few more hours, so that we can limit labour migration, make sure there is less pressure on the housing market and improve people's spending power."
Migration limits
Limiting migration is another conservative trend in the BBB's manifesto. Vermeer would introduce an "orange card" system for skilled migrants, modelled on the US green card, with more temporary visas for people in specific sectors – predominantly technical and agricultural workers to maintain food security.
Other migrants, including international students, should be limited. "We want to introduce quotas, because it doesn't add much to the economy if we have people from Vietnam coming here to study philosophy in English."
Vermeer supports abolishing the 30% tax rule for expats, which allows people recruited from abroad to work in the Netherlands to receive a share of their income tax free, even if it means companies have to raise their wages to stay competitive.
"It means the Dutch government saves money that it can spend on combating poverty," he says. "And why should your neighbour, who happens to come from another country, work for an international company and already earn a high wage, get an extra tax advantage?"
Students
Student migration is an example of the perverse financial incentives that have evolved during the VVD-led cabinets, Vermeer says. "Research has shown that only students who work here are valuable to the Dutch economy. It's part of the universities' funding system, but there are no rules that say they have to provide their own housing, for example.
"Employers have to take responsibility for housing labour migrants, but that doesn't apply to student migrants. I think the biggest problem with foreign students is the pressure on the housing market, the healthcare system and our public services."
The BBB wants to set a net limit of 15,000 asylum seekers per year, but unlike Pieter Omtzigt's Nieuw Sociaal Contract does not advocate a total limit on migration. Vermeer also acknowledges that some foreign workers are needed to plug the recruitment gap, particularly with an ageing population in which deaths are starting to outnumber births.
"We're not against migration, but we need to bring things under control," he says. "If your have a leak in your house you don't keep the tap running. You mop up, you find the leak, you fix the problem and then you can turn the tap on again."
Energy saving
Unsurprisingly, the BBB is critical of the last cabinet's ambitious plans to combat climate change. Its manifesto points out that the Netherlands is responsible for just 0.4% of global CO2 emissions and calls for a wider distribution of energy transition funding so that small businesses and households benefit more. "You can't be green if you're in the red," is one of its catchier slogans.
"The households where you can make the most gains on energy saving are often people in rented social housing, but also companies who see their taxes go up while they're trying to invest in sustainability," Vermeer says. "Those things cancel each other out. We need to make real choices: we can scale up our climate ambitions, but that's bad for the energy costs of businesses and individuals. It's better to make sure people have money to spend so they can do their bit for the transition."
The BBB is one of the parties that favours nuclear power as a replacement for fossil fuels, rather than building more wind farms on land and at sea. "A nuclear power station takes up one hectare of space, but to produce the same amount from solar you need 4,000 hectares, or a 3,200 hectare wind farm," Vermeer says. "We need a strategy for a densely populated country, not the Sierra Nevada."
Solar panels should be placed on roofs before fields: the BBB would restore the mechanism that allows solar panel owners to sell energy back to the grid. "We want to follow the solar ladder: first fill the roofs, then the verges and only as a last resort use agricultural land or nature reserves," Vermeer says. The BBB also say the hothouse industry and farmers, seen as major polluters, could be part of the solution by feeding excess energy and biomass into local heating networks.
'Abstract' political terms
Vermeer bristles at the term bestaanszekerheid, which has become a buzzword during the election campaign at the instigation of Omtzigt. "It's a political term that says nothing to the average citizen," he says. "They want to know if they've got enough money to go round. Can I afford my groceries? Can I pay for my petrol?"
Modish political terms distract from the basic duty of government to ensure work pays, taxes are fair and support goes to people who most need it, Vermeer argues. "It turns it into something abstract: you can talk about 'security of existence' and set figures and targets, but it comes down to how much you earn and how much tax you have to pay."
Previous interviews in this short series
ChristenUnie's Don Ceder: We're not against labour migration, but the balance has skewed
D66's Mpanzu Bamenga: It shouldn't matter who you are: everyone deserves a future
CDA's Eline Vedder: If I feel something is unjust, I want to do something about it
Thank you for donating to DutchNews.nl.
We could not provide the Dutch News service, and keep it free of charge, without the generous support of our readers. Your donations allow us to report on issues you tell us matter, and provide you with a summary of the most important Dutch news each day.
Make a donation