"It shouldn't matter who you are: everyone deserves a future"
Gordon Darroch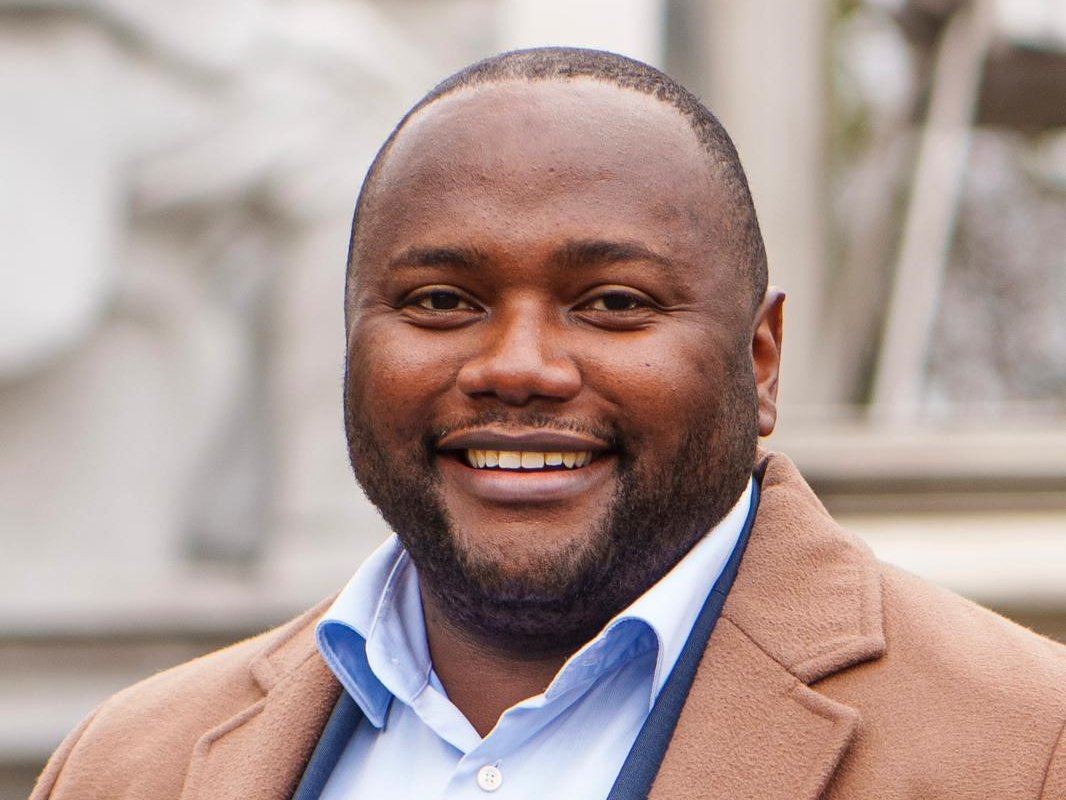 Bestaanszekerheid – the need to ensure a basic standard of living for all – has become one of the buzzwords of the general election campaign. But few candidates know the reality of living without it like Mpanzu Bamenga.
Bamenga, ninth on the list for D66, came to the Netherlands in 1994 at the age of eight, when part of his family fled from the Democratic Republic of the Congo, then known as Zaire. His sister, Irene, was raised separately in France and later emigrated to the US. Mpanzu ended up in the Netherlands with his mother and youngest brother – the oldest 12 siblings stayed in Congo with their father.
After a year in refugee accommodation the family moved into an apartment in Veldhoven, a satellite town of Eindhoven. But two years and eleven months later their asylum application was unexpectedly refused.
"That was the spark that lit my fire," Bamenga says. "I was 11 years old and I was the person who had to read out the letter to my mother saying we had been refused. And I said: 'This isn't fair'. It shouldn't matter who you are or where you come from: everyone deserves a future, and I wanted to do something about it."
It would take 13 years for Bamenga to grow up, go to law school and overturn the immigration service's decision. And all that time he had no legal status in the country. "I had to live with limited rights: you can't work, school ends when you're 18, you can't get health insurance and your freedom of movement is restricted. Every day you live with the uncertainty that you might be picked up and thrown out of the country the next day. So I know what injustice is and I know what poverty is."
Bamenga saw his salvation in education. He studied first to be a legal assistant, defying the advice of his school. "I had the scores to go to college, but my teacher said: 'you're from Africa, it would be good for you to do something with your hands.'"
Next he started a vocational law degree, but as an undocumented person he had no access to student finance. "I couldn't work but I still had to pay tuition fees. I was in a band, so I made music to earn money. I was taking legal action against the state for the right to stay here. And I had to care for my mother."
Bamenga won his case against the government with a last-ditch appeal to the justice minister, Ernst Hirsch Ballinn, after the immigration service had sent the family a letter giving them eight weeks to leave the country. After a 13-year fight he had finally earned the right to stay in the Netherlands and pursue a career. The experience made him determined to campaign against injustice and inequality on behalf of others.
"It was my first successful legal case and it gave me the opportunity to have a future. That was the moment when I said: OK, I want this for other people. I want everyone's voice to be heard and to fight for people who can't stand up for themselves."
He went into local politics in Eindhoven, spending eight years as a member of the city council for D66. He set up a "bed and board" regime, providing basic food, shelter and support services for people who had been refused asylum but were unable or unwilling to return to their countries of origin, which was extended to five cities.
And he founded Incleaders, a networking organisation that invites speakers from various countries and sectors to share ideas and hold debates. Bamenga sees the progressive-liberal D66 as a natural fit for his ideals. "I'm somebody who holds out the hope of a fair world and that is absolutely what D66 stands for."
Earlier this year Bamenga won a landmark ruling from the Court of Appeal when it found that the Dutch military police, the Marechaussee, had discriminated against him by selecting him for extra screening at passport control in 2018 on the basis of his skin colour. In court it emerged that the border guards at Eindhoven airport had picked him out because he looked like a "Nigerian money smuggler".
A lower court had found that ethnic profiling was an acceptable form of border control, but Bamenga appealed, supported by a coalition of human rights groups including Amnesty International and Control Alt Delete. The court ruled that the border police had breached his rights under ECHR.
Proactive in tackling racism
The fact that it took five years to have ethnic profiling ruled illegal shows both the strength and weaknesses of the system, Bamenga said. "It shows the system works – that I as an individual, supported by various human rights organisations, can hold the state to account.
"But it also shows it should work better. The government needs to be more pro-active in tackling discrimination and racism. That's why I want to go into parliament, to ensure things work better, because that also ensures people will trust the system more."
The current opinion polls suggest D66 is on course for a heavy fall and will struggle to hold on to more than eight or nine of its 24 seats. Many progressive voters have been lured by Frans Timmermans's leadership of the combined Labour (PvdA)-GroenLinks ticket.
As the number nine candidate on the party list, Bamenga's chances of making it into parliament are on a knife edge, but he is upbeat about his prospects. "We saw last time, with Sigrid Kaag, how there was a surge in support for D66 in the last two weeks [of the campaign],'" he says. "I have every confidence that once D66 gets a platform to stand against the other parties, we can show what kind of future we want for the Netherlands."
Cabinet collapse
D66 was the second largest party in the last cabinet, which collapsed following a dispute over refugees. The right-wing liberal VVD and the Christian Democrats wanted to reduce inward migration by limiting the number of family members who could join current asylum seekers. Family reunions accounted for just 2.7% of total immigration last year, but it proved the final straw for prime minister Mark Rutte and justice minister Dilan Yesilgöz, who were under pressure from their own party to take a tougher stance.
Bamenga calls Rutte's inability to find a humane solution to the refugee issue "bizarre". "It's become a debate about numbers when it's really about people. How can Rutte on the one hand apologise for our history of slavery and recognise that the slave trading past has an enduring impact on the here and now and the future, and then, in the next breath, when we're talking about the migration of the most vulnerable children, say: OK, we'll let the cabinet fall? It's inexplicable."
But he pointedly stops short of criticising Yesilgöz for her hardline stance on migration on the basis that she, like he, came to the Netherlands as an eight-year-old refugee. "It's not all about a person's skin colour," he says. "I don't have to agree with her policies, but I'm not going to condemn her as a person. The fact that someone has a migrant background doesn't mean they have to be a socialist, or a social liberal like me. All I know is what I've already said: I've lived in poverty, I've lived with injustice and I wouldn't wish it on anybody."
Giving back dignity
The failure to recognise people's humanity and reduce them to numbers is at the root of Bamenga's motivation for going into politics. "I want to give people back their dignity," he says. "Because as soon as you stop respecting that, everything becomes unequal. You can't maintain your dignity if you become homeless."
Growing inequality means issues such as the housing crisis affect a broader section of society. "Lots of people can't find an affordable house in the Netherlands," he says. "We used to think it was just people who had problems with addiction or their mental health. But now we see working people, the working poor, being left in the lurch."
D66's plans to bolster bestaanszekerheid include raising the minimum wage to €17.50 by 2028 – a more gradual rise than some parties – raising wealth taxes and corporation taxes while reducing the tax burden on lower and middle incomes. In the long term, it wants to replace the whole complex system of benefits and tax credits with a guaranteed minimum income, so that the lowest earners receive a rebate on their income tax return.
"A lot of parties have focused their attention on people with a low income," Bamenga says. "But we see people with a medium income are finding it very tough in society at the moment. So we think it's much fairer to ask for a bit more from people at the top end."
30% ruling cuts
D66 is one of the few parties prepared to defend the 30% expat ruling, which allows some classes of international workers to exempt the first 30% of their earnings from income tax. Parliament recently voted to water down the measure and some parties, including Pieter Omtzigt's Nieuw Sociaal Contract, argue it gives expats an unfair advantage and distorts the housing market.
But D66 argues that the Netherlands needs to recruit talent from abroad to thrive. "We think that where you have shortages or in professions where you need more people and there is strong international competition, you can justify that advantage if it means you attract the very best people to come over here."
The same goes for international students, who some parties blame for exacerbating the housing crisis in university cities. Omtzigt wants to restrict the influx of foreign students by making Dutch the main language of instruction at university – building on a policy first proposed by Robbert Dijkgraaf, the D66 minister for higher education, who said this year that two-thirds of undergraduate level should be taught in Dutch.
"Pieter Omtzigt wants to set a quota, but we say there are other ways to getting a grip on the situation. We know that the world is not just the Netherlands, it doesn't stop at the border. We need each other. That's why we also support people having multiple passports, which is another important issue for internationals. We don't understand why they should be restricted."
Believe in your dream
In 2011 Bamenga's sister, Irene, died while trying to fly from the United States to the Netherlands to celebrate his graduation. She was racially profiled and placed in a border detention. While in custody she was denied access to medicine she needed for a heart condition. He has kept a copy of the last text she sent from her Nokia phone: "I won't be able to make it but I want you to know that I believe in your dream and you should pursue it and make it a reality."
Bamenga has said elsewhere that her death was the event that persuaded him to pursue a career in public life and advocacy for others. His first thoughts were of revenge, but he chose instead to take a constructive approach. A year later he flew to the United States, met the sheriff and prison guards who were responsible for her treatment in custody, and told them he forgave them. In February he is publishing a book, Dreams of My Sister, whose title refers to the last text message his sister sent him.
Making mistakes
"Nobody is perfect," he says. "I want to work towards a politics where people can be vulnerable, where they can be people, which means they can make mistakes and aren't automatically judged for them."
He believes the Netherlands can be a "beacon of hope" in the world in the fight against institutional discrimination. It might seem an optimistic view of a country where the previous government collapsed over the tax office's mistreatment of working parents, many of whom were singled out for having dual nationality, and where systemic racism within the police force was recently exposed in a documentary, De Blauwe Familie, in which minority officers spoke out about being excluded from their colleagues.
But Bamenga says the outcome of his own court case shows that the Dutch authorities are starting to take a stand against the problem. "Change begins with awareness," he says. "The judgment in the case against ethnic profiling is a legal landmark not just for the Netherlands, but for Europe. It means that we're suddenly leading the battle when before we were lagging behind. If we in the Netherlands are prepared to eliminate discrimination and racism, pro-actively, we can project that hope onto the world."
This is the second in a series of interviews with candidates in the November 22 general election. The first interview, with Eline Vedder who is number two on the CDA list, can be read here.
Thank you for donating to DutchNews.nl.
We could not provide the Dutch News service, and keep it free of charge, without the generous support of our readers. Your donations allow us to report on issues you tell us matter, and provide you with a summary of the most important Dutch news each day.
Make a donation