"If I feel something is unjust, I want to do something about it"
Gordon Darroch
Eline Vedder, the number two on the CDA's list of parliamentary hopefuls, began her road to the Dutch parliament on a tractor. In May 2019 she organised what she describes as the "first tractor protest" in a field in Overijssel.
After animal rights activists occupied a pig farm in Boxtel, North Brabant, to highlight their concerns about living conditions, Eline Vedder led a group of more than 100 farmers who spelled out the phrases "#Doesnormaal" ("just act normal") with their vehicles.
Vedder and a fellow activist, Jeanet Brandsma, had T-shirts printed with the phrases "need the farmers" and "one has a moral responsibility to #doesnormaal", in English, in an appeal to stop the "polarisation" of the animal rights issue.
The longer slogan was a reworking of Martin Luther King's invocation to "disobey unjust laws", often cited by supporters of direct action. "We can deal with differences of opinion by talking to each other normally, there's no need whatsoever to occupy sheds," she said.
By the end of the year the tractor would become the symbol of the large-scale protests against the Dutch government's plans to make drastic cuts to the sector, in order to comply with a court ruling that compelled the Netherlands to cut nitrogen compound emissions.
Thousands of farm vehicles travelled in convoy along the provincial motorways to The Hague for protest rallies, many adorned with banners bearing slogans such as "No farmers, no food". Activists from Farmers Defence Force (FDF) burned hay bales by the roadside and doorstepped ministers at their homes.
And in November, Caroline van der Plas founded the farmer-citizen movement (BBB), which would dominate Dutch rural politics for the next four years and plunder votes from the CDA in its rural heartlands.
Vedder's own tractor, however, remained in Drenthe, where she runs a dairy farm in Ruinerwold with her husband, Alben. She disagreed with the more militant forms of protest, such as flying the Dutch flag upside down, supposedly as a distress signal. "I wouldn't do it and never have," she says. "And tractors belong in fields."
And unlike many of her colleagues in the CDA, she chose not to decamp to the BBB, even after its rural voters switched en masse during the provincial elections in March. "I believe in the CDA's story more than that of the BBB," she says. "The BBB has been enthusiastically proposing solutions, but it's turned out to be a bit more complicated to sort out."
But she disputes the notion that the farmers' protests have poisoned the well of debate. "We've forgotten that normally you never hear anything from farmers," Vedder says. "Between the protests of 50 years ago [when farmers took to their tractors to protest against falling farm prices] and today we never saw them. They were a hardworking group that didn't have time to take to the streets. But when people feel they're up to their necks and need to make their voices heard, I have no problem with it."
The CDA hopes Vedder can help win back rural voters from the BBB. She has been in parliament since May, replacing the previous agriculture spokesman, Jaco Geurts, after he was appointed acting mayor of Maasdriel. A newspaper headline soon after she took up her seat called her the 'Caroline of the CDA'. "I've known Caroline a long time, but our opinions differ on a lot of things," Vedder says. "But we both have a big heart for the [agricultural] sector, so it's a fair comparison in that sense."
From her vantage point in Drenthe, where she was defending her seat on the provincial assembly in March, the collapse of the CDA's vote came as no surprise. "In a way I thought it was a good thing that society spoke up and said: hello, we're still here and we're tired of being ignored," she says.
"That's the whole reason I went into politics. I'm driven mainly by a sense of justice, so if I feel something is unjust, I want to do something about it. So I well understand why my colleagues are angry and frustrated and the reason why they take it out on political parties, including the CDA."
Vedder, 44, was first elected to the provincial assembly in 2019, taking one of the five CDA seats on the strength of preference votes. She had become increasingly politically active since moving to Ruinerwold in 2010, giving up a career as a product manager for Unilever to help run her husband's farm. "I started out as a technician, but ended up on the farm through love," she says. "And I saw how the political debate about the people I loved was becoming hardened and polarised, and it really got on my nerves."
She became a councillor for the CDA in the municipality of De Wolden and a local chair for the agricultural lobby organization LTO. One of her first pieces of activism was a viral video in which she attacked the then agriculture minister, Martin van Dam, for failing to take a stand in Brussels against new EU fertiliser limits that, she claimed, would cost every Dutch dairy farmer €10,000. "If that happens we might as well hang up our wellies," she concluded, ostentatiously dropping two pairs of rubber boots to the ground.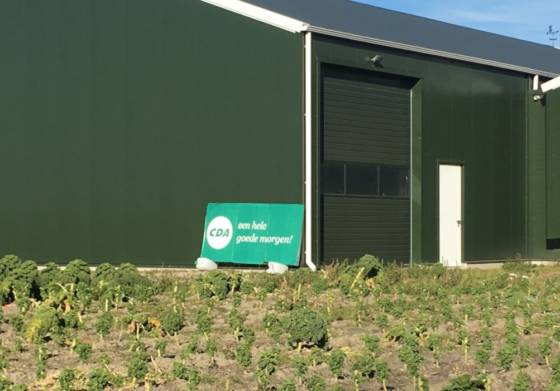 Vedder is the number two candidate on the CDA's list after Henri Bontebal, meaning she is likely to retain her seat even if the current projections, which indicate the party could shrink to between three and five seats, are borne out.
It is a staggering decline for a party that has been in government for 30 of the last 43 years and supplied three of the five prime ministers in that time. This election is a staging post as it seeks to recover from the drubbings of recent years, Vedder says. "We are well aware that we need more time to give the generation that's starting out now time to build and strengthen the CDA's story."
Coalition
She does not rule out joining a coalition as a junior partner, but sees it as unlikely. "Taking responsibility sits deep in the DNA of the CDA, so we will always consider all options seriously. But it's not in line with our expectations when you look at the current polls."
Vedder rejects the suggestion that the CDA tried to have its cake and eat it by signing up to the ambitious climate change targets in the coalition agreement, including bringing forward the date for cutting nitrogen compound emissions by 50% to 2030, before trying to water them down. The party leader Wopke Hoekstra said last August that the 2030 deadline was "not sacred" and criticised the measure used to measure the impact of nitrogen compounds on protected ecosystems, the critical deposition value, as a "flawed instrument".
"The agreement in the coalition was that we would set ambitious targets and come up with ambitious mechanisms to achieve them," Vedder says. "But those means and those mechanisms never happened. The only thing we've set up until now is a mechanism for allowing farmers to stop. And you can't seriously tell the sector: we're asking a lot of you, but we're offering you a perspective for the future, and then the only perspective we offer them is to give up."
The nitrogen issue needs to focus on preserving nature rather than setting arbitrary deadlines, she says – an argument later put forward by Frans Timmermans when he announced the PvdA-GroenLinks coalition was abandoning 2030 as a target date. "If we keep arguing, we won't reach 2035 either," Vedder says. "Aside from driving slower on the motorway and buying out a handful of farmers, we've done nothing. If we want to break the deadlock, we need to involve the farmers and ask other sectors to do their bit as well."
Excessive market forces
The CDA's broader problem in the last two cabinets, Vedder argues, was that it failed to "push back hard enough" against the neo-liberal impulses of the VVD. "We don't believe in a paternalistic state that takes all the responsibilities onto itself and regulates everything from on high. But we also don't believe in the excessive market forces that have had all sorts of unwanted consequences in the last 10 years.
"We've regulated things far too strictly and that creates situations that cause unintended problems for people, like the parents caught up in the childcare benefits scandal or people in Groningen who had to become experts in mineworking before they could get justice. I see it in the agricultural sector as well. People feel abandoned and I can understand it.
"We need to assume people act in good faith rather than bad faith, instead of saddling everyone with all kinds of rules to keep one or two people who might have other ideas on the straight and narrow, which puts everyone at a disadvantage."
The CDA's aversion to setting targets extends to migration, where it shares Pieter Omtzigt's view that the debate needs to be cast broader than the asylum question to cover labour and student migration, but criticises his proposal for a "guideline" figure of 50,000. "That reduces a debate about human lives to a flat number," Vedder says. "But we totally agree with the conclusion that the influx has reached a point where we need to look critically at whether we can sustain it."
The party supports the so-called "spreading law", which the VVD asylum minister Eric van der Burg wanted to introduce to allow the government to force local authorities to accommodate refugees, in the face of strong resistance from his own party.
On the face of it it looks like a classic case of The Hague stamping its will on the provinces, but Vedder says it is the only way to share the responsibility fairly. "In my experience the few regions and councils that have agreed to take in asylum seekers, like Ter Apel, are happy with the spreading law, because at the moment they feel like the rest of the country has left them in the lurch," she says.
International students
The CDA is also in favour of bringing down international student numbers, arguing that the primary purpose of universities should be to supply the Dutch labour market with a healthy stock of graduates. "That means, in principle, that most courses should be taught primarily in Dutch," Vedder says. "And that will probably have an effect on the attractiveness of our universities for international students."
One area where the CDA's view is unchanged is its longstanding criticism of the Netherlands' liberal drugs policies. The party's manifesto sets out proposals for a zero-tolerance approach to possession of hard drugs, restrictions on the number of cannabis cafés ('coffeeshops') and a 'hash tax' that would raise €100 million to spend on deterrence measures. But most of all, it wants to end the "naïve" attitude to recreational drug use, which the CDA says has come at a huge social cost.
"We've seen a huge increase in drugs crime, including serious violence, drug dumping that impacts on nature and a huge increase in the amount of drugs in our drinking water," Vedder says.
"People take a pill or a line of coke because they're having fun at a party, but when you look deeper you see there's a world of crime, environmental pollution and exploitation behind it. We don't think that should be seen as normal."
This is the first in a short series of interviews with candidates for the forthcoming elections. Next up, D66's Mpanzu Bamenga.
Thank you for donating to DutchNews.nl.
We could not provide the Dutch News service, and keep it free of charge, without the generous support of our readers. Your donations allow us to report on issues you tell us matter, and provide you with a summary of the most important Dutch news each day.
Make a donation