Confusion surrounds covid booster policy in the Netherlands
Brandon Hartley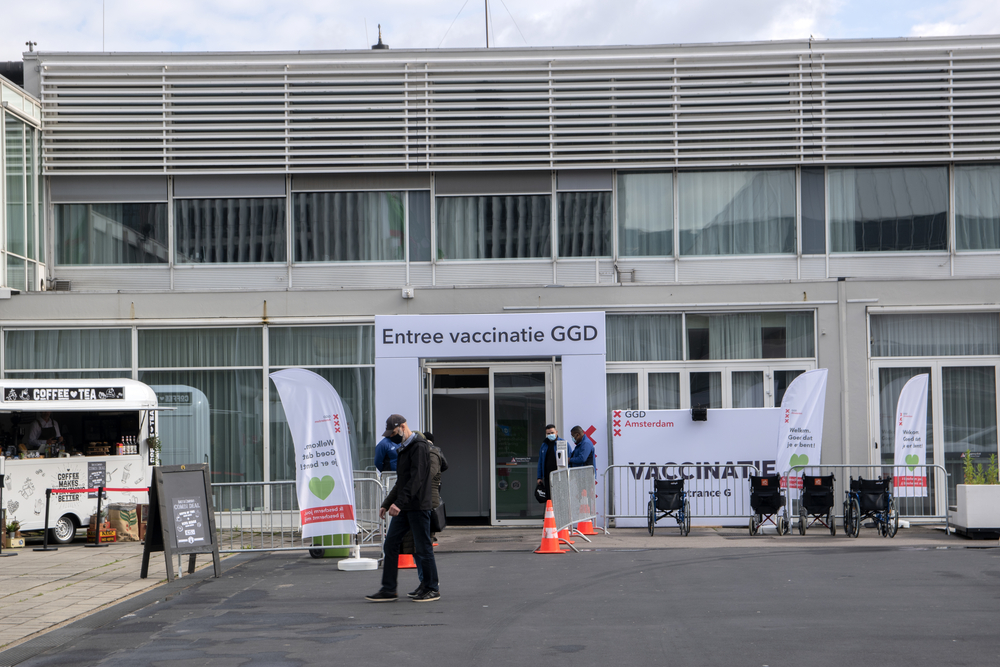 Are you flying home for the Christmas holidays and worried about coronavirus tagging along? Or are you fretting about missing work or cancelling holiday plans if it shows up in your household? Dutch News readers have been sharing their Covid booster experiences.
Many people in the Netherlands are currently confused over whether or not they can, or should, get a Covid booster. Others who know they can say they haven't received invitations for appointments yet or have been daunted by the limited number of vaccination centres.
But what about if you are under 60 and not considered high risk? Katie in Leiden is among those who have been frustrated by the process. She told Dutch News she recently tried to get a booster and was turned away at a vaccination centre.
"They denied me the jab on site and said I'm still covered from my November 2022 booster," Katie said. "I specifically wanted the booster for when I go abroad to visit my parents who live in an assisted living home."
However, others who spoke to Dutch News say they have managed to make appointments and get a booster vaccination despite not falling into one of the target groups.
"What's the problem?" Laura in Utrecht wondered. "Go to the website and make an appointment with your BSN number. That's what I did. No problems and I am under 60."
Frustration and confusion
Others have not been so daring. "I'm 38, healthy, and I don't mind the travel times," Alex in Amsterdam said. "I'm frustrated by the lack of clarity whether I can get a booster." 
Sharon, who also lives in Amsterdam, was so vexed by the current policies she decided to get a booster during a recent trip to America.
"As it's not at all clear if I'll be able to get a booster in the Netherlands, I paid $190 to get one when I was in New York last week," she said. "I'm not in a risk group and rarely get ill, but I work for myself, so days I'm sick are days I don't get paid. I'm happy to pay for vaccinations but not even having the option to do that is frustrating and nonsensical."
Family
Dutch News also spoke with a frustrated researcher at a university medical centre in Gelderland who asked to remain anonymous. She wants to get a booster because she'll be travelling soon to see several elderly family members, one of whom is immuno-compromised.
Despite working in the healthcare industry, her medical centre isn't offering staff boosters at the moment. They are, however, giving out flu vaccines. This means she'd have to travel to a covid vaccination centre to get a booster.
"All locations are a minimum of 90 minutes away with public transport," she said. "And it's during work days, of course. Currently I have given up on getting the booster before I travel. I am going to keep checking if the situation changes or I can find a date on a weekend."
Denied online 
As of 18 October, if you go to 'Mijn vraag over corona,' a website hosted by the health ministry, the RIVM, and regional health boards to schedule an appointment for a booster, you'll be told "no" unless you meet a series of conditions.
They include being over the age of 60, having a health condition, getting permission from your doctor, and/or having a vulnerable family member. You'll be sent to a page telling you it's not necessary for you to get a booster.
However, as Laura and others who spoke to Dutch News have experienced, it is currently possible to make an appointment on a second government website located at coronatest.nl.
Birth dates
That site asks a few questions about birth dates and a few pre-existing conditions before directing users to a calendar for an appointment. At the time of this writing, spots were available for as soon as 20 October at a vaccination centre in Leiden.
The regional health board body GGD GHOR declined to answer questions about the policy and suggested contacting the ministry or the RIVM instead.
"It is not necessary for people who do not belong to the target groups to get a corona shot," a health ministry spokeswoman told Dutch News. "This is because almost everyone now has a high degree of protection through the combination of a previous infection and/or vaccination."
RIVM spokesman Harald Wychgel said the public health institute followed the advice of the national health council Gezondheidsraad. "It states the booster should be for people who have a high risk of complications if they get sick," he said.
Still possible
Both Wychgel and the health ministry acknowledged that, despite this stance, it's still possible for others to schedule appointments and get boosters.
"[They] can simply be vaccinated if they want to," the health ministry spokeswoman said.
"We don't want people to get a coronavirus vaccination if it's not necessary," Wychgel said. "That's the whole point. It's not meant for them. But since we don't know who has a certain condition, people can make an appointment and we cannot check that. All we can do is educate people and tell them whether they should get a vaccination or not and that's it."
Clare, a reader in Amsterdam, has also noticed there's little to prevent people from scheduling boosters at the nearest vaccination centre.  "If you decide to ignore the stated requirements, then there is nothing to stop you from getting an appointment," she said.
The months ahead
Last week, an average of 60 coronavirus patients were admitted to Dutch hospitals each day. Currently, 1.4% of intensive care beds are occupied by them.
If the caseloads dramatically increase in the Netherlands later this autumn, Wychgel said the RIVM is prepared.
"I don't know at this moment how many shots we have, but we are ready to give more than 4.8 million people covid vaccinations," he said. "There is a lot."
The situation elsewhere
Dutch News spoke with several readers who noted they could easily get a booster if they were over in Britain, the US and other countries. They were baffled over why it's so difficult here in the Netherlands.
"Here in the Netherlands we have a high level of immunity due to people who had covid, have been vaccinated, or a combination," Wychgel said.
He also noted the country has similar policies when it comes to other medicines.
"It's the same when you look into the prescription of antibiotics in the Netherlands," he said. "Doctors here are very strict with this, but other countries have different ways of dealing with it."
Thank you for donating to DutchNews.nl.
We could not provide the Dutch News service, and keep it free of charge, without the generous support of our readers. Your donations allow us to report on issues you tell us matter, and provide you with a summary of the most important Dutch news each day.
Make a donation