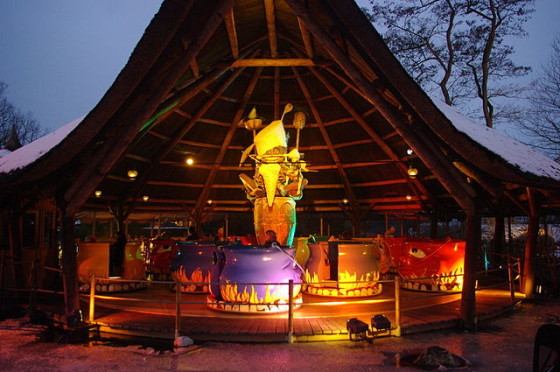 The Efteling amusement park wants to talk to campaigners about why they believe some of its attractions perpetuate 'oppressive' racist stereotypes, reports the
Telegraaf
.
The Stop Oppressive Stereotypes (SOS) group published an open letter to the Kaatsheuvel-based park on Twitter complaining about two attractions, Monsieur Cannibale and Carnaval Festival.
'Your park has extremely hurtful and racist attractions with oppressive stereotypes with which you entertain and also indoctrinate children,' says the letter. It is complaining about the presentation of black and Asian figures in the rides.
'Repression starts with stereotypes,' the group writes on a Facebook page with some 270 likes.
In an English message, calling on the international community to spread its message, it adds: 'Efteling is [by] far…the most popular theme park in the Netherlands. It annually has over 4 million visitors, most of them young children. They claim that they are a 'world full of wonders' but for many non-white people [it's] a world full of racism…the racial stereotypes in these rides are blatant and shameless."
The group says Carnaval Festival contains 'schoolbook examples of "yellowface" and "blackface"' stereotypes to represent Asians and Africans, and Monsieur Cannibale has a 'huge stereotypical image' of a so-called African cannibal.
Meeting
In response, the Efteling has invited the campaigners to a meeting to explain what they want to change, and why they are concerned. It has not had an answer.
A spokeswoman for the Efteling said to DutchNews.nl: 'On Friday we received an open letter from the group, an anonymous letter. On Monday we sent them an invitation to meet with us. We want to provide a fun day out for everyone, we have characters and fairytales, but it has never been our intention to offend anyone.
'We have had complaints in the past, but not a lot. Now we have criticisms but there are lots of people with another point of view. We have 4.7m visitors a year, and we cannot stop all criticisms: people also say we have too many chips and must have more healthy food.'
Picture source: Wikipedia, Monsieur Cannibale