Whether you're in search of nature, cosy inns, history, kitsch, or just a few good meals, you can find all of them on the Wadden Sea island of Ameland. Brandon Hartley recently visited the often overlooked island.
Ameland is sort of like a kid sister to its more popular southern siblings. Texel and Terschelling tend to hog all the attention but there's plenty to do and explore along its shores and further inland.
Centuries ago, Ameland stood apart from the mainland in more ways than one. It used to consist of three separate islands. They were ruled over by a private lordship until 1704 when they were sold for 170,000 Guilders to Johan Willem Friso, the heir regent of Friesland. The construction of drift dikes fused the islands together in the 19th century and it was invaded by the Germans during World War II in 1940. The Allies never bothered to liberate Ameland, since it was hardly a strategic landmark, leaving the troops stationed there to eventually surrender a few weeks after the conflict ended.
Nowadays, about 3,700 residents live on the island year-round but the population greatly expands during the summer months when tourists arrive to soak up the sun and invade its holiday homes and hotels. Ameland is definitely quieter during the off-season and it's a great destination for storm-watchers, intrepid cyclists, and anybody feeling adventurous.
Five Things to Do
Hit the beach
Many people head to Ameland to walk, relax, or swim along its shorelines when the weather is behaving (or stoutly defy it when the skies are dark and cloudy all day). The island has 10 beaches that routinely win awards for their cleanliness. They're also considerably more laid back during the summer than the ones you'll find in popular towns along the mainland or the other islands.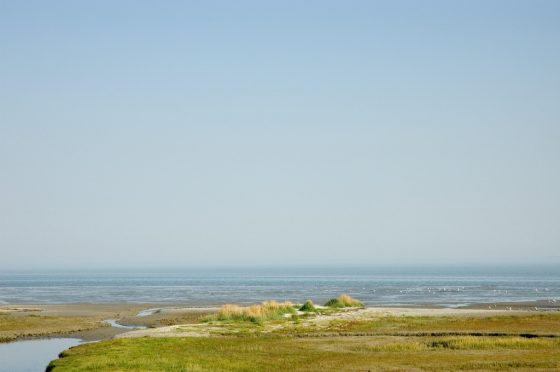 Stroll, bike, or ride through the dunes
About 60 different bird species can be spotted on Ameland at various times throughout the year and there are several nature areas that are great for hikers and birdwatchers alike. The biggest is the roughly 1,000 acre Nieuwlandsrijd, located east of the village of Buren. It's home to sheep and cattle along with plenty of geese. Elsewhere around Ameland, there are trails and paths that are suitable for horse riders, walkers, and cyclists. Bikes, including ones that are powered via a treadmill-esque system for the brave and the bold, can be rented at Nobel Fietsverhuur. They have five locations on the island.
Nobels Nostalgisch Museum
This somewhat peculiar museum is located in Ballum, a village on the western side of the island, and it's curated by Tjeerd Nobel (the gent who owns all those bike rental shops). It will take you on a trip through time from the late 19th century when candle-powered bike lamps were all the rage to the early 20th when Model Ts ruled the road. The museum consists of a series of walk-through storefronts, complete with mannequins dressed in old-fashioned outfits, along with Nobel's collection of vintage cars and random objects that range from old bikes to tea tins. Some might find the place creepy but it's a treasure trove of delights for history buffs and kitsch-lovers alike. If it doesn't sound like your sort of thing, there's also several other museums on the island devoted to Ameland's history and wildlife.
Climb up Bornrif
The official name for Ameland's lighthouse is Vuurtoren Ameland but everybody calls it 'Bornrif', a nickname it acquired in the years following its construction in 1880. A climb to the top of ol' Bornrif will lead you up 236 steps all the way to an enclosed observation deck with stunning views of the island and the surrounding sea. You'll also get to meet another gang of mannequins, this time dressed as deep sea divers and sailors, that inhabit various floors along the way. 
Watch equine lifeguards save the day
The days of horses racing through the streets of Ameland to save drowning swimmers and sailors is long gone. Nevertheless, the tradition continues during demonstrations on certain dates throughout the year and they often attract hundreds of spectators. Click here to view the 2018 schedule and you too can watch these stouthearted horses do their thing. They begin their daring journey at a boathouse in the village of Hollum before they rush over to a nearby beach to dash into the sea.
Where to Eat
There are a fair amount of cafes that cater to tourists, especially those with kids who will probably love Neighbours, a '50s style American cafe that serves hamburgers during lunchtime in Buren village. Their evening menu is more sophisticated and it offers steaks, fish dishes, and vegetarian options. The cheekily named Nes Cafe over in Nes is also kid-friendly.
Het Witte Paard, also in Nes, is a charming spot for dinner. It's housed inside a building that dates back to 1734 and was named after a famous ship that never returned from an ill-fated journey to Greenland. Nearby Rixt, which takes its name from a local legend, is a great for fans of ribs, steaks, and other meaty dishes.
In Hollum, there's Cantina Delores, a large cafe with an adjacent hotel that serves dishes that are better than much of what passes for Mexican fare back on the mainland. The adorable Eeterij Tante A'n is a great spot for lunch or just a leisurely latte on a rainy afternoon. If that isn't enough, it's also worthwhile tracking down locally made food and spirits like Amelander Commandeurtje, a sweet liquor that will brighten up even the stormiest winter day. You can find bottles of it at TopSlijter De Jong, a well-stocked shop in Nes.
Where to stay
Ameland has a wide array of hotels, inns, bed and breakfasts, and holiday homes  and the island's VVV website is a good place to start looking. Pension Bakema Ameland is a small inn with friendly owners in Nes that won't break the bank. Hotel de Jong, also in Nes, is charming with a large lobby and restaurant. The comfy chairs by the fireplace are a great place to sit out a storm. If they're full, there's also plenty of tables or one you can play billiards on in the adjacent lounge.
How to get there
A ferry leaves several times a day from a terminal in Holwerd and you can find the schedule here. The journey takes about 45 minutes but, if you're travelling by car, here's a rundown on the parking lots located on the island. Three companies also run water taxis that go to and fro and you can learn more about them by clicking here.
If you have a small plane available and know how to fly it, you can reach the island by air and land at its tiny airport outside of Ballum. Believe it or not, the truly daring can reach Ameland during certain times of the year by marching over there on foot. Everything you need to know about making a 'mudflat trip' to the island can be found at the website for Wadloop Centrum, just one of the organisations that arranges these treks. It's strongly advised to go with a guide because the tides can roll in quick and the weather can change at the drop of a hat, even during the summer.
Anything else?
Johannes de Jong spent his childhood years on Ameland. The Dutch cardinal famously ordered his priests to refuse sacraments to Nazi-sympathisers during World War II and opposed Germany's occupation of the Netherlands. A statue in his honour can be found in a park in the centre of Nes. Many a brave sailor from Ameland attempted to strike it rich in the 17th and 18th centuries by going whaling. Several of them never made it back to shore and their memorials can be found at cemeteries on the island. Also keep an eye out for gigantic whale jawbones from this era that serve as archways outside of a few historic homes on Ameland in addition to the school along the Ballumerweg in Nes.
Thank you for donating to DutchNews.nl
The DutchNews.nl team would like to thank all the generous readers who have made a donation in recent weeks. Your financial support has helped us to expand our coverage of the coronavirus crisis into the evenings and weekends and make sure you are kept up to date with the latest developments.
DutchNews.nl has been free for 14 years, but without the financial backing of our readers, we would not be able to provide you with fair and accurate news and features about all things Dutch. Your contributions make this possible.
If you have not yet made a donation, but would like to,
you can do so via Ideal, credit card or Paypal.