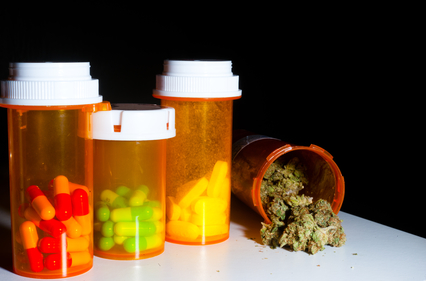 The Netherlands is a major exporter of medical marijuana, even though it has never been formally approved here as a treatment for Dutch patients. And this year, the majority of Dutch health insurance companies stopped paying for it as well. Esther O'Toole investigates.
Guus de Lange from Amsterdam has endured severe migraines for over 10 years: 'Nothing else worked. The migraines were very frequent and extremely painful and medical cannabis is the only thing that alleviated them. All the other drugs came with dreadful side effects too.'
De Lange is one of an increasing number of patients in the Netherlands who have found mediwiet the best relief from conditions as varied as chronic pain, nausea associated with cancer treatment, and muscle spasms associated with MS. Medical cannabis has been allowed on prescription in the Netherlands since 2003 and until recently was often covered by health insurers, if patients could show no other medication gave adequate relief of symptoms.
Cannabis as a medicine is different from other prescription drugs as there are a wide variety of types, with a wide range of active compounds in them that can affect the body – including THC, the substance that produces a 'high'. Low THC strains are used in the development of medicines for conditions like childhood epilepsy, other types with higher THC are specifically used for relief of extreme pain in adults and conditions like MS.
As a medical drug, mediwiet is popular. According to the Dutch Foundation for Pharmaceutical Statistics (SFK) 2016 saw an 80% increase in general demand for the medication in the Netherlands.  And the health ministry noted an increased income in 201 of at least €3.7 million due to the increased demand for medical cannabis here and from other European countries.
EU approval
Bedrocan, the sole government licenced grower of medical grade cannabis and sole supplier to the government's Bureau for Medical Cannabis (BMC), has just become the first medical cannabis producer in the world to receive the European Medical Agency's seal of approval for Good Manufacturing Practice (GMP). They will more than double their production in 2017: from 1,400 kilos to an estimated three tonnes. Currently the cannabis costs around €31 per 5g from the pharmacy.
Despite the popularity and approval of Bedrocan's product, Dutch government guidelines on the use, efficacy and cost effectiveness of medical cannabis provision have never been unified into one clear policy. As no one pharmaceutical company owns a patent on cannabis, and the costs of standardised testing is high, studies into its efficacy vary widely in their scope.
The government's Bureau for Medical Cannabis (BMC), which oversees the regulation and distribution of medical cannabis, says that 'in the last decades research has discovered the body has its own cannabinoid system' which produces and is receptive to the kind of compounds found in cannabis. This they say 'offers some explanation of why cannabis has a positive effect on some conditions.'
No conditions
But the National Health Institute (Zorg Institute Nederland), the body which officially advises government and insurers on the efficacy and financial feasibility of different medications, says there are no conditions for which cannabis is currently deemed a suitable treatment.
In practice, it has been up to insurers themselves to interpret the guidelines – and that has led to a wide variety of responses
Insurers
Zilveren Kruis/Achmea, one of the largest health insurance providers in the country, had always provided coverage in its top-up policies. However, at the end of November 2016 the company said they had reviewed this policy and found there was not enough scientific proof that medical cannabis worked. The health institute, the insurance company said, provided them with no new advice to the contrary, and therefore they would be stopping all coverage of the medication as of July 2017.
In response other insurers started cancelling their coverage too
Health minister Edith Schippers (VVD) was quick to re-emphasise that coverage was entirely up to the insurers, and that there had been no change in government advice during the last half of 2016 to induce the changes from health insurers. That did little to calm angry patients who felt they had been let down by the system.
Government advice
Insurance company ONVZ had also covered medical marijuana in its basic health package but was unnerved by the minister's statements.
'We believed there had been a change in government advice,' said spokesman Friso de Jong. Until 2016 'it was allowed as an innovative or experimental medicine, that provision was there so we can get innovative medicines to patients quicker, it's been like that for the last 13 years. But now the minister was very explicit, it is not part of the basic packet so we can no longer provide it in the same way.'
By the time this was clear to them in late December it was too late for ONVZ to amend their supplementary provision, so instead they have offered a grace period of a year to current patients, hoping for a review in 2017.
'The grounds for us to continue coverage were removed' de Jong concluded.
Patients
Meanwhile, patients who have found benefit from medical cannabis are left dealing with the change in insurers positions.
'Some people feel hopeless,' Serge de Bruin of the medical cannabis patients' group PGMCG told television current affairs show EenVandaag recently. 'Patients with cancer, MS, were happy to be off the morphine,' said user Marian Hutten. 'That group of patients are the ones who will bear the brunt of this.'
The Netherlands had been at the forefront of medical cannabis policy but has now been overtaken by many other countries. Canada and Israel among the most progressive.
Patients were particularly angered as the changes from insurers took effect just as Schippers' announced a huge increase in exports of Dutch grown medical cannabis to Germany.
Exports
Until now the maximum legal export of the Dutch produced cannabis had been 100 kilos. For Germany however, an exception has been made, and in 2017 they will receive 350 kilos, which can increase to a new maximum of 700 kilos in the two years following.
The German government announced last May its intention to legalise medical cannabis and to require insurers to provide coverage for patients suffering from severe conditions such as MS. The German parliament passed this law unanimously in January.
Dutch health ministry spokesman Ole Heil told DutchNews.nl Schippers has now ordered a new review of the facts, which will include the most up to date scientific research available.
´The minister will ask the national health institute for a new recommendation, based on new and international research that has been done since,' Heil said. 'The Bureau for Medical Cannabis will be involved in drawing up this advice.'
Crucial year
In the meantime, patients like Guus de Lange are left to cover the total cost themselves or use something else.
'It's ironic that we're meant to look for an alternative medicine to something we only got because we'd tried everything else already.' he said. 'I'm not going back. I guess I'll just have to pay for it myself. I'm glad I can afford to at the moment.'
As new plans for the regulation of cannabis growing passed the lower house just last week, 2017 could be a crucial year in determining whether the Netherlands will once again be a country at the forefront of progressive drug legislation, or fall further behind her neighbours.
Thank you for donating to DutchNews.nl
The DutchNews.nl team would like to thank all the generous readers who have made a donation in recent weeks. Your financial support has helped us to expand our coverage of the coronavirus crisis into the evenings and weekends and make sure you are kept up to date with the latest developments.
DutchNews.nl has been free for 14 years, but without the financial backing of our readers, we would not be able to provide you with fair and accurate news and features about all things Dutch. Your contributions make this possible.
If you have not yet made a donation, but would like to,
you can do so via Ideal, credit card or Paypal.