Splitters and quitters: a guide to the election campaign so far
Gordon Darroch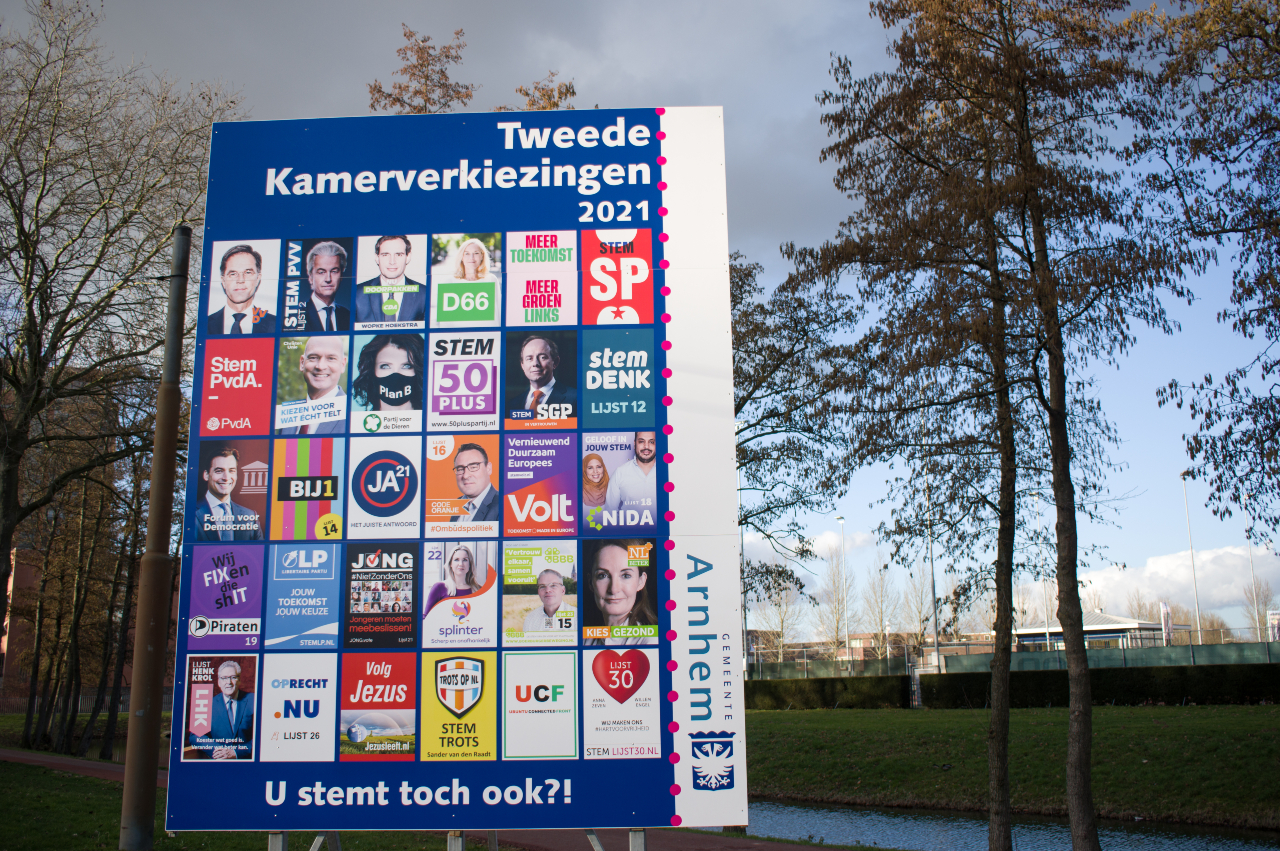 There are still 10 weeks to go until voters in the Netherlands go to the polls, but the campaign has already taken more perplexing turns than you'll find in an Escher print. If you don't have the time or the administrative skills to keep up with it all, don't worry, because Dutch News has put together a bluffer's guide to all the major trends and incidents so far.
The PvdD hornets' nest
As parliament returned from its summer recess the animal rights party PvdD looked to be in a strong position to add to its six MPs. Polls indicated it could win as many as 10 seats, overtaking mainstream parties including the Christian Democrats (CDA), D66 and the Socialists (SP). But it turns out there was a snake in the grass. A row that had been simmering away for months burst open in early September when the party's management board deselected Esther Ouwehand as the PvdD's lead candidate. It said Ouwehand had committed unspecified breaches of the party's integrity rules and a new leader would be chosen later in the week.
This raised the hackles not just of Ouwehand, but four of the PvdD's five other MPs, who said she was being punished for trying to make the party more professional. They threatened to withdraw from the list of candidates if Ouwehand was forced out and were backed by a letter signed by 185 local and provincial delegates who called on the board to step down. The exception was MP Leonie Vestering, who spent three months on sick leave this year amid rumours that her relationship with Ouwehand had broken down.
An internal memo published by Nieuwsuur and written by one of Ouwehand's advisers said that "the board had taken the side of an MP in a conflict with the party leader". Ouwehand also accused an unnamed female member of the board of spreading "lies" about her.
On September 13 the board resigned en masse and Vestering surprised her fellow MPs by standing down during a debate. Ouwehand took back the reins as party leader and the remaining MPs cancelled their threatened boycott. But with anonymous sources briefing about a "culture of fear" under her leadership, it is far from clear if the PvdD has finished clearing out its stables.
Changing of the guard
Whatever the outcome of the election, one certainty is that a new generation of leaders will take over after Mark Rutte's 13-year prime ministerial stint comes to an end. Rutte has never fully explained his decision to quit on July 10, three days after his cabinet fell because of a deadlocked dispute over asylum, describing it as an "epiphany". It surprised many commentators who believed he had pulled the plug on his own coalition so he could replace it with a more right-leaning one. Justice minister Dilan Yesilgöz quickly emerged as the uncontested favourite to succeed him as leader of the VVD and was officially unveiled as its number one candidate on August 14.
Rutte's departure also completely overshadowed that of Wopke Hoekstra, who resigned first as CDA leader and then as foreign affairs minister to take up the post of European commissioner. With D66 leader Sigrid Kaag also leaving politics – she said it had taken "too heavy a toll" on her family – and Gert-Jan Segers having passed on the torch at the ChristenUnie to Mirjam Bikker in January, none of the four coalition party leaders from the last election, just 18 months ago, will be in charge this time. Henri Bontenbal accepted the challenge of salvaging the CDA's electoral fortunes, while Rob Jetten returned for a second spell as D66 leader.
Hoekstra's move to Brussels was prompted by Frans Timmermans vacating his commissioner's seat to head the combined list of the two centre-left parties, Labour (PvdA) and GroenLinks. The former GroenLinks leader, Jesse Klaver, is number three on the list, while his PvdA counterpart Attje Kuiken is quitting parliament, but says she would consider a ministerial post.
A seminal moment occurred when Kees van der Staaij, leader of the ultra-orthodox Christian SGP party and the longest serving MP, announced he was also standing down. Denk leader Farid Azarkan and party founder Tunahun Kuzu are not seeking re-election either, leaving the party in the hands of Stephan van Baarle. There were even rumours Thierry Baudet was about to step aside as leader of Forum voor Democratie to stand in next year's European elections. But he will be one of a handful of familiar faces, along with Esther Ouwehand at the PvdD (see above), Lilian Marijnissen of the SP and the immovable object of Dutch politics, PVV leader Geert Wilders.
JA21 to Nee/Nee
The PvdD was not the only party to suffer internal ructions this summer. The right-wing JA21, which broke away from Forum voor Democratie at the end of 2020, was blown apart by a row over its senate leader, Annabel Nanninga. Nanninga is also a city councillor in Amsterdam and in August announced she planned to add a seat in the lower house to her collection. That stuck in the craw of six eminent party figures, including its three MEPs, who said it went against JA21's stated aim of breaking up the "jobs carousel" in The Hague.
JA21 were reduced to one seat in Strasbourg after Rob Roos and Rob Rooken left the party to sit as independents. And it got worse in September when two of its three MPs, Nicki Pouw-Verweij and Derk Jan Eppink, defected to the farmers' party BBB. Founder Joost Eerdmans, himself a veteran of several political parties including the CDA, Leefbaar Rotterdam and Pim Fortuyn's List, is the last man standing, but insists he will take JA21 into the election with "a great list".
D66 debacle
The publication of the D66 list of candidates prompted grumblings of dismay from many of the party's MPs who were overlooked in favour of relative unknowns. They included Tjeerd de Groot, the agriculture spokesman who was cast in the role of Thanos by angry farmers when he called for the number of cows in the Netherlands to be halved. De Groot was ranked 12th on the list, which may not be high enough for a party projected to lose up to three-quarters of its 24 seats.
But the candidate that really caught the eye was ranked one place higher, RTL Nieuws columnist Yesim Candan. It turned out that Candan had attacked D66 as an "elitist" party and its ministers in 2021, while 18 months ago she called Sigrid Kaag "a farce of a leader". More remarkably still, she had previously been pencilled in as a candidate for the CDA in 2017 and the following year interviewed to be a prospective Amsterdam city councillor for Forum voor Democratie, D66's bête noire. As suspicions grew that nobody in the party of sophisticated globetrotters knew how to use Google, Candan announced she was withdrawing her candidacy.
Ik trek me terug als kandidaat-Kamerlid voor D66. pic.twitter.com/LglmqHlNOn

— Yesim Candan (@YesimCandan) September 13, 2023
Not to praise Keijzer
Immediately after the cabinet fell in July the BBB led the opinion polls, leading to speculation about who the farmers' party would choose as prime minister. Party founder and sole MP Caroline van der Plas ruled herself out on the grounds that she wasn't interested in flying round the world meeting other leaders, especially if it involved wearing high heels.
Van der Plas said she would unveil her party's prime ministerial candidate at the start of September, triggering weeks of fevered speculation among The Hague's press corps. It turned out to be former CDA MP Mona Keijzer, who had the distinction of being the only minister to be sacked during Mark Rutte's 13 years as prime minister, for openly criticising the cabinet's coronavirus policy.
But days later, after several stumbling talk show appearances in which Keijzer had to admit to having not read the BBB's election manifesto in full, Van der Plas cooled on the idea. She explicitly referred to Keijzer as the BBB's number two candidate and claimed the notion of a "prime ministerial candidate" was a media concoction – even though the term was repeatedly used in the BBB's publicity material leading up to her nomination. A flat-footed response that perhaps goes some way to explaining Van der Plas's aversion to high heels.
Omtzigt's false start
Since July the BBB has slipped back to joint fourth place in the polls, mainly because the former Christian Democrat MP, Pieter Omtzigt, has entered the race and lured away many of the voters who backed the farmers' party in the provincial elections in March. Omtzigt, a politician who combines high personal popularity with no prior experience of leadership, has had to scramble to put together a list of candidates, a manifesto and a structure for his party, New Social Contract (NSC).
Teething troubles were inevitable, and they began with the nomination of Onno Aerden as NSC's press spokesman. Van der Plas pointed out that Aerden recently described the BBB on Twitter as "a tumour destroying our fragile democracy from the inside". Though it wasn't the most abominable thing to be said on Dutch political Twitter this year, or even in the last 24 hours, it struck a nerve with Van der Plas, who lost her husband to cancer four years ago.
It also jarred with Omtzigt's commitment to pursue a new, less confrontational style of politics. And so, after a conversation with his new boss, Aerden announced he was bringing down the curtain on "the shortest career in The Hague ever". Though if the next 10 weeks continue in the same vein, it's highly likely that the record will be broken during this campaign.
In goed overleg met @PieterOmtzigt zojuist besloten dat het beter is dat @NwSocContract een andere woordvoerder krijgt. Kortste Haagse carrière ooit, helaas. Hier had ik me zeer op verheugd.

— Onno Aerden (@onno_aerden) September 12, 2023
Thank you for donating to DutchNews.nl.
We could not provide the Dutch News service, and keep it free of charge, without the generous support of our readers. Your donations allow us to report on issues you tell us matter, and provide you with a summary of the most important Dutch news each day.
Make a donation