Timmermans wants a 'united left' for green and social justice
Senay Boztas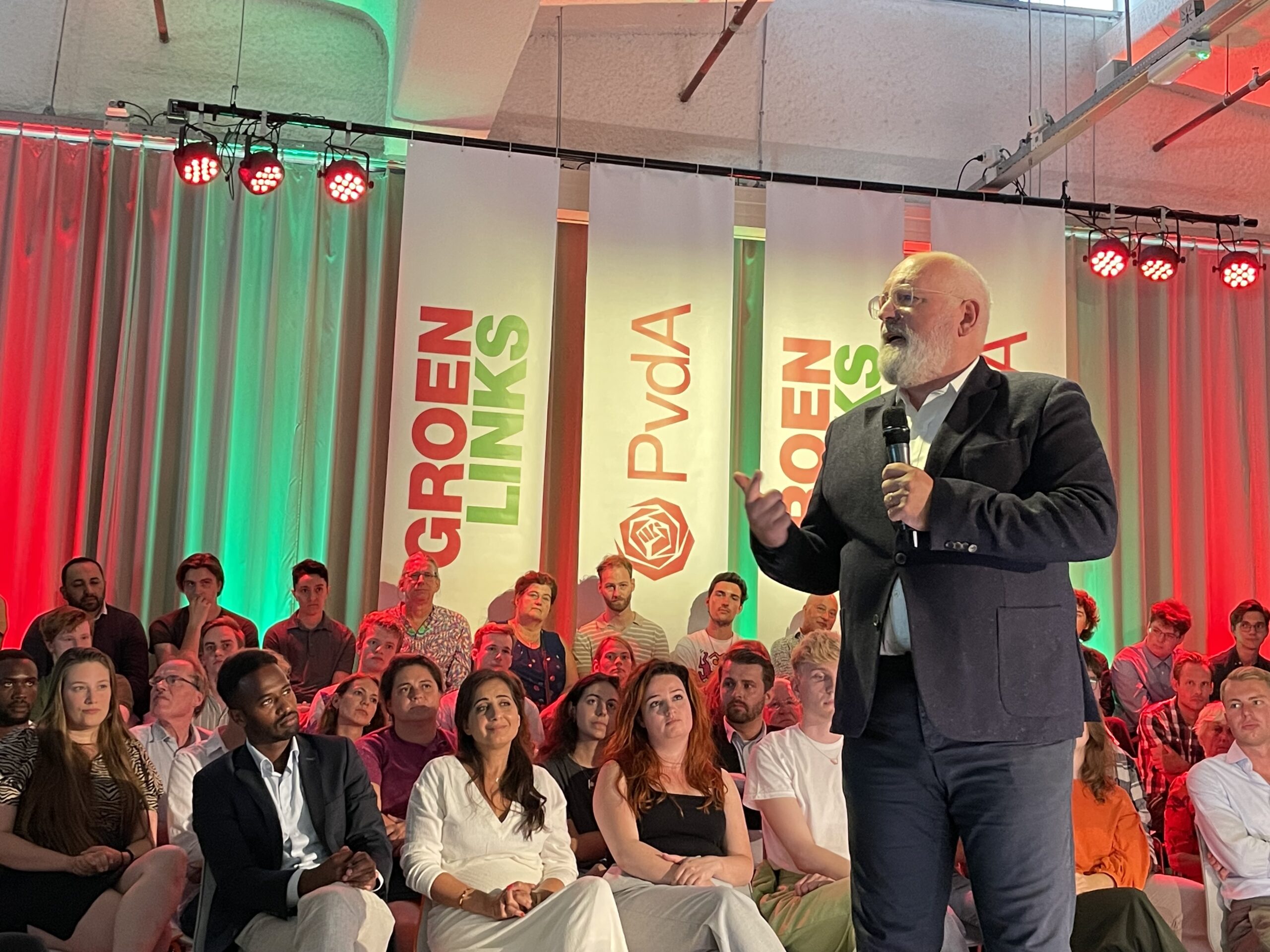 Pledging to build a 'united left' into a government of solidarity and trust, the new leader of the GreenLeft/Labour group Frans Timmermans addressed his first party meeting on Tuesday.
Voted leader of the GroenLinks/PvdA alliance with 92% of almost 38,000 member votes, Timmermans has officially resigned his paying job as executive vice president of the European Commission – and left himself in the hands of the Dutch electorate. At a jubilant event in a former cigarette factory on the outskirts of The Hague, Timmermans outlined his vision for a positive, left-wing government that "would not let people fall through the ice".
"Government needs to be there in a time of profound social change," he told some 250 activists, including PvdA leader Attje Kuiken and GroenLinks head Jesse Klaver, who had brokered the alliance and were sitting on the front row.
"This is also an industrial revolution and above all a time when through our own actions, the survival of our kind is in danger. But it doesn't need to be…The government needs to give democratically-legitimate form to these changes, to ensure there is a reallocation [of resources] on the basis of solidarity that everyone can believe in and so nobody is left behind."
The left-wing alliance is notable in Dutch politics, where there are 21 parties in government and more have split into multiple fractions than joined together in recent years. It is currently polling as one of the leading three parties, slightly behind the VVD but ahead of the farmer citizen movement BBB.
Timmermans, who is credited with a major role in achieving the recent "green deal" to make the EU carbon neutral by 2050, argued that climate justice and social justice should go hand in hand to avoid some people losing out in a period of great change. He added that supporting climate adaptation around the world was also "in our interests" since the alternative would be more immigration.
"In the coming months, we need to put this country back on the rails, rebuild our trust in each other, our trust in ourselves, that we can do big things if we do them together, and our trust in a government that in recent years has too often let people suffocate," he said.
"The world around us is changing incredibly fast and that makes many people very uncertain. We need to give people confidence that we can give form to these changes and can steer them where necessary."
Poverty
Timmermans highlighted energy-efficient social housing, free childcare, addressing child poverty and care for the elderly as key policies, attacking recent years of "wasted" public funds and a scandal-prone government that has lost many people's trust.
He also pledged to tackle the Netherlands' offering of beneficial tax regimes for global firms, fiercely criticised Russian president Vladimir Putin and supported robust future defence budgets.
Timmermans said he could easily envisage a coalition with left-wing parties the pro-animal Partij voor de Dieren and Socialist Party, and potentially with Pieter Omtzigt's New Social Contract – which is not yet included in polls but could score highly in the November general election. He told press after the meeting that a coalition with the VVD was harder to imagine, even though Mark Rutte would no longer be leader.
The meeting, live streamed to at least another 500 members, ended with a borrel – but not before the former Dutch foreign minister and 62-year-old PvdA stalwart Timmermans had revealed that he was a football fan in theory more than in practice, and took heart in his dark moments from the music of Bruce Springsteen.
Theatre
Playing to the audience on all sides in the hour-long question and answer session, he narrowly avoided falling off the stage at least once. "Thank you guys – but if you carry on my ego risks reaching stratospheric proportions," he also warned.
The message, however, was warmly received. "There was a lot of clapping for the press – it's a bit of theatre," Louisa Harmsen, a GroenLinks supporter from The Hague told Dutch News. "But I think that he can bring together the social aspect and the environment and I am happy with his plans."
Others like GroenLinks regional MP David Oude Wesselink, from Utrecht, were ready to start knocking doors. "I think we have the feeling that he can lead us and win over the rest of the Netherlands…including the farmers," he said. "The left has always had good answers but not easy ones."
Thank you for donating to DutchNews.nl.
We could not provide the Dutch News service, and keep it free of charge, without the generous support of our readers. Your donations allow us to report on issues you tell us matter, and provide you with a summary of the most important Dutch news each day.
Make a donation