Anti-racism chief: 'Rutte put a comma after slavery, we need to work to a full stop'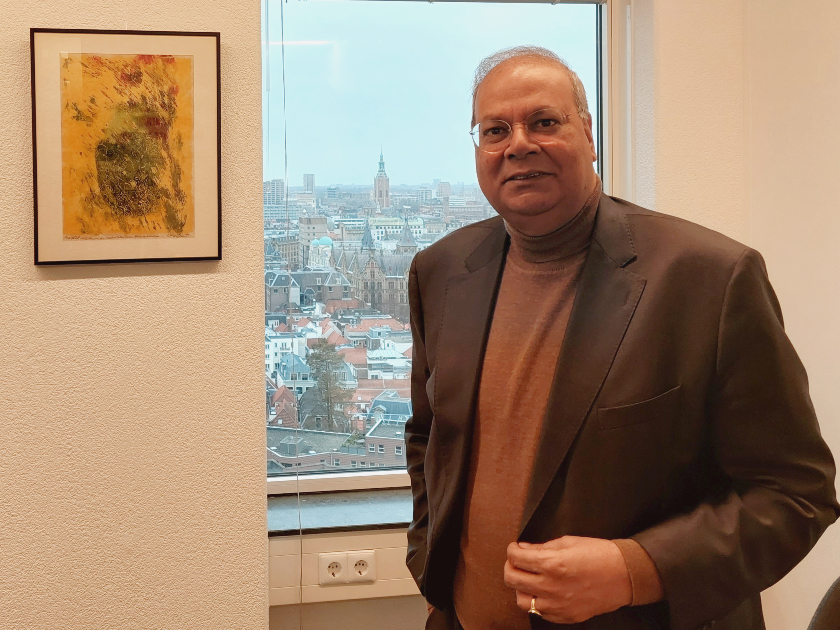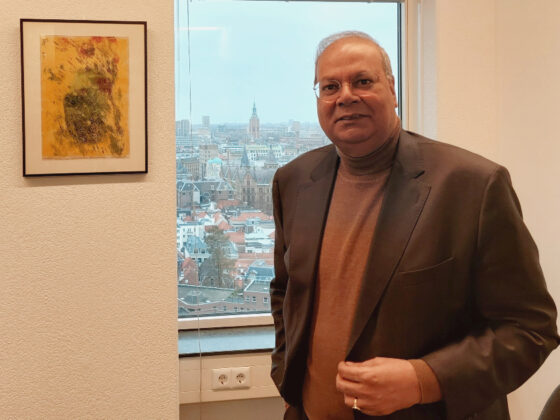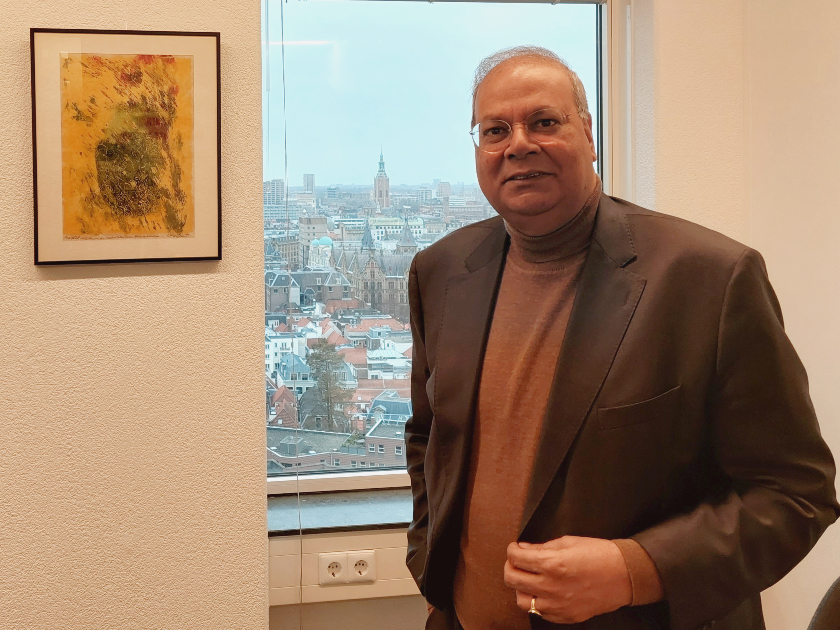 Rabin Baldewsingh deplores his job. That's not to say the National Coordinator Against Discrimination and Racism (NCDR) is anything less than committed to improving equality in the Netherlands. But in an ideal society, he argues, his office wouldn't exist. 'We should have a harmonious society where we recognise and acknowledge each other,' he says. 'You might be white, I might be black, but aren't we all human beings? But the truth is that we're not succeeding in making room for each other, so sadly this job is necessary.'
The position of NCDR was created in October 2021 to co-ordinate efforts to tackle discrimination across five government departments. The coalition agreement published by Mark Rutte's fourth cabinet two months later included a statement that 'there is no place in our society for institutional racism' – a phrase Rutte dismissed a few years earlier as 'sociological jargon' – and promised a long-term plan 'to combat all forms of discrimination, hatred and racism'.
Baldewsingh's office high up in the former Zurich Insurance headquarters by Central Station gives him a vantage point overlooking the five ministries covered by his brief: the interior ministry, justice and security, social affairs, health, and education.
Crucially, though, he is directly answerable to the interior affairs minister, Hanke Bruins Slot. 'The cabinet has given me an independent role but I'm not an independent advisor,' he says. 'I wasn't created to uphold the system. I want to come up with effective measures to tackle discrimination and racism. But you need to use the system in order to roll out those measures.'
'Breakdown of trust'
The childcare benefits scandal, which was the catalyst for the resignation of Rutte's previous cabinet in February 2021, and the 'unparalleled injustice' exposed by the parliamentary inquiry into discriminatory practices at the Dutch tax service, made the Netherlands face up to the racism in its institutions. 'There is a huge gulf between the people and the government,' says Baldewsingh. 'There's a breakdown of trust. And then you have the benefits scandal where people were unfairly put on lists on the basis of their belief or their ethnicity.
'When people are faced with all these things they give up, and that's not good. But that means politicians, the cabinet and I all have to work harder to bring people together and that's a huge effort.'
The same goes for the police, where Baldewsingh sees a growing willingness to tackle a problem that has been swept under the carpet for decades. Last year a groundbreaking documentary, De Blauwe Familie, told the story of former police officers who left the service after enduring years of racism and bullying. Senior officers have been set a target of ensuring that 35% of officers are from non-western backgrounds in five years' time. 'There is a lot of work still to do, but the will is there and I think that's very important,' Baldewsingh says. 'But it mustn't take too long. There needs to be change within the foreseeable future. Although I must be fair and say I can see that they're aware of that, so my hopes are very high.'
'Stupid' headscarves policy
On some politically sensitive issues the cabinet has proved to be 'very hard of hearing', Baldewsingh says. Justice minister Dilan Yesilgöz has repeatedly rejected calls to allow police officers to wear religious head coverings such as turbans or hijabs as part of their uniform, arguing that it undermines the perception of neutrality. The issue came up time and again during a series of 'town hall meetings' that Baldewsingh held during his first year in office to explore the reasons why some communities, including the Muslim community, feel shut out by the government. 'She's not prepared to discuss it, and I think that's very stupid,' he says. 'You're not serving society if a section of society is excluded from playing their full part because of what you think.
'It's a political choice, not a rational choice. Even the police are calling for people to be allowed to wear headscarves. We already have a shortage of personnel and a shortage of women in the police force. Politicians are holding back inclusiveness in this area. Just because you wear a headscarf doesn't mean you'll treat people any differently. It's just not tenable.'
Baldewsingh is equally scathing of the so-called 'Rotterdam law', first implemented in the port city in 2006, which gives councils the power to stop people on welfare support moving into low-income neighbourhoods. Its supporters say it aims to improve safety and raise living standards by preventing 'hot spots' of poverty and deprivation forming, although studies carried out for the home affairs ministry in 2015 found no evidence that it had led to any tangible improvements.
Baldewsingh's objection is to Article 8, which limits its scope to people who have lived in the region for less than six years. 'It's plain discrimination and as a society we should reject it,' he says. 'Being able to live where you like is a fundamental right in the Netherlands,' he says. 'This law excludes people so that they can't live where they want, and the main victims are people in lower socio-economic classes, who are more likely to be migrants or people who've been given residential status. And I think it's a great shame that the minister for housing doesn't see that, especially since he used to be an alderman in Rotterdam.'
Apologies for slavery
The formal apology last December for the Netherlands' history of slavery was a landmark moment, Baldewsingh says, though the timing of the announcement and the decision-making process 'should have been more diligent'. As a poet dedicated to promoting his native Sarnámi, a language developed on the plantations of Suriname, he especially appreciated Mark Rutte's 'brilliant' use of minority languages. 'He used the right words, by addressing the people and the numbers, but also by expressing the apologies in four different languages. It was a way of showing "I care" or "I feel your pain".'
He has no doubt Rutte's attitude has shifted since the 2017 election, when the prime minister published an election poster stating that people who complained about racial discrimination should put up or shut up. 'He has come on a long journey to reach this point,' Baldewsingh says. 'It was an emotional moment for him. I could see that he had taken in the whole story and he was moved by it. He's a historian, he sees it.'
Most crucial of all was Rutte's statement that the apology on December 19 ended in 'a comma, not a full stop', recognising that the past can never be a closed book, as some critics have argued. The popular historian Maarten van Rossem's dismissal of the apologies as 'politically correct whinging' incenses Baldewsingh. 'Slavery was a system based on a sense of superiority where other people were seen as possessions, dehumanized, put in chains and exploited. If you're a product of that system, you're confronted with it.
'I'm not a descendant of enslaved people, I'm a descendant of indentured labourers. My grandfather was brought from India to Suriname to work on the plantations. Not a week goes by when I don't think about it. It's shaped my life. So it's disappointing to hear Maarten van Rossem say: that's not my history. He's a historian, for pity's sake! What happened in the time of slavery or contract labour is history for white Dutch people too. History connects us with each other.'
He supports the idea of making Keti Koti – 'break the chains', the annual commemoration of the abolition of slavery in Suriname on July 1 – a national holiday. King Willem-Alexander is expected to address this year's 150th anniversary celebrations and has commissioned an independent study into the royal household's role in the country's colonial past. Baldewsingh calls it a historic moment, but adds: 'For me what's important is to work together on solutions that create inclusivity and give substance to the comma, so that one day we can reach a full stop.'
Emigrated at 13
Baldewsingh has been a trailblazer since 1975, when he arrived in the Netherlands from his native Suriname, alone, at the age of 13. His family emigrated there two generations earlier as labourers from Hindustan, in what was then British India, recruited to keep the plantations running after the abolition of slavery. His own background, drawn from three continents, has shaped his view of how societies are formed. 'You always get parallel societies within a society,' he says. 'The expat community, for example, has a different life from mainstream Dutch society, let alone the mainstream multicultural society. But that doesn't have to be a problem for a country or a social structure or a community, as long as you're prepared to recognise and accept each other.
'Having multiple loyalties doesn't make you a bad citizen of the Kingdom of the Netherlands. In fact, having different backgrounds has widened and enlarged my world. When people reducing the debate to whether you should have one loyalty or one nationality: that's not how it works, especially in this connected world. Since coronavirus you can do your job without going to work, so to speak. You can sit in New Delhi or Paramaribo and be working here. The world really has become a global village.'
He spent his teenage years in Leiden, going to secondary school and washing dishes in a restaurant at weekends. 'I felt a lot of solidarity, especially at school,' he says. 'It was a real safe haven in that respect, with a lot of people who created a sense of caring and sharing.' Migrants were few and far between in the Leiden of the mid-1970s: 'Maybe for that reason people were more accepting, or at any rate more curious,' he says.
When he turned 18 he moved to The Hague, which was by then a multicultural city. In the 1980s he was at the forefront of efforts to broaden the city's cultural scene, organising events such as the Milan [Summer] Festival in the Zuiderpark and the Hindustani Film Festival to promote Indian cinema. He helped to establish the Sarnámihuis, the small museum on Brouwersgracht, and erect a statue to Mahatma Gandhi and the National Hindustanian Immigration Monument on Hobbemaplein.
'Educate each other'
His political career began in 1986, when he joined the Labour party (PvdA) after listening to a campaign speech by the former prime minister Joop den Uyl. In 1998 he was elected to the city council and would spend the next two decades in local politics, including 12 years as an alderman, with responsibility for some of the most deprived communities in the Netherlands, such as Moerwijk.
'It's not just about attitudes,' he says. 'A lot of black people are in a disadvantaged economic position. They're at a disadvantage in education. There are reasons for that. It filters through, it's as simple as that. And fortunately there are people in this country who see that, all the way up to the king.
'I'm pleased the cabinet has set money aside and I hope a lot of it goes into education. We need to learn from each other. Whether you're in Moerwijk or Laakkwartier [in The Hague] or Amsterdam West, we know far too little about each other and each other's history. People need to know who they are, where they come from and what their background is, on both sides.'
The ongoing national programme covers all forms of discrimination, including disability, gender and sexual orientation. A less lauded step forward was the recent amendment to Article 1 of the constitution to outlaw discrimination against disabled people. 'There will be very strong measures for people with disabilities, but also regarding the Roma and Sinti population we have here and other issues that have not had enough attention in the past,' Baldewsingh says.
Though he regrets the fact that prejudice and discrimination made his job necessary, Baldewsingh is optimistic about the capacity of Dutch society to overcome it. 'The Netherlands is a great country and a resilient country,' he says. 'The principle of equality is enshrined in Article 1 of its constitution. There are countries where you can't even talk about LHBTIQ+ rights or where people with disabilities are shut away so they can't take part in society. Thankfully the Netherlands isn't such a place.
'I'm very happy to be here and to live here, but I want to play my part in making the country more inclusive than it is now, because I think we borrow this country from our children and grandchildren and we have an obligation to leave behind a society where people are connected. Caring and sharing: that's the inspiration that I want to leave behind.'
Thank you for donating to DutchNews.nl.
We could not provide the Dutch News service, and keep it free of charge, without the generous support of our readers. Your donations allow us to report on issues you tell us matter, and provide you with a summary of the most important Dutch news each day.
Make a donation