People come in all varieties: racist border control is a waste of time and money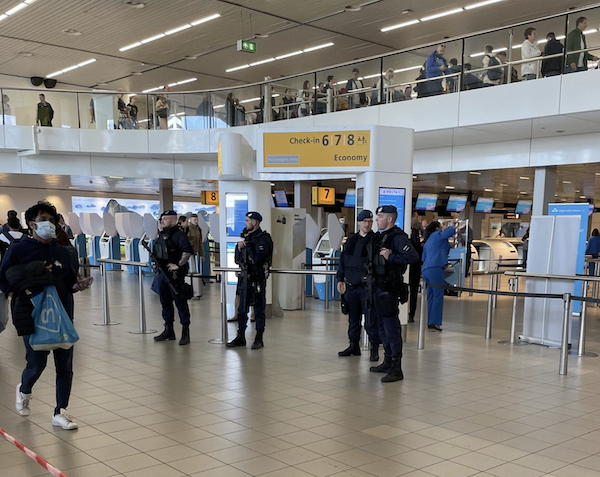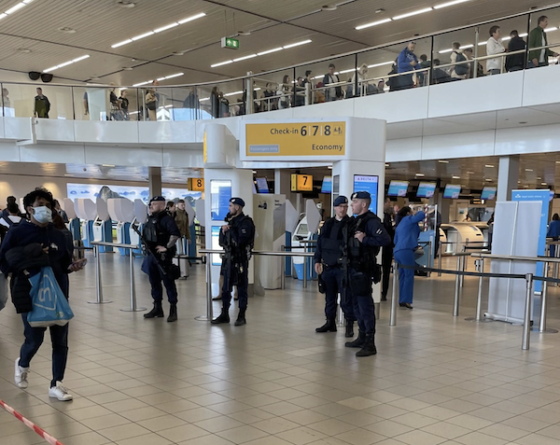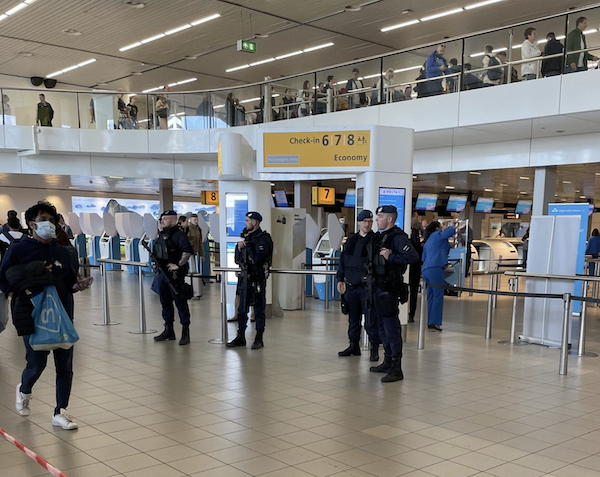 Brit living in the Netherlands Senay Boztas recounts her enjoyable experiences with Dutch border police over the years and wonders why they thought ethnic profiling was helpful.
'Is that your baby?' said the man, tossing his hair and looking down on me.
'Pardon?' I replied, jiggling in the way that placates a baby stuffed into a sling, with too many clothes and bags and too little sleep.
'Is that your baby?' somewhat more aggressively.
I had no idea whether to laugh or be horrified at the Dutch border police check.
No, I wanted to say, I'm such a marvellous person that when I pick up a random two-month-old, my breasts just spring milk. Then I go through the hell of a late night plane trip, covered in baby secretions, wondering when he will projectile vomit again and how to protect my fellow passengers.
The border policeman proceeded to give me a lecture that if I was travelling without the baby's father, I had to have declarations in triplicate, signed in blood. Because, of course, a sheet of paper with a random signature and a photocopy of a passport are impossible for baby smugglers (or anyone else) to forge.
'He looks like you,' the man admitted finally, as he let me go, baffled, tired and embarrassed at holding up the queue.
My British friends reported a nicer time at the border, although we all had to have the parental permission letters, but I began to dread going through the Dutch side. Everything was scrutinised whether I was going in or out of the country and however friendly I tried to be in Dutch, I always got the 'ho ho' eye.
Then I wondered if things might be different if my surname wasn't Boztas.
Profiling case
It is astounding to me that the Dutch government wasted taxpayers' money in defending a clearly indefensible case to allow the border police to check people on the basis of racial attributes. Hauling a councillor from Eindhoven for extra border checks because he was black, walking fast and wearing a suit and so matched the profile of a 'Nigerian money smuggler' is behaviour from another age.
Surely not for the modern day Netherlands, which comes high up on Transparency International lists for avoiding corruption, is known for its openness on sexual diversity, and tells the world what to do better on subjects like access to abortion.
Yet it took five years and an appeal court to confirm this week that Zaire-born Mpanzu Bamenga – a former human rights man of the year and the councillor in question – had his European rights violated by the Dutch border police in 2018. 'This is discrimination on the basis of race,' said level-sounding presiding judge Bas Boele to a courtroom in The Hague.
'This kind of discrimination leads to stigmatisation and feelings of pain and frustration in the people selected on these grounds…[and] has a negative effect on society as a whole. It can make Dutch people with a skin colour other than white feel unaccepted and like second-class citizens.'
Last year, after a lower court judge upheld the border police's right to discriminate on the basis of perceived ethnicity, the border police announced they would voluntarily stop ethnic profiling.
Yet in the appeal court case – even the state's lawyers didn't sound convinced – it was argued that ethnic profiling could protect Vietnamese-looking people at risk of being smuggled to the UK and hanging around near a lorry park (but not Italian-looking people?). It was a necessary part of the tool kit, said the state. Random controls would just annoy the general population (instead of only the ethnic-looking ones?). Clearly the judges, and anyone with half a brain, thought differently.
Embarrassment
Now the Dutch government is considering whether to take the case to the Supreme Court. Here's a plea in the interests of everyone who pays tax: please don't waste the state's money. Please don't embarrass this country, which does so much well in terms of equal rights. Having a black skin doesn't mean you are not Dutch, or that you are Dutch: this is a multicultural society.
Tough border controls are not the issue. Living in Australia, it was normal to have your bags scrutinised for illicit goods like Indonesian star anise, or suspicious mud in your shoes. They were absolutely rigorous, but completely polite and straightforward. They didn't bat an eyelid at different names (and they would even clean your boots for you).
Here in the Netherlands, I don't look Turkish, like the Boztas, and I have a slightly schizophrenic experience. When people see my funny name, they feel the need to say things like: 'Gosh! You work for The Guardian! Well done!' or 'You look quite white…and people say I look Turkish because I have a dark skin!'
My name does seem to come up for checks from government and occasionally bureaucrats hassle me in a ridiculous way. For example, to come into city hall and present my passport, again, during a vaccine-less Covid lockdown, because some incompetent civil servant made a rubbish photocopy years ago. Maybe it's just bad luck and Byzantine bureaucracy.
Sensible controls
But in day-to-day life, walking around, I don't get the kind of hassle that people of colour report in the Netherlands, otherwise my family would be donating our tax money to another state, thanks very much.
It is clearly a waste of border police time giving people extra checks just because their name looks funny or they have a dark skin. We all want sensible, effective border controls to combat fraud, modern-day slavery and people smuggling. The state did not present evidence, the appeal court found, that ethnic profiling does this. So all credit to Bamenga, his fellow plaintiff and Amnesty International for the stress and effort of taking it that far.
For myself, I've found the best option at the borders is to avoid making any effort to speak Dutch but communicate in English as stiffly and politely as the stereotypical Brit. And, blessed relief, avoid travelling with babies.
Thank you for donating to DutchNews.nl.
We could not provide the Dutch News service, and keep it free of charge, without the generous support of our readers. Your donations allow us to report on issues you tell us matter, and provide you with a summary of the most important Dutch news each day.
Make a donation