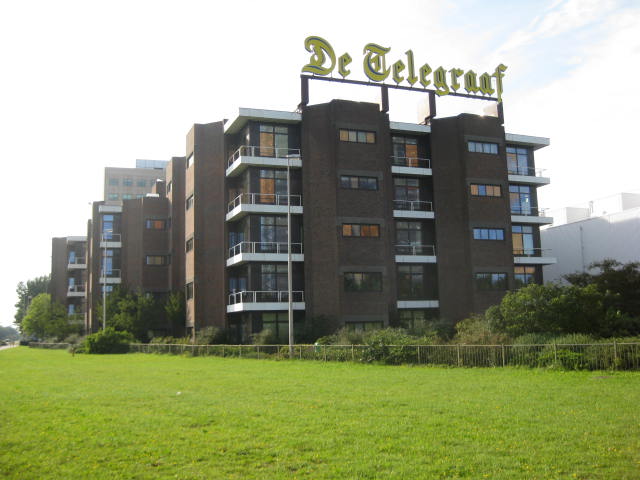 Police in Amsterdam are investigating what appears to be an attack on the Telegraaf newspaper after a van drove into the building at around 4am and then burst into flames.
No-one was injured in the attack, although the damage to front entrance of the building is considerable.
Given that the car was on a road parallel to the building, the incident appears to have been deliberate, police said in a statement.
The van used in the attack is a white Volkswagen Caddy and after the attack, the driver was picked up in a dark Audi, police said. They are calling for any witnesses to come forward, police said.
'We will not be intimidated,' editor in chief Paul Jansen said. The paper has been threatened before but is too early to speculate who may be behind the attack, he said. 'We are naturally all very shocked. This is a violent thing to have happened.'
Crime and sport
The paper's offices are close to the Sloterdijk train station. The Telegraaf is the biggest Dutch paper with a high profile for populist stories, crime and sport.
Last week, the nearby offices of the Panorama weekly news magazine were shot at by an anti-tank missile. A 41-year-old member of a motorbike gang has been arrested in connection with that incident.
'Last week Panorama and now us, the free press is under attack,' Jansen said. 'It is a worrying development.' The paper's crime correspondent John van den Heuvel is already under heavy security due to his reports on organised crime.'
Prime minister Mark Rutte has described the attack as a 'slap in the face to the free press.'
Telegraaf-hoofdredacteur Paul Jansen: 'We laten ons niet intimideren, we zijn gemotiveerder dan ooit'https://t.co/hWjnci2OLt pic.twitter.com/kTcdL7Ht8j

— AT5 (@AT5) June 26, 2018
Bi-zar #Telegraaf pic.twitter.com/gbfhxdq7wo

— Wouter de Winther (@wouterdewinther) June 26, 2018