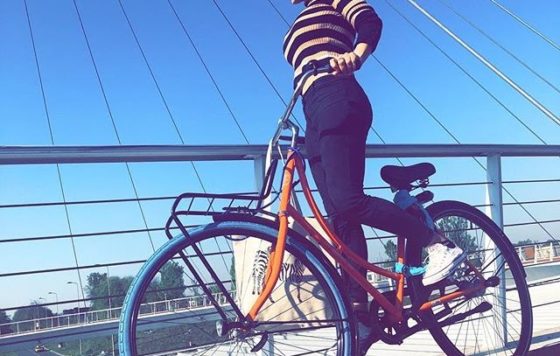 Laura Alvarado is a Mexican woman who moved to the Netherlands for love. She writes and shares her experiences as someone reinventing herself while integrating on Dutch In Translation. She also interviews other internationals about their experiences. In this post, Alvarado speaks to Eliana Martt, who grew up in the north southeast of Brazil and now owns a hairdressing salon in Eindhoven. 
It's December 2018. Andrey and Eliana land in Eindhoven and find a nice home, close to Parktheater and the city centre. It's better than a dream! They feel everything is just perfect now.
Like for many expats and situations in life, this is the honeymoon phase: Brainport Eindhoven, Europe's innovative region, first world, a bright future on the horizon, add newly married to it. Eliana and Andrey think they've settled and he jumps into work. Eliana thinks a hairdresser is needed everywhere. This won't be hard.
In March, armed with her relentless optimism, she looks for job openings and applies. She'll start from the bottom. That's fine. No? She applies again. What she's facing now is something unexpected: not enough English, no Dutch. What she hears is, Go. Study. Then come back. No wonder this is enormously frustrating! Not even being able to show what she could do?
But then she also knows what needs to be done. We also know. Grin and bear, adapt, do what's necessary in order to have a better future, a good life. She starts English and Dutch lessons. If language is the obstacle between her and a job, then she'll learn. Fast. What can stop her? Her health? Not even that. In her words, 'My health didn't stop me, it just slowed me down'.
Doctor
She goes to the huisarts. She's discovered a tiny lump on her neck. It's cancer. Inescapably, her routine changes: keep the doctors' appointments and get on with Dutch and English. In July, she has her first surgery. Every week there's a doctor's appointment, at the hospital or home. In the beginning, her husband comes to help with the language. After a few months, they both understand she needs to fly solo on this: she needs to learn to navigate the world with however much English she can manage, and he needs to work.
It's decided and Eliana starts going to the appointments by herself, her husband coming only to the critical ones. She's obviously nervous but so full of life. Always smiling and buoyant, always ready to do whatever's needed. Everyone at the hospital loves her: her positivism, her endurance, her will. And she loves them back. Here I ask Eliana what she thinks of the Dutch health service since we usually only hear and unfairly believe the negative side. 'For me, not only the doctors but Dutch people are amazing. If you are nice and friendly, you're home.'
First client

Andrey, being Eliana's best and loudest supporter, tells his friends and colleagues about his wife and her profession. Maybe he's conspiring with the universe, we won't know. One fine day, a Brazilian friend of theirs, Murilo, asks Eliana for a haircut. She's so excited! A haircut! What a gift to be able to do what she's good at. This is the spark that gives birth to the reality of it all. At this point, Instagram and the whole universe conspire, and the first 'real' client gets in touch.
Through Instagram, Eliana receives a message from a lady she doesn't know. 'Are you the hairstylist to the pictures you're posting?' 'Yes, I am. They're from my clients in Brazil.' 'Could you do my hair?' 'Sure I can!' Eliana is over the roof, to the moon, and not back! Not only that, but this is also the beginning of the journey she's dreamed of and fought for.
More messages, more calls, more haircuts. She'll go to every home, carrying the tools on her bike. It's exhausting but keeps going. She works hard, more and more people are making appointments. There she goes biking, scissors, brushes, blow dryer and all, so Dutch! She's Mary Poppins with a bike instead of an umbrella or Dorothy with scissors and a brush instead of red sparkling shoes!
'I remember you and one client telling me that the language is not a problem for someone who knows how to do their job. So I kept going, trying not to worry about it.
Dutch
It might look like everything is going according to her plans, but let's not get ahead of ourselves. We mustn't forget she's taking Dutch and English lessons and there are other appointments to keep, the ones at Catharina's. She's tired, probably exhausted, but brimming with burning desire. What to do? Grin and bear, adapt, do what's necessary in order to have a better future, a good life.
Advised by a Dutch friend, she gives it a try and starts seeing clients at her home: Philippines, India, Macedonia, Finland, you name it. If it works, I'll register, pay my taxes, and be a responsible citizen.
She also gives up a language, postpones Dutch, and keeps going with English. Just as she's focusing on sending all good vibes to her body, asking them (I wonder if ordering) to let her be healthy, heartbreaking news arrives from Brazil. Her father has died and she can't fly back. She grieves the loss, thanks his love and guidance, and keeps going on.
Registering at KvK

Eliana dives into the internet, reading all she can find related to registering as a freelancer and opening a business in the Netherlands. Next step, she makes an appointment at the KvK and Andrey comes along. He's unsure and has many questions.
For Eliana, it's clear she not only wants but needs to register as soon as possible. She remembers how after leaving the building, she sits by the sidewalk and starts crying. Too many responsibilities, too much compromise. Her husband wants to have time to think about it for a little longer.
Eliana can't stop crying. After everything she's gone through, the next step needs to be her call. She doesn't want it taken away from her nor give that power away. She feels she must be wholly responsible, and she should register, ASAP. Grin and bear, adapt, do what's necessary in order to have a better future, a good life.
Eliana gets things done. She has a new appointment. Once again she goes through the glass door of the KvK building, by herself, and registers.
Opening a business bank account
Next step, the bank account. More appointments, flying solo. The unexpected happens. At the bank, they explain that because she doesn't have a Dutch passport, the business account can only be opened by phone. It's a security measure to check if you're legal and to track money laundering.
She thinks, Oh my goodness! A phone call in English with the bank! Oh my goodness! And even with all the oh my goodness in the world, she still has to do it. She's learned that she can't and shouldn't be dependent on her husband. He has his own worries and she must build her strength and security. (Do you know the chorus to the song, What doesn't kill you makes you stronger?) She needs to get things done.
'I remember once you told me I needed to solve my problems without someone…to be independent. I learned this from you.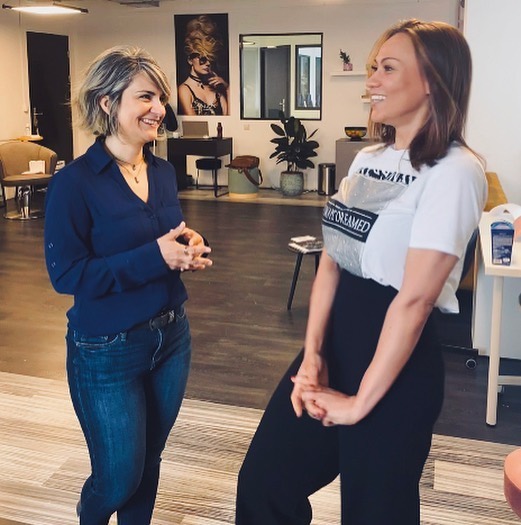 She makes the phone call, not once but many times over several weeks because easy is not fun, right? During each call, there's always something she doesn't understand and the phone call comes to an end. After nearly a month and thanks to someone with a lot of patience, the account is officially open.
A place in Strijp-S
By now, Eliana's had a second surgery and begins radiotherapy. She takes this hiatus to look ahead. A Brazilian cosmetologist friend gives her the final push. Let's rent a place, share the cost, and build up our businesses! Believe it or not, Eliana is hesitant, her English and having to deal with owners and contracts feel overwhelming.
As a team, she and her new partner make it work and find the perfect spot, Strijp-S. It takes more than expected to fix the place, it's hard to find people to do the job in December. Solution? They take it into their own hands and get to work. On January 7th, 2020, the place opens its doors.
I ask Eliana how it feels to have her own place, EM Beauty and Style, to which she replies, 'I don't care if it's mine, I can only be thankful that I have a space where I can work.' In February, she and her partners part ways.
Eliana chooses to stay. 'I'm thankful to my friend for taking the first risk and getting us Strijp-S…I wish things had worked out, but they didn't…above it all, I wish her the best in all her enterprises.' Now, Eliana's a huge responsibility, all by herself, but she'll figure it out, won't she? Grin and bear, adapt, do what's necessary in order to have a better future, a good life.
Conclusion
The first question I asked for this interview was Who is Eliana Martt? She was completely taken by surprise. She whispered, 'Ay, Laura…' I tenderly observed her, imagined how a million images popped into her brain, a million feelings burst through her veins, a million moments rushed into the moment.
I've been her English teacher (and life coach as she says) for a year. I've seen her struggle and I've seen her bloom. I understand what she means. How to comprise your essence in one sentence or in a short interview?
To be who we are, there is a lifetime of events, insignificant and monumental, that shape us into who we become. This is a story where an expat got what she always dreamed of, living abroad while keeping practicing her profession. Truth is, this is not everyone's journey.
For many, coming here is part of a family dream: The husband/wife gets a good job, their quality of life improve, and the children have access to better education. This is the honeymoon phase. It usually doesn't last forever. There are many untold stories about the struggle it is for the non-working partner: His/her personal and professional development stagnates.
It's a struggle to decide which language to learn and feel the motivation to go for it; how to adapt and fulfill inner needs; the effort that daily functioning takes while wishing to be somewhere else, someone else. The thought of impossibility at reinventing oneself.
My advice is to love yourself first in order to be able to be there for others, or else speak out and ask for help. You are not alone.
This is an excerpt from Eindhoven's New Hairdresser: The Story Behind A Brazilian Expat on Dutch in Translation.
Every month we feature a blog post from one of our favourite bloggers. Interested? See if your blog meets the criteria to be included on the site.
Thank you for donating to DutchNews.nl
The DutchNews.nl team would like to thank all the generous readers who have made a donation in recent weeks. Your financial support has helped us to expand our coverage of the coronavirus crisis into the evenings and weekends and make sure you are kept up to date with the latest developments.
DutchNews.nl has been free for 14 years, but without the financial backing of our readers, we would not be able to provide you with fair and accurate news and features about all things Dutch. Your contributions make this possible.
If you have not yet made a donation, but would like to,
you can do so via Ideal, credit card or Paypal.