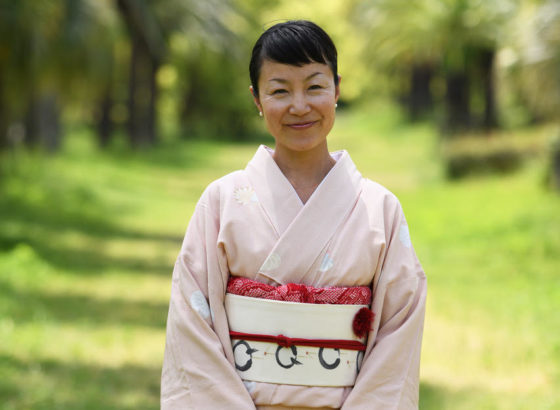 Most internationals come to the Netherlands to work, to study or to follow their love. Not Emi Collier. The Japanese native wanted to move to the Netherlands because she loves the culture's directness. 
How did you end up in the Netherlands? 
I moved here with my family in July 2019. I am from Japan and the Dutch and the Japanese have a friendship treaty that allows Japanese people to get a residency permit if they have a small business.
I run Bonsai & Tea, a Japanese concept shop, from our home in Maastricht. Previously I worked for Dutch airline KLM in Japan, and I had the opportunity to travel to the Netherlands and meet a lot of Dutch people. My husband and I really liked the culture here and when I finished my MBA last year, we thought this was a good time to move.
We ended up in Maastricht because we couldn't find space for our children in any of the international schools in Amsterdam, The Hague, or anywhere else in that area. A friend of mine mentioned that Maastricht was very international and we found space for the three of them at a school there. My husband, who is a pilot, is still working in Japan, but he's traveling back and forth.
How do you describe yourself – an expat, lovepat, immigrant, international, etc – and why? 
I don't see myself as an expat. I think we will stay here for a long time. I wanted my children to have the opportunity to live in a place that is less monocultural and less monolingual than Japan is. Here, they will have more opportunities for their education.
I guess I would call myself a world citizen. I've lived in Japan and Malaysia and now the Netherlands. My husband is from Australia. So that seems right.
How long to plan to stay and why?
We will initially stay for two years, as that is the duration of our visa. Then we can apply for a five-year extension. And after five years in total, we can apply for permanent residency. I will start learning Dutch this year and my children are already learning it in school. Our plan is to stay for a long time.
Do you speak Dutch and how did you learn?
I can say eet smakelijk and dankjewel. I learned some words from my Dutch colleagues when I worked for KLM, but I am planning to start Dutch lessons this year. When I am on the train, if there is a problem or a delay, I can't understand the announcement and I don't like to not know what is going on.
What is your favorite Dutch food and why?
Bitterballen and Old Amsterdam cheese. I love that cheese, I eat it a lot. I had had a lot of Dutch foods that my Dutch colleagues shared with me. They always seemed to be carrying around some drop. So slowly I got over the taste of it.
How Dutch have you become and why?
I don't know. I tried not to be too Dutch when I was living in Japan because Japanese culture and Dutch culture are very different. The Dutch are very direct with things, especially in business, but the Japanese are not. You have to find ways to go around problems to find a solution. But when I was dealing with Dutch colleagues, I had to be more direct or it wouldn't work. I can switch on being Dutch a bit.
Which three Dutch people (dead or alive) would you most like to meet and why?
I think everyone says this but Vincent van Gogh. He was really fascinated with Japan and Japanese art and artists. He painted women in kimonos and other Japanese landscapes from art books. One of his paintings with sunflowers is in a museum in Japan [Sompo Japan Museum of Art in Tokyo]. So I would like to ask him about why he was so fascinated with Japan.
Another person I would like to meet, I have already met – the Dutch inline skater Sven Boekhorst, who is my kids' skating coaching. He's really impressive, he's won a lot of prizes and competitions. But he's also really inspiring to my kids and they are thriving with his lessons.
The last person is Geert Hofstede, who is professor of organisational anthropology and international management at Maastricht University. He has done a lot of work on organizational psychology and cross-cultural groups. I read a lot of his work when I was getting my MBA. I've learned a lot from him and his research.
What is your top tourist tip?
I think people should visit the south of the country. The Christmas markets in Maastricht are really lovely. If you come to visit the city, you should go to see the countryside as well. I love to have lunch at Château Neercanne. Their food is delicious and the restaurant and the view is beautiful. Also, the caves outside Maastricht are a good place to visit.
Tell us something you found surprising about the Netherlands?
The fireworks! I knew a lot of things about the country before I came here because I had worked at KLM and I had a lot of Dutch colleagues who taught me things. So I knew about the Dutch directness, I knew how open the Dutch can be. I wasn't prepared for New Year's Eve this year. It's totally crazy.
And I wasn't familiar with the driving culture. In Japan, you must drive on the left side of the road. When I first moved here, I would drive in the left lane on the highway, but very slowly, because I didn't know any better. I think I made a lot of people very mad.
If you had just 24 hours left in the Netherlands, what would you do?
I would go to the museum area in Amsterdam and see the museums, especially the Van Gogh museum. Then I would go to a concert at Concertgebouw. I love to listen to the orchestra. And I would also go to The Hague and go for a run in the woods there. I am an avid runner and that forest is very beautiful.
Emi Collier was speaking to Molly Quell