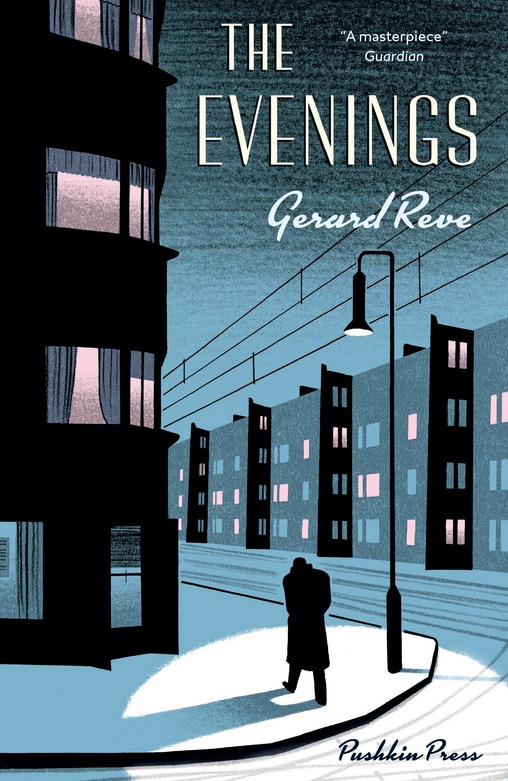 Set in the period from Christmas to New Year 1946, The Evenings (De Avonden) is considered a classic of Dutch literature. Molly Quell wonders why De Avonden is so important and if you should read it.
You could say The Evenings is about nothing, and nothing happens. The novel follows Frits van Egters, a 23-year-old office clerk living in Amsterdam and covers 10 days from December 22 to December 31 1946. Van Egters is bored, dissatisfied with his life and channels that unhappiness into obsessive behavior and, often, into being a jerk.
Written by Dutch master Gerard Reve when he was just 24, The Evenings is divided into 10 chapters, each focusing on a day in Van Egters' world. He lives with his parents in the Diamantbuurt, a poor neighbourhood which was built in the 1920s to house labourers. At the time of the novel, the country is recovering from the war, there are few entertainment options and Van Egters spends most of his time in the evenings getting bored.
The book

'The Evenings is the book,' says Marie Hubert, a Belgian native who read the book, some 30 years ago, while stuck in Liberia after her plane was diverted. It received mixed reviews when it was first published in 1947, with some critics lamenting the book's negative outlook and others praising its dark humor.
It won the Reina Prinsen Geerligsprijs in 1947 and Reve himself won the Prijs der Nederlandse Letteren in 2001 for his contributions to Dutch literature. Together with Willem Frederik Hermans and Harry Mulisch, Reve is counted as one of the three giants of Dutch literature.
Popularity
The book sold out its initial run and had to be reprinted twice. Nearly 60 reviews were written about it in the six months after it was released. The initial attraction to the book may have had something to do with its controversy. One review described called the book's bleak outlook 'shocking'.
Some readers were stunned by the frank confrontation of Dutch values and the predictability of the mundane. Yet when when the paperback version came out in 1962, it sold 100,000 copies.
The Evenings has remained popular with Dutch adolescents, who identified with the frustrations that Van Egters describes and is still a high school staple. After all, what young adult isn't frustrated by the outdated behaviour of their parents?
'It is a book you can really relate to,' says Wim Blokzijl, a lecturer at Delft University of Technology, who studied Dutch at the University of Groningen. It is, he says, this narrative of frustration and embarrassment about parents that readers can find common ground with, even if they can't relate to the post-World War II setting.
However, that setting is another reason the book is so popular. 'The post-war period is mostly taught in the context of the Indonesian War of Independence in Dutch history, and doesn't focus on what life was like living in the Netherlands,' says Constanteyn Roelofs, a journalist who studied history at Leiden University.
The Dutch population may have been elated about the war ending but there is less discussion of the rationing, poverty and dejection many experienced after the war, which seeps through the book – even though the war itself is barely mentioned.
Translation
For a book so well regarded in the Netherlands, it took nearly 70 years to make it into the English language. Some have said this is because the book is 'untranslatable' – but it was published in French, German, Hungarian, Slovakian, Spanish and Swedish long ago.
In fact Reve was highly critical of the English translation attempts by his publisher. The first serious attempt to translate the novel was organised by Reve himself when, in 1986, he employed famed translator Paul Vincent to do the job. That fell through, with both blaming the other.
There were other attempts, but it was not until 2016 that Sam Garrett's acclaimed version was published by Pushkin Press. The Guardian described it as 'a masterpiece' and praised Garrett's work, adding that 'it is a pity Reve was not around to enjoy it'.
Christmas
As the book is set in 10 days around Christmas and New Year, fans of the work often read or reread it during this time. 'I read it just before Christmas in 2017, though that wasn't planned,' said Oana Marin, a Romanian national who picked up the book during a trip to the Netherlands. She was converted to the author.
'Maybe the Dutch authorities could cough up some money and speed up the process of translating all of Reve's work into English,' she added.
Marin isn't the only non-Dutch person who enjoyed the work. British national Gareth Newton, who lives in Amsterdam, also enjoyed it. And he found an added benefit. 'I've never had so many Dutch people strike up a conversation with me until they spotted me reading this book in public.'
You can buy The Evenings at the American Book Center, in store and mail order
Thank you for donating to DutchNews.nl
The DutchNews.nl team would like to thank all the generous readers who have made a donation in recent weeks. Your financial support has helped us to expand our coverage of the coronavirus crisis into the evenings and weekends and make sure you are kept up to date with the latest developments.
DutchNews.nl has been free for 14 years, but without the financial backing of our readers, we would not be able to provide you with fair and accurate news and features about all things Dutch. Your contributions make this possible.
If you have not yet made a donation, but would like to,
you can do so via Ideal, credit card or Paypal.