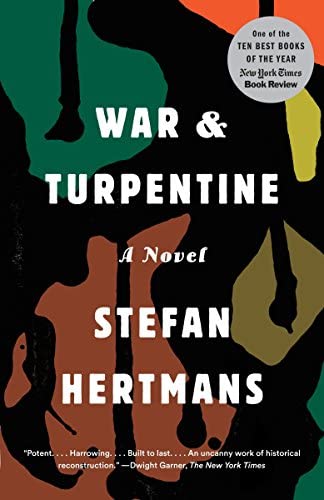 Writer Stefan Hertmans inherited his grandfather's diaries and turned them into a novel that has now sold more than a quarter of a million copies, been translated into 20 languages, and was longlisted for the Man Booker International Prize.
War and Turpentine (Oorlog en Terpentijn in Dutch) follows the life of Urbain Martien, born in 1891, the son of a fresco painter who serves in the Belgian army during the First World War.
In 1963, after the death of his wife, Martien begins to write about his life. Ultimately, he leaves some 600 pages of diaries to his grandson, who leaves them unread for 30 years.
Hertmans eventually turns the journals into a beautiful, haunting work of historical fiction, following his grandfather's life from a childhood in Ghent to the trenches to marrying his wife, the sister of his great love who dies during the outbreak of the Spanish Flu.
War and Turpentine was published in 2013, just in advance of the one-hundred-year anniversary of the outbreak of the First World War.
The author is a poet, with 12 collections of poems to his name before War and Turpentine, and his gift for language shows in the book's writing. The novel opens with a scene of Hertmans' grandfather and grandmother on the beach, describing in impeccable detail the act of Martien taking off his jacket, removing his cufflinks and rolling up his sleeves. The realism proves challenging later in the book when we see the brutalities of war.
The first section of the book shifts between Hertmans' memories of his grandfather and the biographical details of Martien's childhood. The story moves in the present day between Belgium, the Netherlands, and the United Kingdom while also showing us the journey of Martien's father – Hertmans' great-grandfather – who travels to England to work as a fresco painter in churches before dying of tuberculosis in his 40s. The interwovenness of the timeline gives the impression that history is never really that far away.
The English translation of War and Turpentine was published in 2017, and is the work of The Hague-based translator David McKay, who also translated Max Havelaar, the Multatuli classic as well as a number of stories from The Penguin Book Of Dutch Short Stories.
The Dutch-language version took home the AKO Literature Prize in 2014 and De Inktaap in 2016. The English version was named one of the 10 Best Books of 2016 by The New York Times Book Review, included on the Books of the Year list from The Economist and longlisted for the Man Booker International Prize.
War and Turpentine is not an easy read. Life is hard for a boy born to a poor family in 1891. The inhumanity of the First World War can be difficult to stomach. But it is beautiful and well worth it.
You can buy War and Turpentine at the American Book Center.