Continue This Thread – Fashion designers give voice to the 'whispered language' of needlework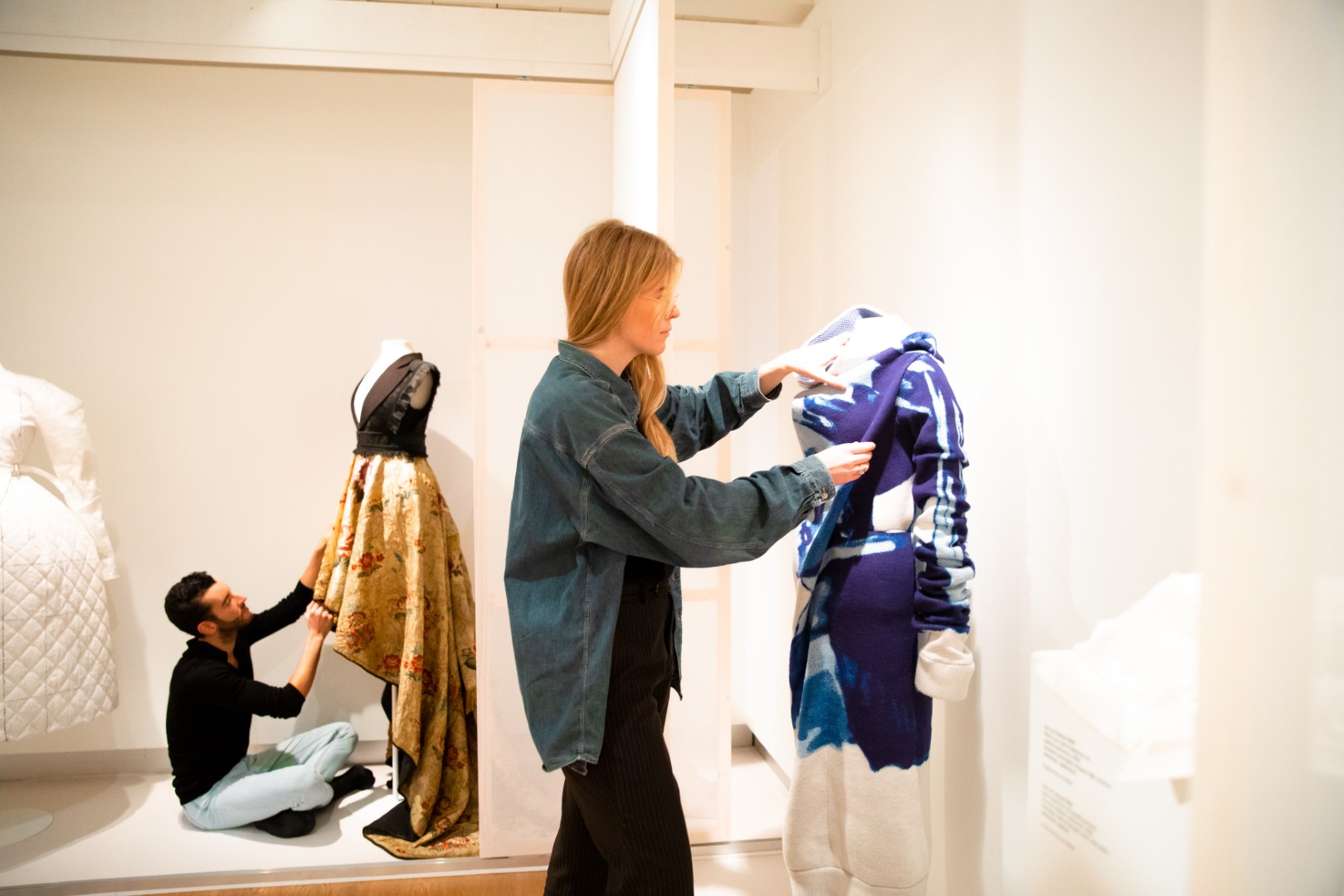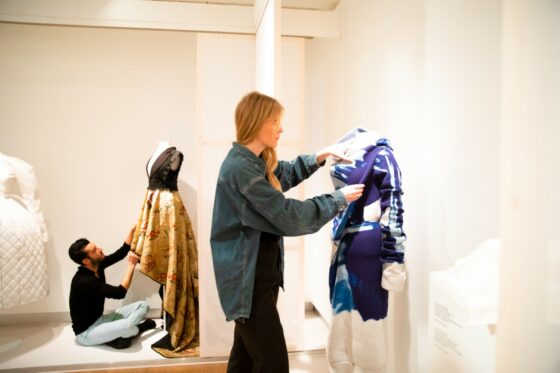 A new exhibition at the Amsterdam Museum on the Amstel, guest curated by Amsterdam-based designers Karim Adduchi and Tess van Zalinge, enlivens the once-fusty subject of needlework and explores the power of embroidery to innovate, activate and heal.
It is 2022 and in a depot in Amsterdam Noord, fashion designers Tess van Zalinge and Karim Adduchi are browsing the Amsterdam Museum's collection of over 10,000 costumes and textiles. They are selecting artefacts for Continue This Thread, an exhibition they will co-curate the following year in collaboration with Roberto Luis Martins, the museum's curator of Fashion and Popular Culture.
The museum has pulled out some showstoppers – historic dresses with rich embroidery – but Van Zalinge and Adduchi have gone off piste, exploring the depot's darkest corners and pulling open drawers. One object has them enthralled: an anonymous portfolio containing 97 intricate crochet samples, much of it baby or doll-sized clothing that showcased the creator's talent and suitability for marriage, but was most likely never worn.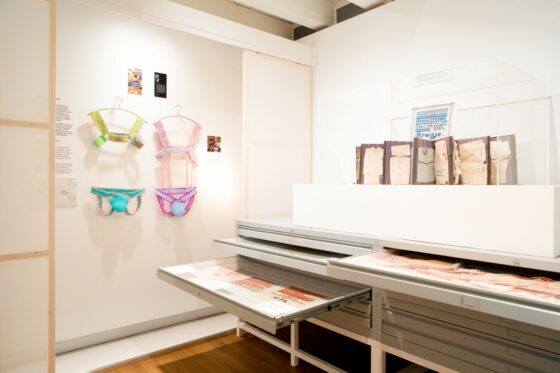 Unknown stories
'For us as artists and designers, we are mostly always credited and our name is the brand, Adduchi told DutchNews.nl. 'It felt very abstract that we saw something so beautiful and skilful but we didn't know the person who made it, so our intention in the exhibition is also to give somehow a voice to these unknown stories using the craft that is their identity that they left behind.'
Continue This Thread opened at the Amsterdam Museum on Friday, celebrating the power of needlework as a means of expression and a tool for bringing people together. The portfolio, since attributed to 'Bregje' in 1899, is one of 100 items on display at the museum, which is housed at the Hermitage Museum while the Spui location is renovated.
Exhibits include loans from the Rijksmuseum and Tropenmuseum and range from a meticulous cross-stitch sampler dating back to 1655, to a crocheted nipple-topped 'boob hat' created by artist Carmen Schabracq for the Women's March and displayed in a section of the exhibition devoted to activism.
New dialogues
Guest curators Adduchi and Van Zalinge's own work makes up around a fifth of the exhibition, highlighting key themes such as preservation, heritage and healing.
The decision to give the creative lead to artists rather than curators is central to the Amsterdam Museum's strategy, explained Margriet Schavemaker, the museum's artistic director. 'We work with makers in the city that are not attached to one medium,' she said. 'We offer them the space to create and show their work, but also create a dialogue with the collection.'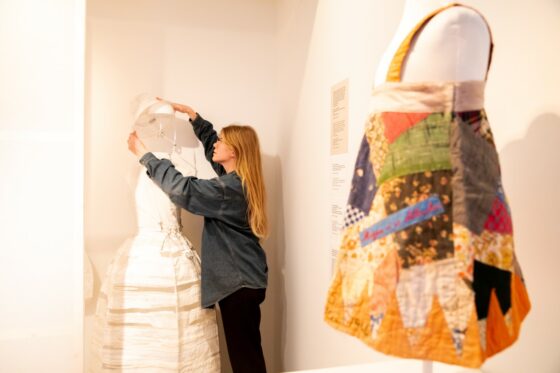 Tess van Zalinge
Van Zalinge produces sustainably-minded work embedded in Dutch culture, from a digitally printed skirt (Amsterdam Fashion Week, 2016) with stripes reminiscent of the Dutch landscape, to a quilted gown (2020) created from upcycled wedding dresses – both exhibited at Continue This Thread.
A patchwork Liberation Dress on display, created at the end of the Second World War from scraps of material, was 'an inspiration for me', she says, describing it as 'working with what you have and creating new fabrics out of nothing'. 'A lot of techniques from back in the day have a sustainable core that was not really presented as sustainability, but I think it's really inspiring to use that and to translate that into a contemporary form,' she says.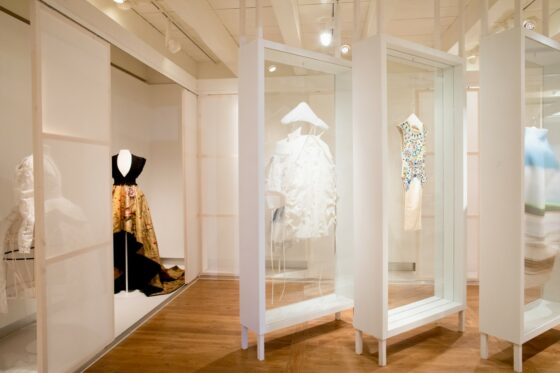 Karim Adduchi
Adduchi, an award-winning designer listed in Forbes 30 under 30 for Europe and the Middle East, whose work draws on his Moroccan heritage, shares some of his most iconic pieces in the exhibition. A dress made of tassels sourced from seven Moroccan regions which walked the runways of Paris Fashion Week AW 2019/20, and the Freedom Dress, whose Catholic, Jewish and Islamic fabrics were stitched together by representatives of the three different faiths, are both exhibited in wardrobes which visitors are invited to slide open. 'We wanted the audience to be very close to the garments, to the techniques and the crafts, but also to be more approachable and not have glass in between,' Adduchi explains.
For Adduchi, the exhibition is especially personal. In a room hung with billowing muslin, he lifts up an embroidered tablecloth created by his mother to show how both sides of this single piece of fabric are identical and flawless. 15 years old and pregnant, she created the item 'to attract prosperity, health and success', he says, singing as she sewed to bring good luck to the unborn child.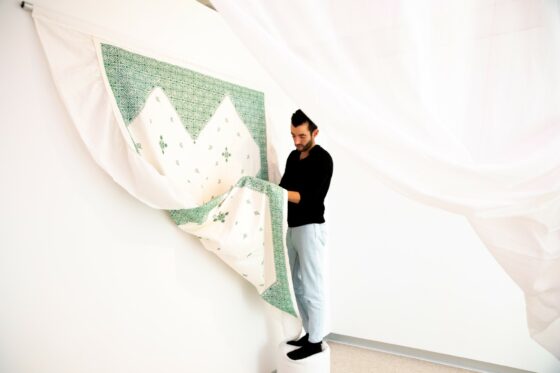 Healing
Works elsewhere in the exhibition speak to the healing power of handicraft and its ability to bring people together. Highlights include a tapestry created by recovering addicts working with Amor Real in Columbia, an Adduchi dress embroidered by displaced people from Eritrea, Jamaica and Syria which recalls the mosaic fountains of Casablanca, and the immense Social [Distancing] Fabric stitched together from 200 sketches sent out by Adduchi in 2020 to volunteer embroiderers to offer calm and purpose during the isolation of lockdown.
Sound art created especially for the exhibition by the artist OTION recalls the restful rhythms of weaving. 'Embroidery has a sound sometimes, where you have the fabric that extends and the thread goes through it with the needle,' says Adduchi. 'You create a certain rhythm, a melody also, while you're making it … Because it's very slow, your thoughts also go slower.' Paying such close attention to something so organic and surrendering yourself to its repetitive motions is, says Adduchi, both 'meditative' and 'calming'.
Call to action
The exhibition aims to 'break a bit that stigma that embroidery has that it's boring, old-fashioned and traditional,' Adduchi explains. 'I hope to show the relevance that craft has in our society. It's an art we are losing very fast because we live in a speedy society and this is a slow, intimate craft because you have to do it with time and patience, so we want to protect that for the coming generations.'
As the name suggests, Continue This Thread is a call to action. Towards the end of the exhibition, 'Leave a Leaf' invites visitors to experience the slow pleasures of needlework for themselves by adding their own sewing to a leafy jungle suspended from the ceiling.
The magnifying glasses strung throughout the exhibition also invite a slower, more contemplative approach. The word text is derived from the latin word for weaving, explains Adduchi as he moves a magnifying glass to one side to open the drawers below. Inside are young women's samplers woven with the symbols of their unspoken hopes and dreams. 'Embroidery doesn't really shout out or scream,' he says. 'It whispers a language.'
Continue This Thread is showing at the Amsterdam Museum on the Amstel until 3 September 2023.
Thank you for donating to DutchNews.nl.
We could not provide the Dutch News service, and keep it free of charge, without the generous support of our readers. Your donations allow us to report on issues you tell us matter, and provide you with a summary of the most important Dutch news each day.
Make a donation