Dutch destinations: The future is now in Rotterdam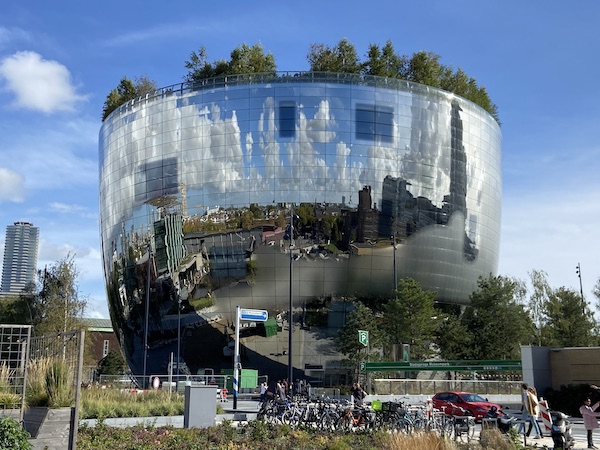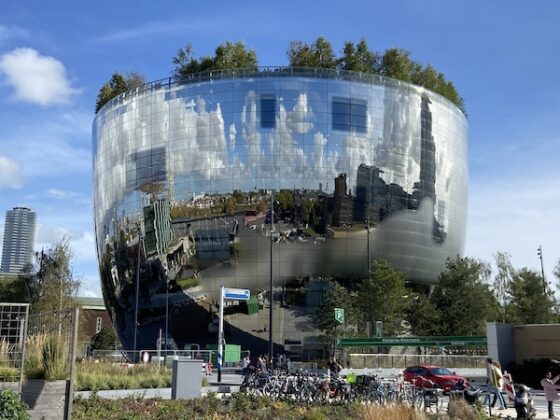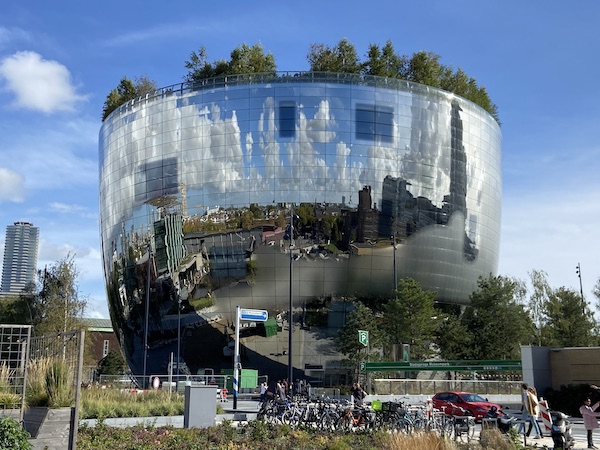 Often overlooked by international visitors who flock to its famous sibling up north instead, Rotterdam is arguably cooler and more eclectic. Head here for a vibrant culinary scene and architecture straight out of a sci-fi film.
If you want to see the future of the Netherlands, visit Rotterdam. At street level, you'll hear dozens of languages and encounter people who hail from nearly every corner of the globe. Look up and you'll see buildings that look like they've been cut and pasted from one of the Blade Runner films.
Hipper, edgier, and more modern than its famous counterpart to the north, Rotterdam is a metropolis with its heart and soul perpetually squirming out of the present and into whatever comes next. In Rotterdam, you can find diversity waiting for you around every corner and in a disparate culinary scene that dishes up everything from mouth-watering Caribbean fare to hand rolled Chinese noodles.
This is the city where Ahmed Aboutaleb was appointed as Western Europe's first Muslim mayor. It's also where you'll find American artist Paul McCarthy's Santa Claus triumphantly standing in a public square. Better known by its nickname, 'Kabouter Buttplug', the gleeful sculpture caused a stir when it arrived in town back in the '00s. Plenty of locals started clutching their pearls, but it's since become the surrounding district's icon.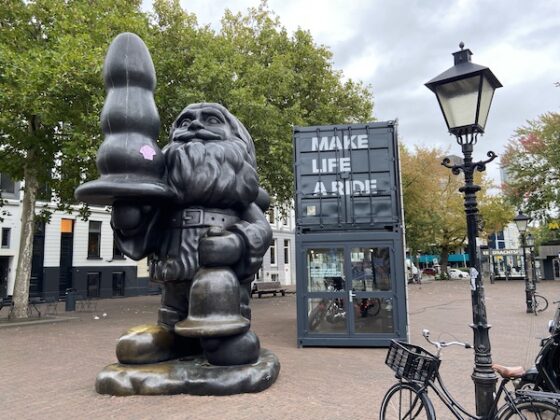 This cheeky, confrontational, and jolly Saint Nick reflects at least part of Rotterdam's zeitgeist. In many ways, the city remains a hardscrabble blue collar burg. Rotterdam is home to the largest port in Europe and some of the continent's fiercest football fans. But much to the chagrin of long-time residents, gentrification has begun to rear its perfectly coiffed head, perhaps an inevitable side effect of all that futurism.
Five things to do 
Dive into the Depot
Rotterdam's already innovative architecture was kicked up a notch by the debut of the Depot Boijmans Van Beuningen in 2021. As the name indicates, this isn't quite a museum. It's actually a depot for the museum next door (which is undergoing renovations and isn't scheduled to reopen until 2026) and the first of its kind in the world to be open to the public.
Step past tour groups dressed in white lab jackets as you peer into storage areas with everything from 17th century portraits to abstract modern art sculptures piled up to the nearest ceiling. At the time of this writing, one of Pieter Bruegel the Elder's three Tower of Babel paintings and McCarthy's colossal Bunkhouse are among the pieces you'll find in the galleries. 
Absorb the architecture
The Depot is just one example of Rotterdam's ambitious and iconic architecture. Tens of thousands enter the city each day through the gates of its sleek Central Station. Visitors and locals alike pour into the Markthal where the ceiling is just as big of a draw as the food itself. It's just a stone's throw from the Kubuswoningen, which steadfast residents still live in despite layouts worthy of a 23rd century funhouse. You can take a look for yourself in one home that's been turned into a museum.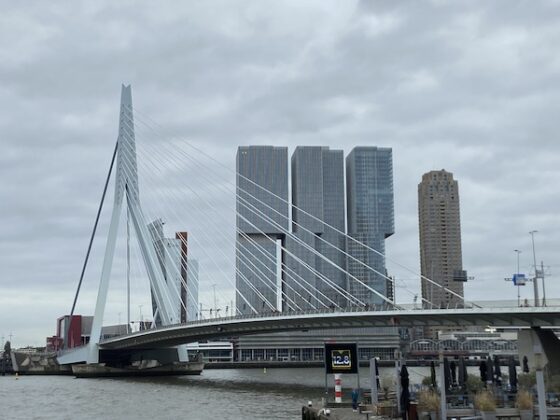 The city was all but destroyed during World War 2, but a few of its classic buildings survived. The Grote of Sint-Laurenskerk was heavily damaged, but a nearly two-decade restoration effort restored the church to its former glory. The 64 metre tower dates back to the 17th century and can be climbed with a guide between March and October. The historic Delfshaven district provides another gateway into Rotterdam's history. 
Find free art at street level
You don't need to go to a gallery or a museum to see art in Rotterdam. The streets are chock full of it. You'll find humorous sculptures like Armour in random spots or, in the case of Cascade, alongside major intersections. Large murals and other displays cover the walls of many buildings and feature John Travolta's character from Pulp Fiction, Andy Warhol's '15 Minutes of Fame' quote, and cartoon lobsters.
Rewriters Rotterdam is a website with an interactive app that offers maps and information. It's a good place to start if you'd like to check out this and other street art scattered all across the city.
Visit one of several very cool districts
Seek out hip galleries, eateries, coffeehouses, shops, and more in one of Rotterdam's districts. There's literally one called Cool. Well, that's its nickname at least. It's named for the Coolsingel, one of the city's main thoroughfares.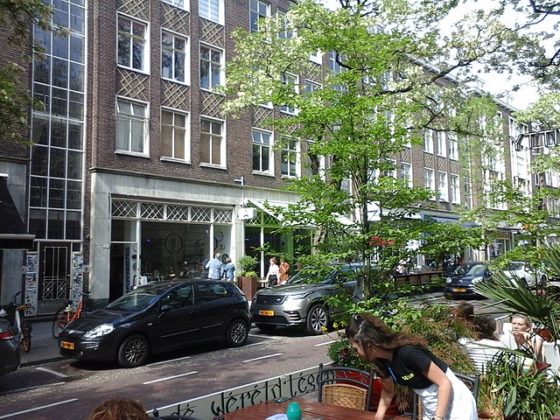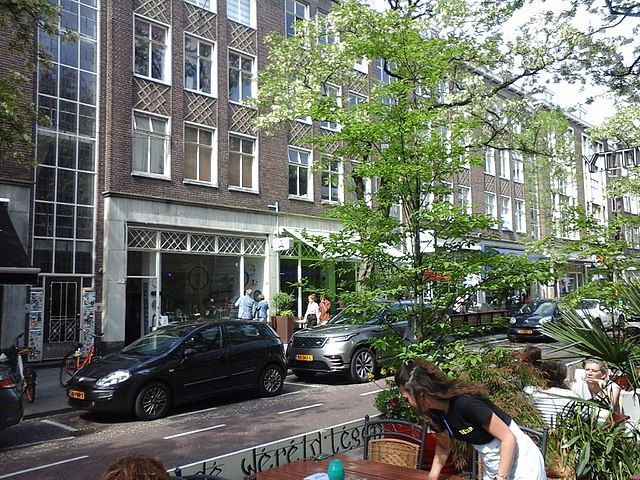 Aim for the side streets where you'll find everything from the Oude Luxor theatre to Donner Boekhandel, one of the country's largest bookstores. Kop van Zuid is a popular destination, especially during the summer months. Many visitors like to watch gigantic cruise ships come into port from the outdoor terrace at the New York Hotel.
The nearby Nederlands Fotomuseum or LantarenVenster movie theatre are good spots for a rainy day. De Witte de Withstraat is another popular area with plenty of trendy cafes, galleries, boutiques, and more.
If you've got tykes in tow
Are there any wee ones with you? They'd probably prefer the Rotterdam Zoo over a hipster coffeehouse or art gallery. It's among the oldest and largest ones in the country and you can easily spend an entire day visiting over 180 species from around the world. The zoo boasts an aquarium and a botanical garden, too.
Miniworld Rotterdam is sure to be a hit among the under 7 set. The average 'day' in this tiny version of the city lasts only 24 minutes and the simulated nights feature thousands of little lights. Watch the sails of the windmills turn in a recreation of the Kinderdijk windmill park as trains zip down the tracks and freight vehicles bring cargo into the port. If the weather is cooperating, the actual Kinderdijk is located on Rotterdam's outskirts and well worth a visit. 
Where to eat
Rotterdam has a diverse culinary scene that's a welcome reprieve from the often humdrum ones you'll find elsewhere around the country. A trip to the Foodhallen, mentioned above, should be considered a prerequisite if you want to cover as much ground as possible without going too far out of your way.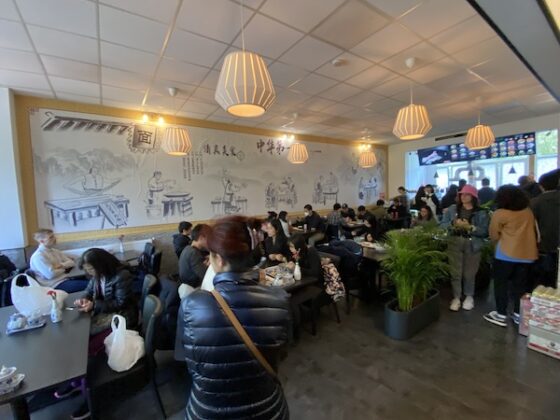 Yellow River is an outstanding noodle cafe with hand pulled varieties, but be prepared for at least a 15 minute wait and fierce competition for tables that are cleaned by the staff within mere seconds of other diners departing. The line often reaches the door on weekends. If you're looking for a small cafe for dinner, try La Bandera and its menu of Dominican dishes.
Cafes with their names written IN ALL CAPITAL LETTERS seems to be a trend right now in Rotterdam. Head to MAAS for its largely Latin and Cajun menu, but there's also burgers for fussier eaters. KITE is a trendy cafe that specialises in Afghan food. BUN is a great lunch spot that could easily spawn a franchise all across the Netherlands, but the wait times are sometimes brutal. Their sandwiches are undoubtedly delicious and worth the effort, though.
If you're someone who values atmosphere as much as what you're eating, go on a journey through time back to the Jazz Age at Sijf. The hospitality group Misset Horeca picked it as the best cafe in the Netherlands back in 2019.
Lilith Coffee is another popular spot. Their breakfast menu could easily qualify as a brunch one. Try the okonomiyaki or the pandan pancakes and, if you're feeling particularly brave, wash 'em down with a cortado, a flat white, a mimosa, or all three. There are many other great coffee cafes in Rotterdam. The Giraffe Coffee Bar, UEB WEST, Amanda Coffee, and Harvest are just four of them. For dessert (or more coffee) look no further than Round & Round. It's a cute, cosy, and cross-cultural cafe and bakery with a tea room that recently opened next door.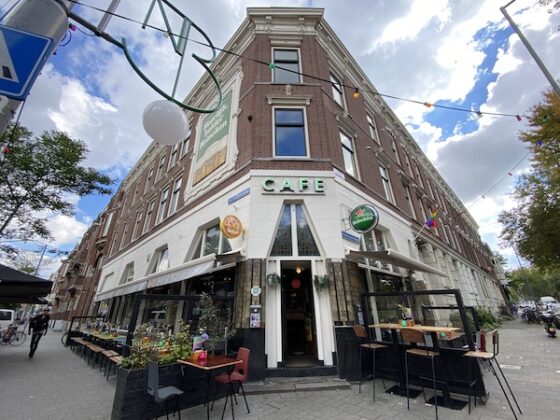 Where to stay
Coffee fans, rejoice! Rotterdam will soon be home to the world's first coffee hotel. It's the dreamchild of the local roastery Man Met Bril. Unfortunately, it's not due to open until the summer of 2023 (but you can try their special Hotel Blend until then).
Book a night or two or three at Hotel Not Hotel now, especially if you enjoy bizarre lodgings. Their rooms have names like 'The Vertical Swimming Pool' and two of them look like cuckoo clocks. On the opposite end of the spectrum is the historic Hotel New York. It has served as an oasis for intercontinental travellers departing from or arriving at the nearby cruise ship terminal for over a century.
Mainport Design Hotel offers more modern, five-star accommodations. The CitizenM chain has a location in Rotterdam's Oude Haven district. If you think you can handle the experience, the Kubuswoningen has a hostel that's worth checking out.
How to get there
Many visitors head to Rotterdam via the NS and wind up at its central station. The city takes about 90 minutes to reach from central Amsterdam via car depending on traffic conditions on the A4 and A13. 
Anything else?
Rotterdam has been a hotbed for jazz musicians from both the Netherlands and the rest of the globe since at least the 1920s. It's still home to several jazz clubs as well as the annual North Sea Jazz Festival every July. The stages of the weekend-long concert series attract swing bands as well as headliners from the worlds of hip-hop, pop, and other genres.
Thank you for donating to DutchNews.nl.
We could not provide the Dutch News service, and keep it free of charge, without the generous support of our readers. Your donations allow us to report on issues you tell us matter, and provide you with a summary of the most important Dutch news each day.
Make a donation