Amsterdam ombudsman fights red tape and purple crocodiles
Senay Boztas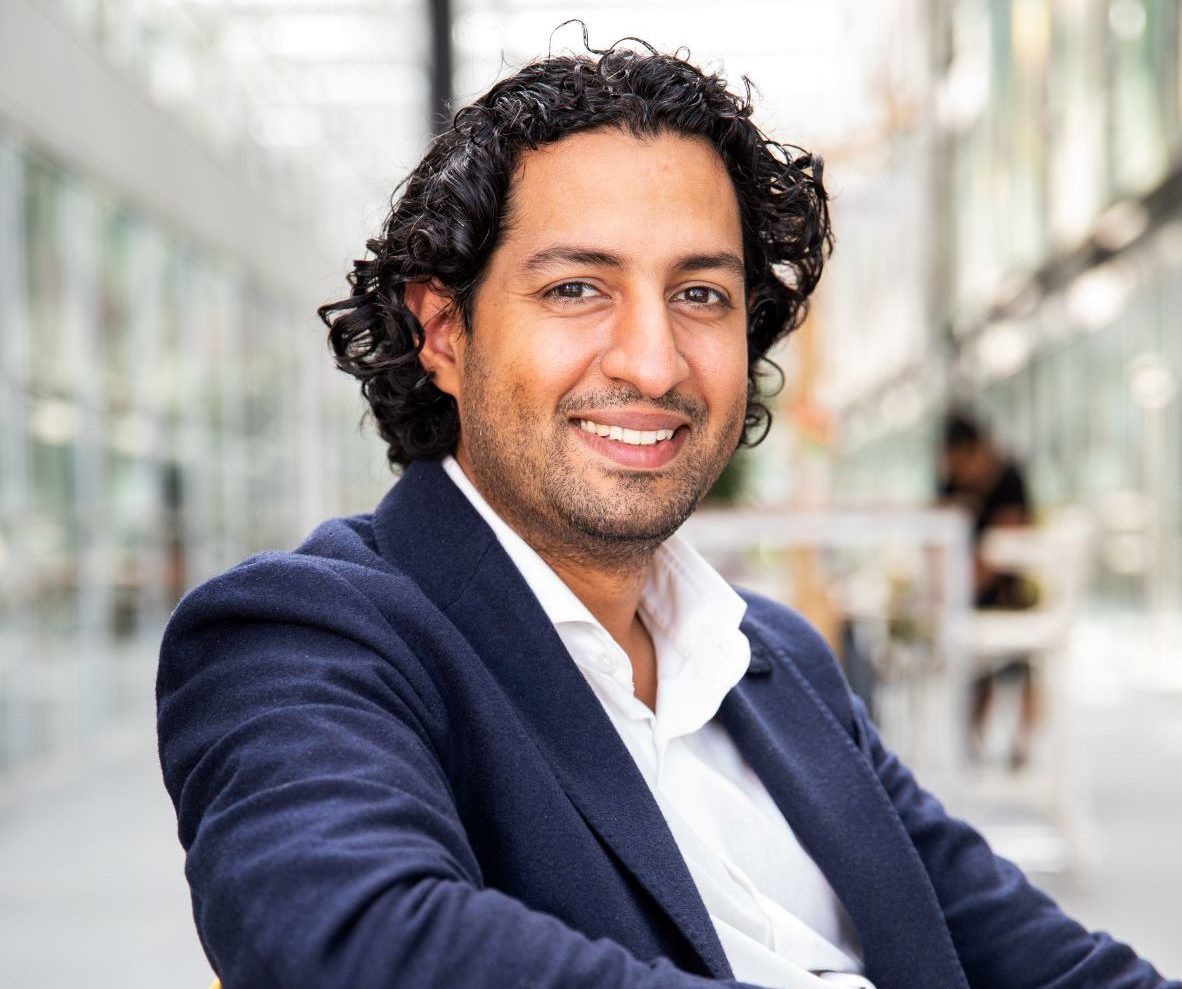 Amsterdam's new ombudsman tells Senay Boztas that he wants to be there for all Amsterdammers suffering bureaucratic pain, and why no government should think it is boss of the people.
When your city council moves your vehicle (without telling you), then fines you repeatedly for 'parking' in the wrong zone, then clamps your car and demands an eyewatering fine…who are you going to call?
If Munish Ramlal succeeds in his mission, in six years, this bureaucratic nightmare will be easily fixed by an empathetic and empowered council employee (who will also say sorry).
In the meantime, after you have headbutted your phone a few times, made a formal complaint to Amsterdam council and had an answer, call him: he is the Amsterdam ombudsman, charged with helping citizens with bureaucratic problems who cannot see a way out.
Ten months into his role, after taking to the streets to talk to Amsterdammers, Ramlal is holding up a large and unflattering mirror to the municipality. Singer Jeremy Taylor coined the word jobsworth to describe minor officials delighting in petty rule enforcement in 1960s Britain – and, sadly, Ramlal's stories could write a few more verses today.
Civil servant
He has ruffled feathers with sharply critical interviews in the Parool, Amsterdam's own paper, and a letter to the mayor criticising the city's poor complaints procedure, as well as raising concerns about local residents feeling ignored in major building projects. His next focus is reaching out to more frustrated Amsterdammers, including the international community that may not know about his existence.
'In the government, there is a lot of management around efficiency and output instead of outcome – or what works,' he says. 'There's a lot of emphasis on knowledge of laws instead of knowledge of human nature.
'The focus should be on the city and the people at the heart of it all – [being] what you call a "civil servant". The software of mind is focused on legal tasks, policies and rules, but it should be focused on the question: are we doing things right here? It's about being sensitive, about making personal contact. That's a paradigm shift.
'I think a lot of the complaints I have, whether they are about parking or rubbish fines, are about deeper-lying problems – and that they could approach people in a different way other than a fine.'
Trust
Ramlal, a quiet-talking man who reflects back your words, lives in Rotterdam and is independent from Amsterdam city's bureaucracy – something he thinks is crucial. He trained at the National Ombudsman service, when the childcare benefits scandal was raising its head and being dismissed by national government, but he also has experiences of excellent Dutch local public service – citing the council of Diemen, where the mayor himself gets involved in sorting out complaints.
But Ramlal feels that the trust between people and government is at a low point in the Netherlands, and was evidenced in the poor local election turn-out.
'I have no history with anyone in Amsterdam, which is very important because so few people have trust in government, and trust has gone down ever more in recent times,' he says. 'The childcare benefits scandal is an extremely serious question that shows a government culture that is just not right.'
Now, at a local level, Ramlal has seen signs of a culture of fear, which sometimes prevents people from asking government for the help they desperately need (and are entitled to receive).
Angst
'The government needs to be there for the people,' he says. 'In the market, at Waterlooplein, people told me that if they have contact with the council, it's like talking to a wall. "They don't know our trade, but they are talking about our livelihoods. They don't talk with us, but over us." This is seriously wrong.
'Some people have made a mistake with an application for Airbnb rental, just individuals, students or young workers, who have made an administrative fault – but then get a fine of €11,000. The council thought they were all rogue landlords, but that's just an image. Perhaps it applied to some of them, not for others.'
Today, he has just met a small businessman with seven years of issues with the council – who said that the ombudsman was the first to take the trouble to travel for a few minutes to actually look at his situation. 'The small businessman in trouble, the Airbnb fines – it is all about creating angst,' says Ramlal. 'People have become afraid of the government, and that is not okay.'
Apple cake
He points out that there's a risk of a parallel system where people who understand the rules and have the cash can fight back, but those who don't are even worse off. 'What you see is that people who have the cash get a lawyer or make a formal protest, but people who can't get hold of a lawyer so easily are squashed under a wall of bureaucracy.
'You disempower people. They don't know where to turn to apply for a house so they don't end up on the streets with their children. Often when you have contact with the council, you're already in a difficult situation, like unemployment, a divorce, sickness, stress at work.
'People need to calm down and, instead, the government offers them more stress. Instead of welcoming them with apple cake, they get security; instead of a personal approach, you get a number. More and more people don't want anything to do with this kind of government.'
Action
The moment to turn the tide is now, he says, and he is setting in place plans to help the change. 'How can government go back to the societal function it should fill?' he asks himself. 'That's not about being the boss, about deciding from the top down how others should live their lives. It's about developing people-oriented systems, that draw the best out of people instead of scaring them.'
There are promising signs that directors, managers and the mayor herself want to bring about reform, starting with a more inclusive culture internally. But Ramlal criticises some bureaucrats for talking the talk, but doing little.
'I've developed a model on how to develop a council you can trust, on three levels,' he says. 'One is how well you see and listen – a people focus and empathy, compassion, understanding people's life experience and not being too quick to judge.
'Level two is about performance capabilities, and level three is learning capacity. Everyone understands that things can go wrong sometimes. You need to learn, [instead of having] a culture of always defending yourself. If you listen, act and learn well then this inspires trust.'
Listening
Meanwhile, the ombudsman is making his service more visible. Once a month, he is live on Radio mArt, answering questions, he has in-person surgeries every Tuesday in Amsterdam, plus sessions in other locations, a daily telephone surgery, and you can email in English or Dutch (with more website languages planned).
He is creating an 'ombudsacademy' in the skills he thinks modern bureacrats need – starting with a 'listening course' for new Amsterdam council members. He wants training in learning from complaints, making an appropriate apology, as well as cognitive bias – because he worries that there are currently prejudices and preconceived notions at play.
'One image is that people are always committing fraud,' he says. 'Another is: these expats will work it out, or they will probably understand this. These are assumptions, boxes you fill in advance, that you actually should check.'
Donderdag 7 april is ombudsman Munish Ramlal weer in de uitzending van Radio Mart van 10:00 tot 11:00 uur. #TweetRadioMart

— Ombudsman Metropool Amsterdam (@OmbudsmanMA) April 6, 2022
Ambulance
Most unusually, the streets of Amsterdam will see a new kind of ambulance headed to bureaucratic traffic jams from September, staffed with civil servants, the ombudsman team…and maybe a purple crocodile (the Dutch symbol for an unsmiling jobsworth, from a classic 2004 insurance ad).
'I'm going to start an ambulance and when there is bureaucratic suffering, I'm going to go with my team throughout the city to listen to people's stories and advise where they can go,' he says.
'I will also take civil servants, directors, councillors and managers so that, like me, they hear from people directly, not from papers or a computer. There is a human story behind it all that you can't see in the paperwork…there are often reasons that people deserve more compassion and understanding.'
And if this drive connects with teams willing to get better at listening, treating people with humanity and learning in the cash-strapped Amsterdam council? 'My vision is that I won't be needed any more,' says Ramlal, genuinely hopeful. 'You need a situation where people are put first, and if it still doesn't go right, things will be fixed, properly, full stop – and there won't be any need for an ombudsman. This is what I want in six years…
'The government is there for society, the people, and it should be a public service. It's the board of our club, and we are all members.'
Contact the Amsterdam ombudsman (in English)
Contact The Hague ombudsman (in English)
Contact the national ombudsman (in English)
Thank you for donating to DutchNews.nl.
We could not provide the Dutch News service, and keep it free of charge, without the generous support of our readers. Your donations allow us to report on issues you tell us matter, and provide you with a summary of the most important Dutch news each day.
Make a donation