'The idea of black and white schools blew my mind'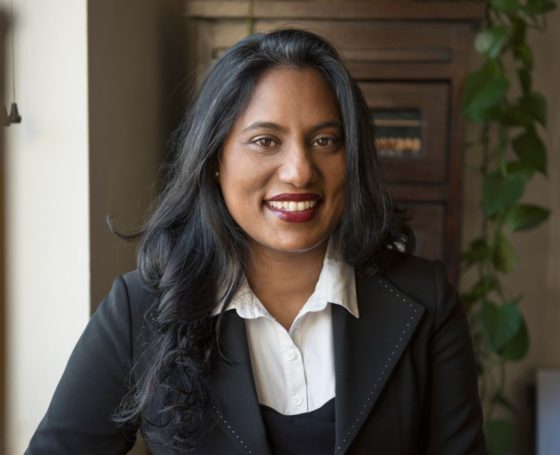 Dutch-Pakistani Iffat Rose-Gill (40) is a gender equality activist and the founder of The Code to Change, an organisation improving women's access to the digital economy. She is surprised by the ongoing integration issues here, but loves the Netherlands' multiculturalism and the fact that even her local market stocks a taste of home.
How did you end up in the Netherlands?
I moved to Amsterdam in 2011 to join my husband, who was from the Netherlands. Due to my work in Pakistan on women's rights and the digital gap, I was invited to a lot of international conferences and we met at one of those conferences abroad.
Moving here was tough for my family, and for me. They had all those plans for me in Pakistan, and so did I, so that it was tough to decide to move because my work was in Pakistan and my whole social circle.
The Netherlands took some getting used to. Having lived in Malta, I went to the beach and I was like: What happened to the water? because it was all murky and not blue like the Mediterranean. I thought it was just that specific beach, that they were probably doing something there and that had turned the blue water mud-coloured – but it was everywhere.
How do you describe yourself – an expat, lovepat, immigrant, international etc?
I was born in Libya, then I grew up in Malta, and then I moved to Pakistan for my university before coming to the Netherlands, so I very much consider myself international because I have lived in so many different parts of the world.
How long do you plan to stay?
Well, I've built a life here and I have kids who go to school here and I kind of like it here now. I mean, the quality of life is good, but the weather could improve, I think! So for now I have no intention of moving anywhere else.
When you move to a new country, it's a lot of work to integrate and to learn the language and to build your professional network and your social circle. Finding work was not easy because I wanted to work in a niche area, working with women from under-represented backgrounds to bridge the digital gender divide, which was not high on the agenda here then, even though it was clear that everything was becoming digitalised and tech-oriented and soon around 90% of the jobs required digital proficiency to succeed in the workforce.
Today, the friends that I have are both Dutch and the international community of women in tech that I've built, so I feel quite grounded and rooted here − not just because my children are half Dutch-half Pakistani, but because I've worked really hard to build my work and my life here.
Do you speak Dutch and how did you learn?
I went on an intensive course at the start of my stay here. I did the NT2 exam. I did well and I could speak really well. But when I started working, most of the network was international, so I didn't get to practise my Dutch much. However, now that the children are going to a Dutch school, I do read with them. But in terms of speaking, everybody speaks English, so once they hear that you are a foreigner, they don't make it hard for you – they switch to English. I don't mind it, honestly, but it does make it hard to keep practising.
My kids are very understanding about my Dutch because they regularly go with me to Pakistan, where my family are still based, so they understand the cultural differences and they know what it is like to have a second language. They think my Dutch is funny, but they don't make fun of it. When we are reading and I don't know some words, for example, we google it together. The children speak English, Dutch and Urdu. In Pakistan, they picked up Urdu fast because they wanted to speak to their aunt because this aunt was in charge of the snacks. So they were like, 'we need to have good diplomatic relations with this person'!
What's your favourite Dutch thing?
Bicycling. I didn't enjoy it at first, but once I got the hang of it, I just loved the freedom. Getting on the bike and just going from A to B without thinking about anything else, that really gives me joy. We can't do that in Pakistan as there's this culture of being chaperoned. You do see men cycling, but not women. You don't want unwanted attention on yourself, so you just don't do it. It's not that people would stop you – they would just stare because they are surprised!
How Dutch have you become?
Because of growing up in so many different places, you adopt the things that you become fond of. Here, I love stroopwafels and old cheese. From Libya, we took this love of pastas and pizzas, because they are very inspired by Italian cuisine, but I cook a lot of Pakistani food at home, too.
In our culture, unlike in the Netherlands, we can have guests any time. Foodwise, we are very open, and if somebody comes around at dinner time, we always cook more. If you go to a Dutch home at around 6 o'clock, they will not open the door because they are eating and that is not the time for visitors!
In Pakistan, you don't need to make appointments with family − we just go. On the one side, I really like that, because you can just walk into your aunt and uncle's home and just talk about something that's on your mind. But I do notice that you also need to be mindful of the other person's time, which is something that I like about being in the Netherlands. They give you that space. It seems a bit annoying at times that you have to make an appointment a week ahead, but at the same time, since I'm busy and everyone else is busy, it also helps me to organise myself in a much better way, I feel.
Which three Dutch people (dead or alive) would you most like to meet?
Neelie Kroes. She was one of the first Dutch politicians to raise her voice about the digital inclusion of women and girls. In the 1970s. she was one of the few women to be elected into the Dutch parliament, and later she served as Vice-President of the European Commission responsible for the Digital Agenda in Europe. We were in touch via email and she encouraged our work with Code to Change and gave us compliments about what we were trying to achieve, but I have not met her in person yet.
Aletta Jacobs. She was the first woman who went to university in the Netherlands, and she became a patron then for women's education in the country. I've also been in the position where I was the first woman from my family and my village to get a university degree. I would mostly like to speak to her about the challenges. How did she manage to do it? I would love to ask her how she felt about this. Being something of a trailblazer, she opened the doors for the rest of the women. That's a huge accomplishment.
Piet Mondriaan. I got 'introduced' to him after moving to the Netherlands. I always loved primary colours and I always loved the minimalist simplicity in design. Life is complicated as it is, but let's at least try and make sense of things and simplify things a little bit and not by default go towards complicated things – I think that's what really inspired me.
What's your top tourist tip?
Connecting Lelystad and Enkhuizen, there's this long road in the middle of the water, so on one side the water level is higher than the other side. It's called the Houtribdijk, and it's like you are literally driving into the water. It's biblical, like Moses splitting the water into two halves!
That place is really worth visiting. I don't know how long the road is, but it's quite a drive to go from one end of that water to the other by road and there are nice views from both sides. Other than the water, there's this typical Dutch landscape with the trees and the animals and the farms. When I first moved to the Netherlands and we used to drive around a lot, I was really mesmerised by the green pastures with the cows and the horses running wild.
Tell us something surprising you've found out about the Netherlands
When I first moved to the Netherlands and I started a family here and got introduced to the idea of witte en zwarte scholen [white and black schools], that blew my mind. The concept itself, I've never heard that in any country I've lived in or visited before. This was really shocking for me to hear. People explained that there are these schools which are attended by people from migrant backgrounds and that Dutch people don't want to go there. This really amazed me that a country which is open and tolerant also has this problem with its migrant communities.
But at the same time, I was also surprised to see how multicultural the Netherlands is. The other day I was at the Dappermarkt, the local market in Amsterdam Oost, and I found this vegetable called saag which is very common in my country. It really just made me so happy. I didn't even know how to cook it so I just brought it home and called my family to ask. I had to cook it for hours but it just turned out so delicious. I was surprised to see something which is so local and typical of our region in Punjab, which my farming family would just cut from the fields. And I found it here really fresh – like the soft kind – not packed, not frozen. My weekend was just so lit because of it!
If you had just 24 hours left in the Netherlands, what would you do?
Other than packing?! I hope I don't sound like a hopeless romantic now, but I love going to those classical music concerts in places like the Concertgebouw or the Stopera. So I think, if I had the chance, I'd do that. Especially now with the candlelight concerts, it's such a sight to behold.
You can find out more about The Code to Change here. Registration is now open for Iffat's next digital bootcamp for women, a free six-week course focusing on AI and Machine Learning using Python.
Iffat Rose-Gill was talking to Deborah Nicholls-Lee
Thank you for donating to DutchNews.nl.
We could not provide the Dutch News service, and keep it free of charge, without the generous support of our readers. Your donations allow us to report on issues you tell us matter, and provide you with a summary of the most important Dutch news each day.
Make a donation