Who will rule the roads? Making sense of Dutch street design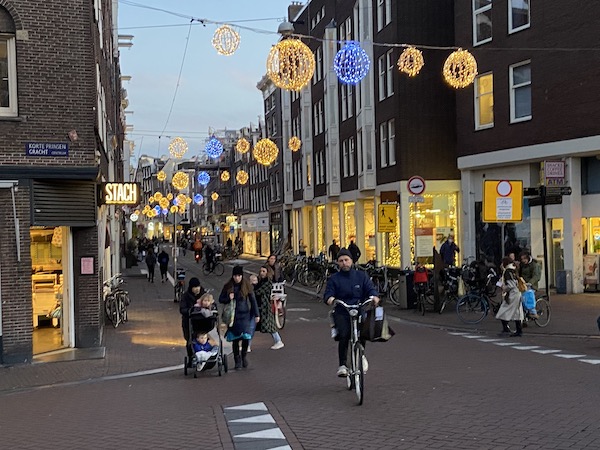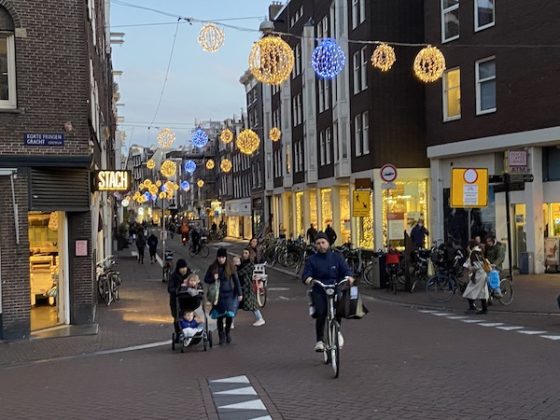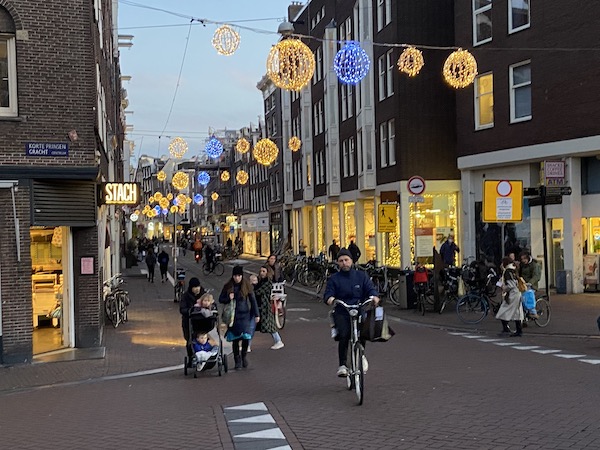 Urban planners from all across the globe often look to the Netherlands for ways to make the streets of their cities safer and more bike-friendly, but to the outsider, what the Dutch are doing can often seem downright bizarre and even dangerous.
On a Saturday last summer, a father and his young daughter got onto a cargo bike after grocery shopping in the centre of Leiden. They proceeded to ride down the sidewalk and over a nearby bridge…where they nearly collided with a guy waiting to cross the street.
A shouting match ensued and no less than two middle fingers were raised between them. Who was at fault? Arguably it was the street planners who decided that both the sidewalk and the adjacent bike lane should both be made out of exactly the same colour of bricks and with nothing more than a thin line of cobblestones to separate them.
This tiff took place along the Pelikaanstraat, one of several connected Leiden streets that underwent substantial redevelopment in 2020 to remove trees, widen sidewalks, and eliminate curbs to make them safer for motorists, cyclists, and pedestrians. It's just one of dozens of similar projects that are either being considered or are currently underway in Leiden alone.
A breath of fresh air 
Melissa and Chris Bruntlett are two authors and urban mobility advocates who relocated to the Netherlands from Canada with their children in 2019. One of the reasons why is because a staggering 150,000 cars passed within 100 metres of their apartment in Vancouver during an average workday. Their current residence in Delft receives about 1/100th as much vehicle traffic.
'You hear the church bells, you hear the squeaking of the bike wheels, and all these other amazing sounds that would be drowned out by cars elsewhere,' Chris said.
The Bruntletts have written two books about Dutch urban design and the second, Curbing Traffic: The Human Case for Fewer Cars in Our Lives, is due out this June. They say their decision to relocate has had a substantial impact on how they and their children go about their daily lives. By having to put up with far less noise and auto pollution, they feel much safer while they're out and about. That's largely thanks to the efforts of regional urban designers.
'What we've come to understand about Dutch design is that everything is done with an eye on what makes the most sense and safety is one of the first things they keep in mind when they're testing out new ideas,' says Melissa.
A method to what might seem like madness  
If you also moved here from another country, these new ideas can often be frustrating or even frightening. Many who have been living here for over a decade are still taken aback by cyclists zooming through roundabouts while fiddling with their iPhones or  annoying other pedestrians while repeatedly looking both ways at curbless crossings.
Newer projects like shared streets and unmarked intersections can seem especially dangerous if you hail from North America or Britain where cars continue to rule the roads.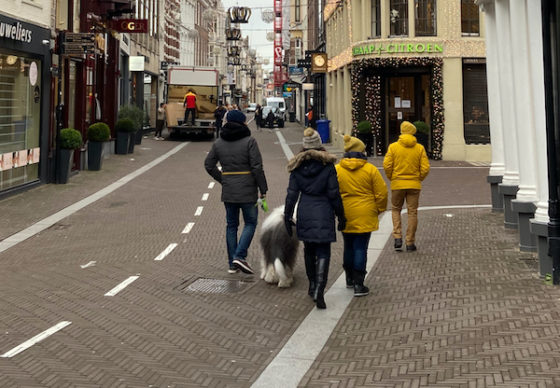 One such project took place near the Alexanderplein in Amsterdam back in the spring of 2016. An adjacent intersection is one of the city's busiest. Thousands of pedestrians, motorists, trams, and cyclists travel through it on a daily basis. Civic engineers decided to find out what would happen if they turned off all its traffic signals. Eight months of planning went into the bold proposal, which later earned headlines around the world.
Sceptics predicated that chaos would ensue the second the lights dimmed. It didn't.
'The latest research I read on it was that crashes were actually reduced because, as you enter the intersection without all these signals and other things to distract you, you have to pay attention,' says Matt Bearden. 'You go into it slower, use visual cues from others, make eye contact, watch all the other vehicles and people, and navigate through all this with human interaction, which ultimately makes everything safer.'
Originally from Atlanta, Matt is a transportation engineer who moved to Amsterdam in 2018 after a trip to Europe convinced him that Dutch design principles are the wave of the future. He finished his master's degree in August and is the CEO of City Analytics, a data analytics and consulting start-up for crowd and pedestrian management.
'There's an interesting saying, but I don't know the exact quote, but it goes, 'It's better to have safety through uncertainty than crashes with certainty,' he said.
Mixed results?
Projects like the Alexanderplein experiment have become increasingly common elsewhere around the Netherlands. The core concept behind all of them is essentially the same: the fewer barriers you put between vehicles and pedestrians, the safer streets become because they force all involved to move slower and pay more attention as they move through them.
Whether or not this is true depends on who you ask. There are sceptics and advocates aplenty. Amsterdam's audtors published a report in 2020 that zeroed in on the city's newer bicycle-friendly intersections and concluded that their improved safety couldn't be substantiated.
The nation's ever increasing number of roundabouts, over 5,000 and counting, have also come under recent criticism. Many of them have unique rules or often baffling placement of 'shark teeth' markings, which frustrate motorists and cyclists alike.
'These are experiments that sometimes work out well, and sometimes less so,' says Martijn van Es, senior communication advisor and campaign manager for Fietsersbond, a cycling advocacy group founded in 1975.
'The vast majority of municipalities do not dare to experiment and simply construct their new infrastructure according to existing guidelines. Often our volunteers also give advice on this, so that the end result is good for cyclists. Our main problem is that there are a lot of cycle paths that need to be improved, and it is not going fast enough.'
Along with shifting funding toward improving cycling lanes, Martijn argues that communities around the country should switch their focus from high-concept models like shared streets to more practical concerns.
'Banning mopeds and light mopeds from cycle paths is a major priority, but our biggest wish is that much more money be invested in bicycle infrastructure,' he said. 'About half of Dutch travel is done by bicycle, but investments are lagging behind.'
In addition, he says, 'it is particularly important that when dividing the public space, cyclists and pedestrians are first considered, followed by public transport and finally the car. Finally, far too many accidents with cyclists occur because of drivers speeding. A reduction of the maximum speed to 30 kilometres per hour is therefore badly needed.'
Working towards a car-free future
Even bolder proposals are underway as many Dutch cities pivot towards discouraging motorists from entering city centres. Roughly 30 anti-car measures are currently being considered in Leiden, and there are additional efforts to open canals that were covered with roads in the mid 20th century. Meanwhile, Delft's centre is becoming increasingly car-free and an ambitious pilot programme was conducted last year to pick up trash via cargo bikes.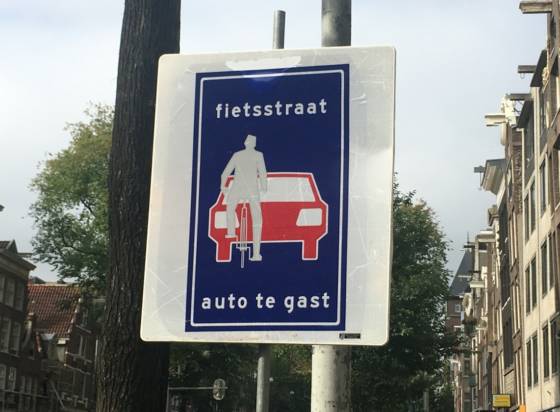 'Going personal car-free is a definite possibility for old Dutch city centres within the next five or ten years,' Melissa said. 'A lot of the infrastructure can't handle newer electric cars. They're greener, but they're also heavier. The bridges need a lot of work because of the increasing weight of all these vehicles.'
Giving automobiles the boot would definitely reduce the toll on medieval streets in the nation's oldest neighbourhoods, many of which were originally designed for ox carts instead of Albert Heijn lorries that weigh upwards of 10,000 pounds.
'I don't think you'll ever see a time when there are no cars whatsoever in Amsterdam,' Matt said. 'You'll need to have vehicles for deliveries and moving house. But you're seeing an emergence of cargo bikes being used for deliveries. Picnic's electric vehicles are also much smaller than other vehicles currently being used to deliver groceries.'
Could all this work elsewhere?
'The thing to note is that Dutch cities can do this because, over the past 50 years, they've been reducing the number of cars in their cities or slowing them down,' says Chris Bruntlett. 'When people on foot and bicycle are the majority, and it's something like 80% of traffic here in Delft, you can get away with removing the curbs, removing the traffic lights, removing the stop lights, and removing all these separations.'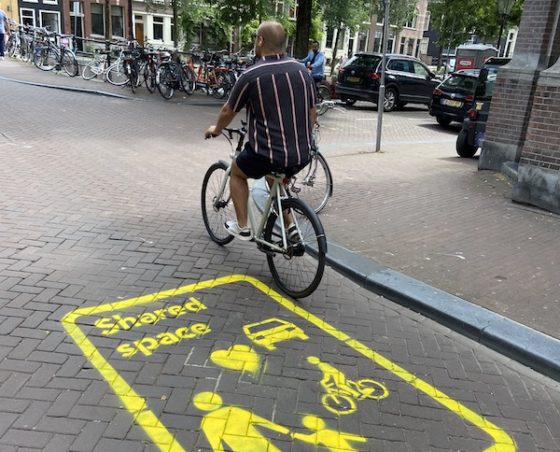 A few cities have moved forward with projects like 'super blocks' that divert traffic to high-density streets, thus freeing up quieter ones between them for bikes and pedestrians. Barcelona's experiments with these have proven so successful over the past five years that plans are currently underway to make its centre almost completely car-free.
However, a similar experiment in London in 2019 was far less successful. A ten-day effort to discourage 'rat running' (taking shortcuts through residential streets) lasted a mere eight hours after furious motorists attacked barriers set up to keep them off a popular thoroughfare.
Chris and Melissa grapple with naysayers around the world during their consultations with civic planners on how to make their communities more bike and pedestrian friendly.
''It can't work in our city' is the number one excuse we hear,' Melissa said. 'That doesn't mean Dutch lessons can't be applied. The grid system in North America is ideally suited for this. You can have traffic-calm streets in neighbourhoods with lower speed limits and diversions to slow people down that connect them to major arterials and motorways. It's not going to look the same as the city centre of Delft, but they can make an American version that's more friendly to people on bikes or on foot.'
There's also the impact of the Covid-19 epidemic to consider. Over the past year, more and more people have been working from home in cities all across the globe. This has meant fewer cars on roads, less commuting, and more and more people heading out on foot or on bicycles to exercise while gyms remain closed.
'Because of Covid, people around the world have been comfortable with getting out and walking around,' Matt said.
'Because of lower traffic volumes, there's been experiments in cities to turn over more space to pedestrians and bikes. It will be interesting to see, once this is all over, if car traffic retakes those spaces now that they've been reclaimed, or if they'll be able to maintain these current setups. It would be great if it becomes permanent and makes it less necessary to use cars.'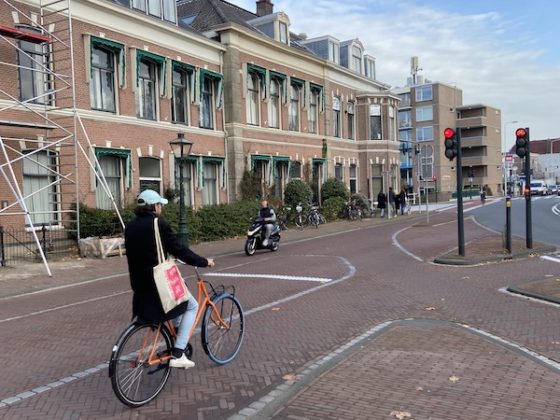 The human factor
But back to Leiden. On a recent weekday, mere metres from where the bakfiets argument took place, an impatient motorist at a stoplight slammed on his gas pedal, buzzed over a curbless divider, entered the oncoming lane, and made a sharp left turn, nearly hitting two cyclists in the process.
A more conventional divider would have prevented him from pulling off this Fast and the Furious-style manoeuvre. Incidents like this one expose a fundamental flaw at the core of these newer traffic projects: they're almost entirely dependent on motorists, cyclists, and pedestrians all behaving themselves. There's also always the potential for good, ol' fashioned human error.
'Any time there's something new, you've got growing pains,' Matt noted. 'People need to get used to these spaces and figure out how they're supposed to be used. Education up front helps like when you get a driver's license. Designing it correctly is important. For example, if a car can speed through a space like a shared street without a speed bump slowing them down, then that means the design isn't working 100%.'
Thank you for donating to DutchNews.nl.
We could not provide the Dutch News service, and keep it free of charge, without the generous support of our readers. Your donations allow us to report on issues you tell us matter, and provide you with a summary of the most important Dutch news each day.
Make a donation