Dutch destinations: beat the crowds at seaside Scheveningen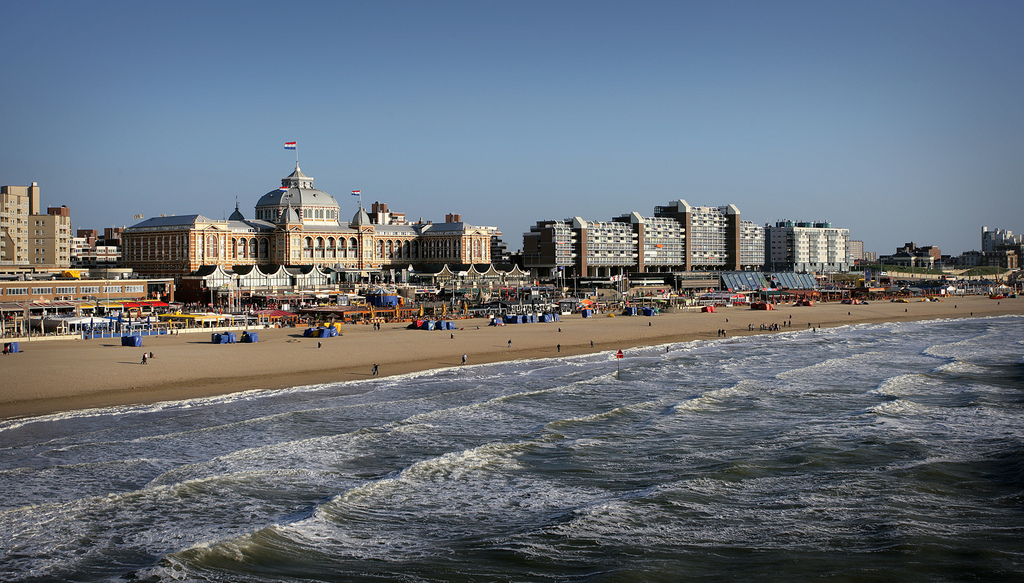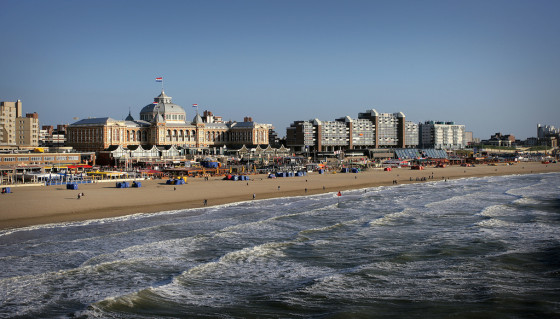 The time has come for DutchNews.nl to cover Scheveningen, the famous, and some might say infamous, seaside community that sits on the edges of The Hague. Brandon Hartley took the plunge to find out what else the resort has to offer apart from sunburn and crowds. 
All right, first things first. Scheveningen is not everybody's cup of tea. Those searching for some good old fashioned peace and quiet should head to one of the more laid-back towns in the Wadden Islands. If you're feeling a bit brave, and don't mind sand-craving hordes, there are some jewels to be found among all the touristy tackiness.
Scheveningen dates back to the 13th century and served as a fishing village for much of its 700+ year history. However, on a fateful day in 1653, it attracted thousands of spectators who witnessed the Battle of Scheveningen, the final naval clash in the First Anglo-Dutch War.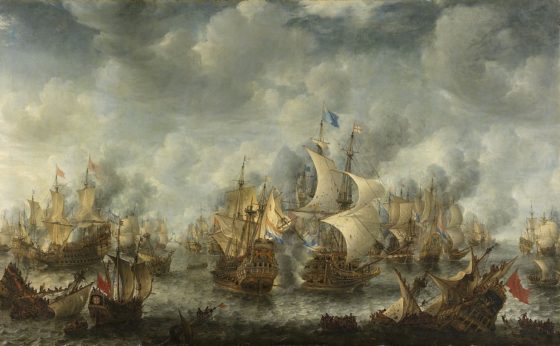 In the years that followed, Scheveningen withstood mighty storms as well as English military fleets, but perhaps its fiercest threat arrived in 1818. That's when an entrepreneur named Jacob Pronk built a wooden structure on the beach and announced that his new bathing facility was open for business. Word soon spread that Scheveningen was a great place to go for a good soak and crowds began showing up in droves, particularly from Germany.
Later during World War II, so the story goes, German spies were outed by being asked to pronounce the resort's name. Scheveningen is now best known for its tourist attractions and, yes, it's technically a district of The Hague.
Things to do
Hide in a bunker
Once you get a look at the crowds on the beach when the temperature climbs above 17 C, you may want to head for shelter. If it comes to that, the Stichting Atlantikwall Museum Scheveningen has got you covered. Scheveningen was almost completely destroyed during World War II. This series of bunkers now houses the museum's educational exhibits, which cover these dark times as well as the construction of the Atlantic Wall.
Check out some art
If sculpting sand castles isn't your idea of a good time, you can check out the efforts of the professionals. Scheveningen is home to a collection of impressive sculptures located in and around a historic pavilion at the Museum Beelden aan Zee. If you're with kids, don't forget to swing by the nearby sculpture garden that features whimsical works by the American sculptor Tom Otterness. One is the twelve-metre tall 'The Herring Eater', a tribute to the wonders of consuming fresh fish while holding it over your head by the tail.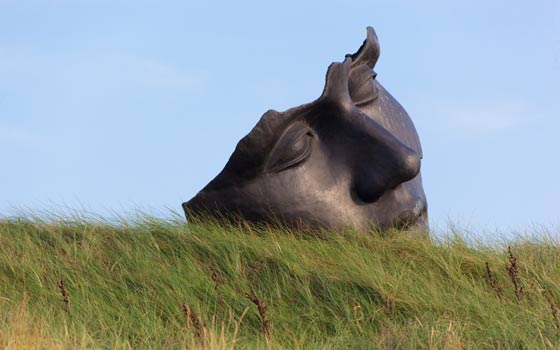 Head to the harbours
Scheveningen's three harbours are still primarily used for fishing and shipping, but one corner has been set aside for recreation. Along with a marina for yachts and the occasional tall ship, there are plenty of cafes that serve fresh seafood.
If you're curious to learn more about the local fishing industry, you can get a look behind the scenes at the fish auction house. It offers tours once or twice a month, but you have to wake up early. They typically get going around 7 am. The harbours are also home to the country's largest Vlaggetjesdag (start of the raw herring season) as well which will take place on June 13 this year. It is a totally manufactured event, but picturesque none the less.
Visit the aquarium or the theatre
You can get up close and personal with creatures both small and somewhat bigger at Sea Life Scheveningen. This family-friendly aquarium features sharks, sea turtles, clownfish, and a few other species your kids are probably familiar with thanks to Finding Nemo and/or Dory. There are also sections devoted to penguins and otters. Just be prepared for school groups on weekdays and birthday parties on the weekends.
Meanwhile, the AFAS Circustheater offers a year-round array of stage productions and musical events that cater to both young and old.
Go for a stroll
Check for any winter weather warnings on the KNMI website or the harbour webcam prior to committing to plans, but the Scheveningen shoreline and the surrounding area are great for walks pretty much any time of the year.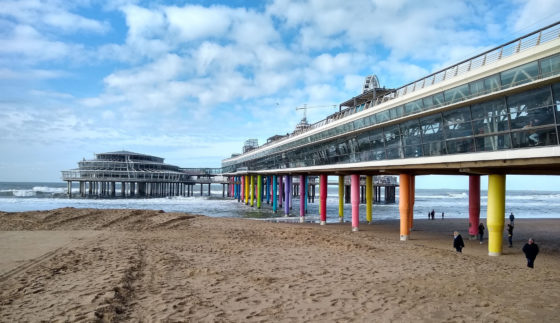 The beach itself is 4.5 kilometres long and divided into four areas. Sunbathers and families typically gravitate towards the Noorderstrand near the pier while the other three tend to be quieter, but be warned! There is one stretch set aside for nudists. You can find more information about local walking and hiking routes over here.
Where to stay
The five-star Grand Hotel Amrâth Kurhaus sits like a king upon his throne and overlooks Scheveningen's shoreline. The prices aren't as bad as those you'll find at similar lodgings in Amsterdam, and there's no denying it's one of the most impressive hotels in the country. It also has tons of history packed into its walls. Just one anecdote: The Rolling Stones played a disastrous concert in its ballroom in 1964. The show ended after just ten short minutes when the crowd started rioting and tearing the place to shreds.
Hotel Andante aan Zee is a cute and cosy alternative. The exterior resembles an old Victorian, and it's located on Scheveningen's highest dune. Camping Duinhorst is over on the outskirts in Wassenaar and can accommodate both caravans and tents.
Where to eat
Many of the cafes in Scheveningen largely cater to tourists. De Eetkamer van Scheveningen gets good reviews for a menu that includes fusion dishes along with three, four, five, and even six course 'surprise' dinners. Waterproef, meanwhile, specialises in seafood and meat dishes and boasts an impressive wine list.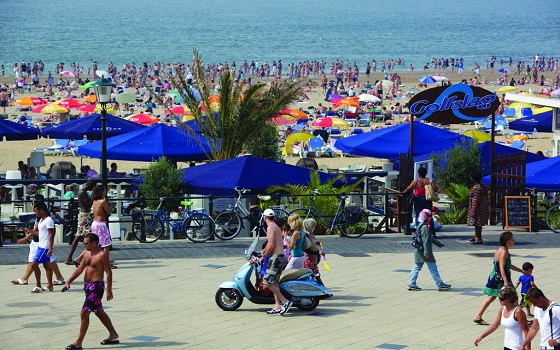 Simonis has a devoted clientele who have flocked to its multiple locations in/around the district for decades. They're family-friendly and great places to go if you prefer your seafood fried. They routinely win awards for their herring, too. Head to The Ice Cube on the pier for gelato made with fresh ingredients.
How to get there
Scheveningen is easy to get to by car but good luck with finding parking during the summer season. Many opt to take the trams from The Hague Centraal, but those can also be jam-packed during that time of the year. Cycling is a good option if you leave the car out of town.
Anything else?
The North Sea Regatta takes place every May and features yacht races. If old VW vans and Beetles are more your thing, there's an event for them called Aircooled Scheveningen that is also in May.
The date for the 2020 edition of Scheveningse Dag hasn't been announced yet at the time of this writing, but it features live music, unique locals dishes, and a market.
You can also join thousands of other daredevils on the shores of Scheveningen and jump into the North Sea with an orange beanie on your head during the Unox-sponsored Nieuwjaarsduik (New Year's Dive). This incredibly popular event takes place annually on the morning of 1 January.
Thank you for donating to DutchNews.nl.
We could not provide the Dutch News service, and keep it free of charge, without the generous support of our readers. Your donations allow us to report on issues you tell us matter, and provide you with a summary of the most important Dutch news each day.
Make a donation