Dutch destinations: I thought I'd hate the Efteling. I was wrong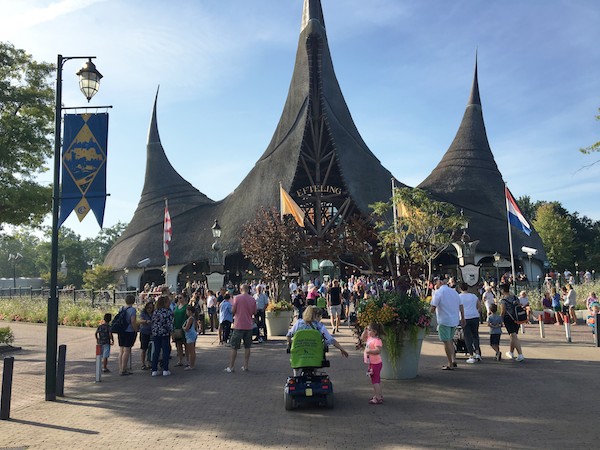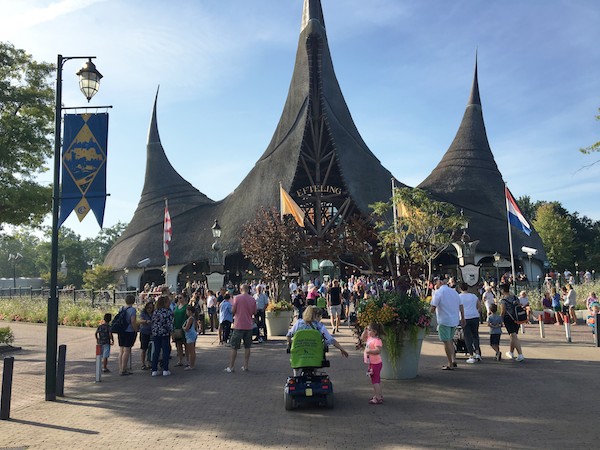 With the autumn half term upon us, your thoughts may be turning to taking the kids to an amusement park. Deborah Nicholls-Lee was dreading her visit to the Efteling, but it turned out to be the 'best family day ever'.
Our children told us that they were the only ones at school who had not been to the Efteling theme park. Apparently, we had not parented them correctly and this was a deprivation of sorts. My husband and I had no desire to go to this Dutch Disneyland in Brabant, but feeling we ought to assimilate, reluctantly gifted our nine-year-old with tickets for her birthday in April, if only to hear the end of it.
Yet still we dragged our heels. The months passed and the tickets' expiry date loomed closer. Eventually, we coughed up for two nights at a nearby hotel and committed ourselves to doing a full day at the Efteling on the 31st August, the day our tickets expired.
A bus from Tilburg railway station dropped us outside the park and we trundled our cases around the corner to GuestHouse Hotel Kaatsheuvel. This economy hotel might not have offered the early entry to the park that the Efteling Hotel does – nor a kettle, iron or hairdryer in your room – but the funky décor and giant double bunkbeds were a big hit with the kids. The reception/bar area was full of activities catering to toddlers, teens and in-betweens, and there was a giant sun terrace with playground equipment.
Breakfast
Doughnuts, according to the (mostly continental) buffet spread out the following morning, are apparently a breakfast food, so that also got the thumbs up from the small people. The penny-pinching grown-ups, who the night before had skipped the pricey dinner buffet and forced the children to join them on a walk of shame through the bar with pot noodles filled furtively from the hot water machine, were, for their part, delighted to get one free breakfast in exchange for being eco-friendly and forgoing a room clean.
On the advice of friends, we get to the park early. To a background of piped fairytale music, streams of visitors come from all directions, making their way towards the spikey thatched peaks of Efteling's eerie entrance gate, like worshippers drawn to a shrine. There is a sense that something very special is about to happen, and – despite myself – I feel a lot like Charlie must have as he waited at the doors to Wonka's chocolate factory.
Inside, the beautifully landscaped park is far less Vegas than I had imagined. 'It's nice and green,' my eldest remarks, sensing our brightening mood. There are rose gardens and fir trees all around and shrubberies full of heathers and ferns. A red squirrel dashes across my path with a nut in its mouth as, with the help of the Efteling app and its GPS, we make a beeline for Joris and the Dragon. This wooden rollercoaster was a must-do according to my nine-year-old's school chum Raf, an Efteling veteran who had visited the park 12 times already. Who were we to argue?
White knuckles
What followed was the most terrifying thing I have ever experienced. Mortified that I had done irreparable harm to my children, I was surprised to see on the photo screen post-ride that it is my husband and I with the white knuckles gripping the carriage, while the children just looked stunned. 'I am not going on this again,' manages the six-year-old. But we can't stop talking about the experience all day, and 'terrifying' gradually morphs into 'exciting' in our minds.
DO ride the Thai pagoda, which rises magestically to 45m above the park like a giant rotating crown and, like many other Efteling attractions, offers easy access for wheelchair users and parents with buggies. DON'T climb in alongside the toddlers on the swing merry-go-round, as I did, and very, – very – nearly threw up on them. This proved to be a deceptively evil little ride.
For a straight-up, blatantly evil ride, check out the Baron 1898. This heart-stoppingly sadistic rollercoaster became a tantalising motif of both fear and curiosity throughout our trip. There were many conversations relating to how much money we would need to be paid to go on it, and my children described its riders as commendably 'brave', but also 'stupid'.
Picnics
The pot noodle incident the day before hadn't stopped my husband from making sandwiches in the hotel room with his penknife, and these we enjoy on the 20-minute Gondoletta boat ride while gliding past banks of wild flowers, rhododendrons and blackberries, with the children pointing out ducks, gulls and coots along the way.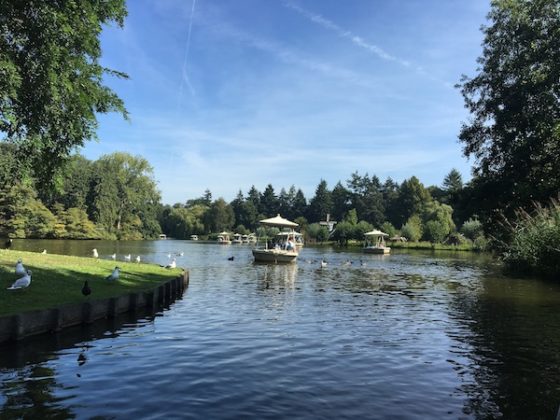 For non-picnickers, there was a huge choice of kiosks and cafes serving interesting fare such as pulled chicken and Thai noodles, as well as favourites such as poffertjes, toasties and pizza. Prices were surprisingly reasonable on the whole, and queues were mostly short due to the number of outlets.
As our app shows that the queuing time is now over 40 minutes on some rides, we retreat to the Fairytale Forest where we spend a couple of hours exploring 29 different fairy tales through life-size buildings, puppets, sound and – in the case of the Chinese Nightingale – even smell.
We must be big softies because the Little Match Girl ascending to heaven in a hologram almost has us in tears. We eat ice cream by Langnek, whose extending and retracting neck mesmerises the children. And they can't wait to throw their rubbish away when they spot the moulded mouth of a Holle Bolle Gijs, whose recorded voice begs endlessly for trash and then thanks them for it.
Globe
The sheer scale of the place is hard to take in and it's easy to see why kids like Raf come back time and time again to do the bits they missed. We feel sure we have stumbled on Efteling's controversial 'racist' ride when we emerge from Fata Morgana, a bewitching but crude pastiche of all things 'Arab', from beggars to belly dancers, until I do the Carnaval Festival ride, a stopping tour of stereotypes through the eyes of westerner Jokie and his bird friend Jet as they travel the globe.
But I realise my husband has trumped me when I see him boarding the spinning cauldrons of the Monsieur Cannibale ride, watched over by a wide-eyed, grotesquely thick-lipped 'African' with a spoon through his nose. Unbelievable.
At dinner time, we squeeze in at Pinokkio's Pizza and Pasta restaurant for enthusiastic service and unremarkable food. In future I would avoid the children's blue, yellow and red refillable drinks because they look toxic, and because a good chunk of our remaining time at the park was lost due to endless toilet visits.
The restaurant is well-located to catch the closing parade though, and although we just miss the light show by trying to get one last ride in, the whole place is now illuminated and has – let's just admit it – quite a magical, festival feel.
Queues
Adults who have come to the park without children linger at the snack bars and cafes, but a sudden thunderstorm has left our kids rather bedraggled and we decide we'd better head back. When we finally exit through the gift shop, exhausted, my husband looks like a sailor who's just stepped on dry land. 'I feel a bit weird that I'm not waiting in a queue,' he says.
Back in the hotel room, the kids spend ages on YouTube looking up videos of people being sick on rollercoasters. My husband and I can't stop saying what an unexpectedly brilliant day it has been and look at each other both bemused and grinning.
Some days later, back in Amsterdam with the rain lashing down, I open up the Efteling app and do a quick tour of the park. Well, that's interesting: the queue for the Baron is only five minutes… Still, what does it matter? Even if we went again, it would take at least a million euros to make me that brave and stupid.
Tickets to the Efteling cost from €40 (low season). Children aged three and under are free. Parking is €12.50 a day. A direct bus service operates from Efteling to Den Bosch and Tilburg railway stations.
GuestHouse Hotel Kaatsheuvel has doubles from around €76 a night. Breakfast is €12 for adults and €8 for children
Thank you for donating to DutchNews.nl.
We could not provide the Dutch News service, and keep it free of charge, without the generous support of our readers. Your donations allow us to report on issues you tell us matter, and provide you with a summary of the most important Dutch news each day.
Make a donation