The adventures of young Rembrandt; follow in his footsteps in Leiden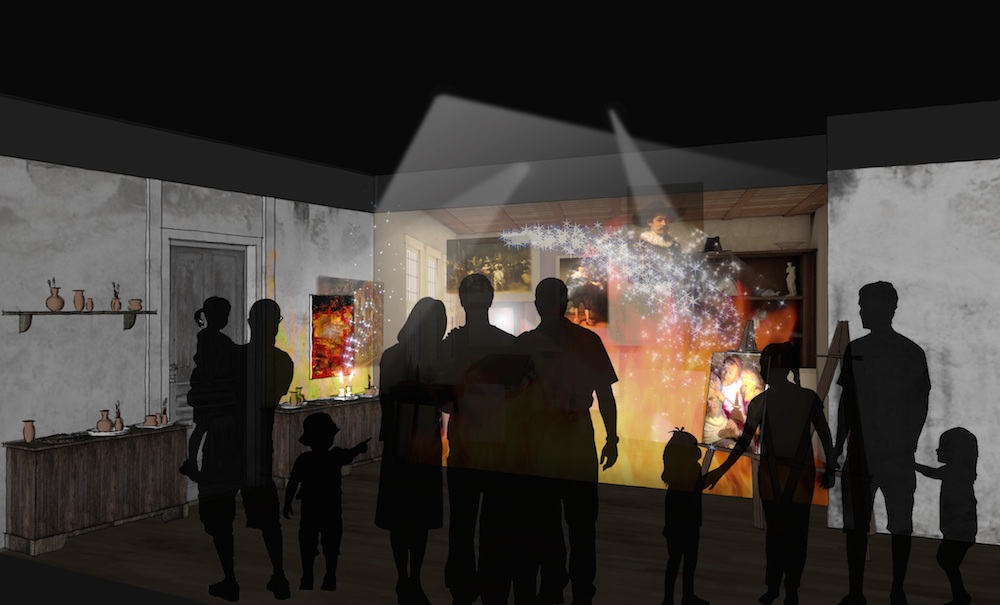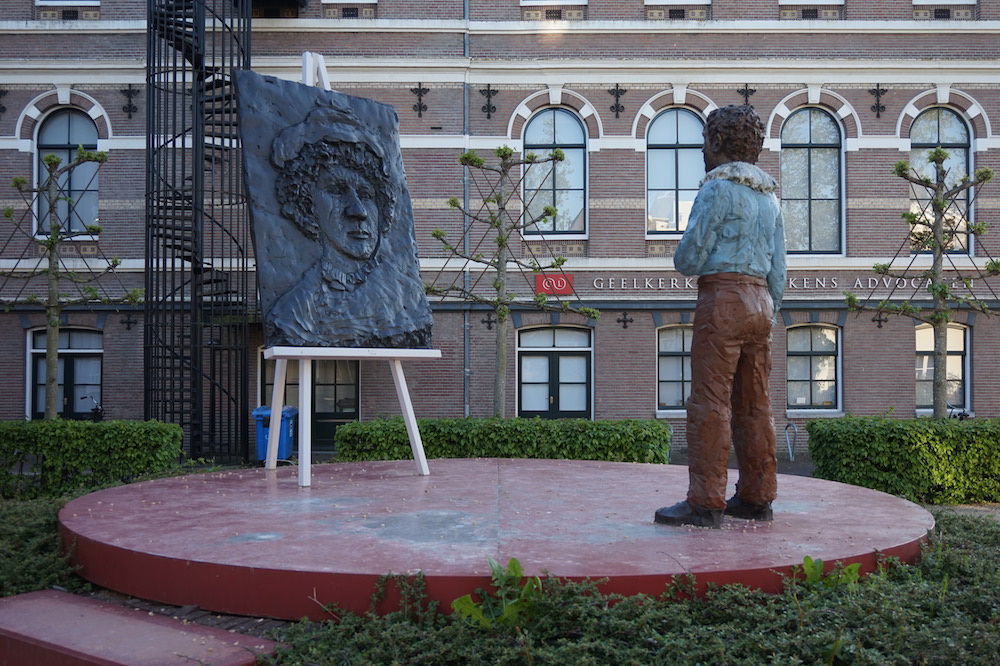 Centuries before The Night Watch would go on to become one of the most iconic tourist attractions in Amsterdam, Rembrandt was just another struggling artist living down in Leiden. Here is Brandon Hartley's rundown on his time in the city and various local attractions you can visit if you'd like to learn more about his early days.
A stroll through the centre of Leiden can lead you past the historic Beestenmarkt, several picturesque canals, and more than a few friendly ducks that will happily relieve you of any unwanted bread you've brought along. If you point yourself in the right direction, you may also find yourself in a small square dominated by a solitary, enigmatic figure.
It's a boy standing in front of a bronze portrait of Rembrandt, perhaps contemplating his own ambitions and potential future as an artist. A few steps from the statue is the spot where his childhood home once stood. These are just two of the landmarks and other attractions devoted to the Golden Age artist that you'll find in Leiden/
The benefits of a classical education
Before we get started, there's the spelling of Rembrandt's first name. Scholars say he was born 'Rembrant' and later added the silent D for reasons unknown around 1633. He signed many of his paintings with this spelling but, oddly enough, several historical documents from his lifetime feature the original version. We'll stick with the better known 'Rembrandt'.
Rembrandt Harmenszoon van Rijn was born in Leiden on 15 July, 1606. He was the ninth of eventually ten child in the busy household of Harmen Gerritszoon van Rijn and Neeltgen Willemsdochter van Zuytbrouck. By all accounts, the family was solidly middle-class. Rembrandt's father worked as a miller who specialised in grinding malt for beer breweries and his mother was the daughter of a well-to-do baker.
This meant that they had enough money to send him to study at the nearby Latin School when he was 10, which served as a stepping for many of its all-male alumni (no girls were allowed) to attend university. Along with studying Latin and Greek, he likely received a classical education and would have become well versed in history and literature. Most importantly, it was here that Rembrandt received his first lessons in drawing.
University
He later enrolled at the University of Leiden at the young of age 14. Weirdly enough, most incoming freshman would have been 17 during this era. The reasons for Rembrandt's perhaps premature enrolment have been lost to the ages but he may have never even attended classes. He had instead fallen in love with the idea of becoming an artist.
But studying to become one was hardly cheap in those days and Rembrandt, even though he was still just a teenager, was no spring chicken when it came to art. Most painters got started when they were pre-adolescents. Nevertheless, his parents covered the cost of him becoming an apprentice to Jacob Isaacszoon van Swanenburg, a Leiden-based artist best known for some pretty grim religious paintings reminiscent of Hieronymus Bosch.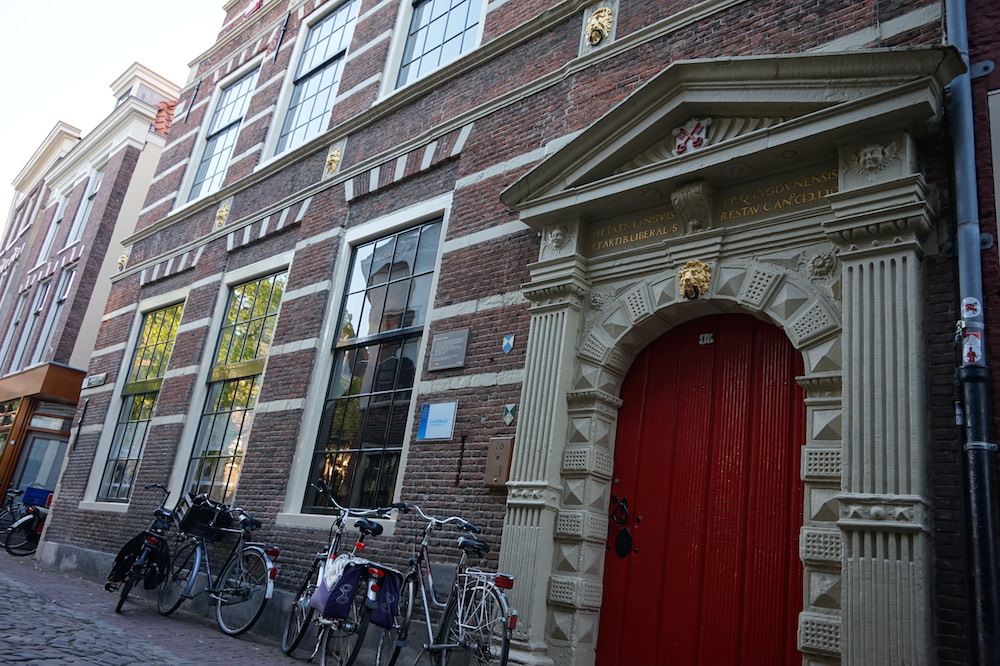 Van Swanenburg was also pretty great at city scenes and depicting historical battlefields. Rembrandt studied and worked with him for three years. While he never wound up emulating his mentor's hellscapes, scholars have theorised that the artist's near lifelong fascination with replicating natural and artificial light may have been inspired by Van Swanenburg's skills at painting some pretty fearsome flames.
Sometime around 1624 or 1625, Rembrandt likely opened a studio in Leiden with a colleague named Jan Lievens, who was something of a child savant when it came to painting. He got started at the age of eight, nearly a full decade before Rembrandt, and had begun working as a professional artist at around age 12. However, Rembrandt's time at the Latin School eventually proved useful when it came time for him to choose some intriguing subject matter for his later paintings.
The young Rembrandt moved to Amsterdam for six months to serve as an apprentice for artist Pieter Lastman. In those days, going to Italy to study was all the rage for artists-in-training. Curiously enough, Rembrandt resisted the urge, even though he might have been able to convince his parents to cover the costs. Whether or not he ever tried is now long forgotten. Perhaps stranger: Rembrandt never spent time outside of the Dutch Republic during his lifetime.
Big break
Fortunately, Lastman and Van Swanenburg had journeyed to Italy and brought the mastery of Italian Renaissance artists back north where they passed them onto Rembrandt.
Rembrandt later returned to the studio in Leiden in 1625 to rejoin Lievens and even accepted his own students. They included Gerrit Dou, an artist who would go on to become one of the Leiden Fijnschilders, a group of Golden Age artists that strove to replicate everyday scenes as realistically and accurately as possible.
Then Constantijn Huygens showed up about five years later and provided Rembrandt with his first big break. Huygens was a poet and composer who also spent time working as a secretary to two of the Dutch Republic's princes. He helped Rembrandt arrange a series of important commissions for political leaders and royals in The Hague. In 1631, Rembrandt moved to Amsterdam where his career, needless to say, really took off.
Here's how you can retrace Rembrandt's early years in Leiden
There are a few Rembrandt-related attractions and monuments in Leiden that fuel an interesting day trip to the city. You can start with a stop at the Young Rembrandt Studio, a new exhibition that opened earlier this spring.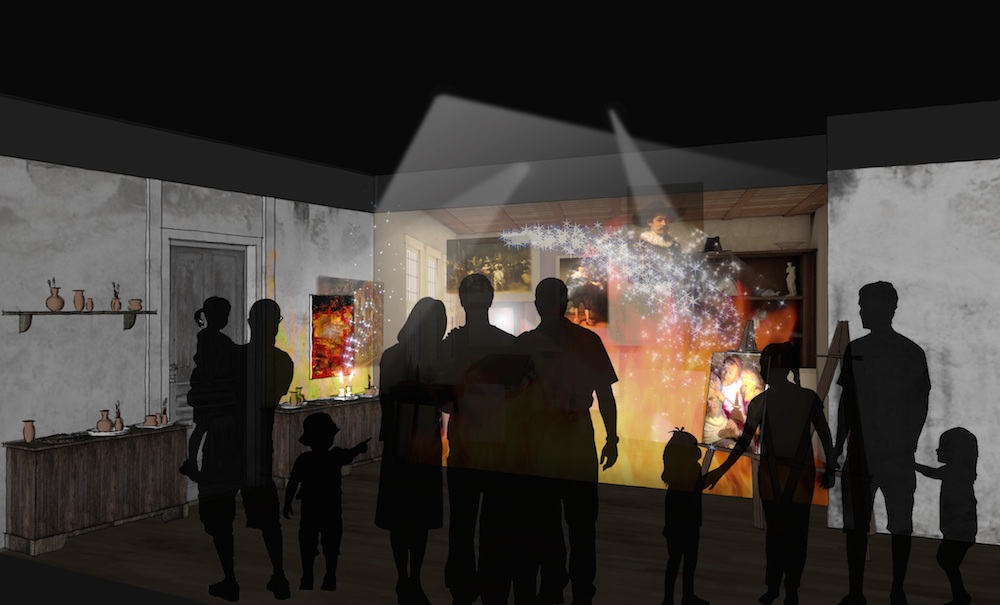 Located inside a 17th century house at Langebrug 89, the exhibit features a seven minute video projection that offers a whirlwind journey through the artist's years in Leiden. There's also a gift shop that features Rembrandt-themed products, in addition to information about other attractions around the city.
There's also the Rembrandtwandeling ('The Rembrandt Walk'). This walking route will lead you past Rembrandt's birthplace, the Latin School, and several more of the artist's former haunts in Leiden.
There are informational boards along the way that offer additional details about each historic site. Informational booklets about the route, which are packed with tons of facts about Rembrandt's early years and what the city was like in the early 17th century, can be purchased at the VVV Leiden tourist centre at Stationsweg 26.
Park
The picturesque Rembrandtpark is a nice place to stop for a snack or a lunch if the weather's cooperating after you pass over the Rembrandtbrug and snap a few photos of the Molen de Put, a nearby windmill.
Be sure to check out the mysterious statue in the nearby Rembrandtplein. Is the boy looking at the portrait supposed to be Rembrandt himself? No one quite knows for sure. Sculptor Stephan Balkenhol made it for the 400th anniversary of the artist's birth in 2006, but left the boy's true identity a secret.
Nearby, there's the former location of Rembrandt's childhood home. It was torn down in the early 20th century to make way for the extension of a printer's office. A commemorative plaque can now be found on one of the exterior walls. You can also stroll over to view a large bust of the artist depicted in his later years along the Witte Singel. A wreath is placed on it at the stroke of midnight every year on Rembrandt's birthday.
Art
Finally, Leiden's Museum De Lakenhal is due to reopen after an extensive refurbishment in the spring of 2019. It will host an exhibit titled Young Rembrandt from 3 November 2019 to 9 February 2020. Along with works by the artist himself, it will also feature paintings by Lievens, Lastman, and Van Swanenburg.
'It will be a quite large exhibition with over 120 works of art', curator Christiaan Vogelaar said. 'Some of them will be coming over from the UK, Berlin, and the Louvre in Paris. Visitors can also enjoy our historical collections and 20th century art. The De Stijl movement was founded in Leiden and we have a beautiful collection'.
Thank you for donating to DutchNews.nl.
We could not provide the Dutch News service, and keep it free of charge, without the generous support of our readers. Your donations allow us to report on issues you tell us matter, and provide you with a summary of the most important Dutch news each day.
Make a donation