Today it is 'animal day' – but in some places, every day is Dierendag
On the the feast day of Francis of Assisi, the patron saint of animals, the world celebrates World Animal Day – Dierendag. Around the country, on October 4th, business will host special events, children bring their pets to school and more. But, as Molly Quell reports, in some places, every day is animal day.
The Dutch have nearly as many pets as bikes, almost two for every man, woman and child. According to Dibevo, the Dutch organisation for animal-related companies, there are 33.4 million pets living in 7.6 million Dutch households. Fish are by far the most popular pet – with 18 million, there are actually more fish in aquariums than people. Birds, cats, dogs, rabbits, reptiles and rodents make up the rest of the list .
It isn't just families trying to teach tweens lessons in responsibility by walking the dog or feeding the fish. Business owners also like to have friendly face hanging around their establishment. 'Who doesn't love a little puppy?' asks Frontaal Brewery owner Roel Buckens whose dog Simcoe spends her days with him in the brewery's tap room.
'Our customer's love Claus,' says Cafe Bax owner Clodagh Bax Coll. Cafe cats have their own hashtag on Foursquare so anyone who wants to cuddle with a cat in Amsterdam need only to search the location-based social networking site to get cat reviews from other users.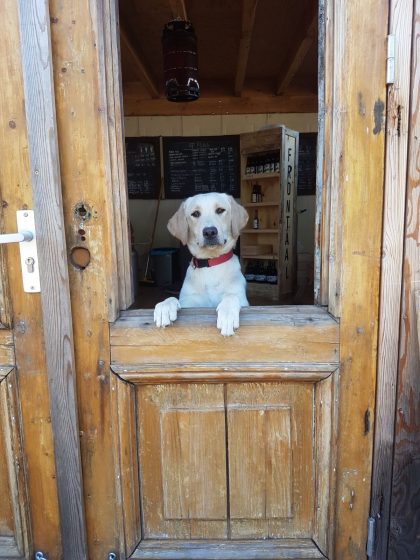 Cafe cats in Amsterdam are so popular that they even have their own book, aptly titled Amsterdam Pub Cats, created by photographer Robert van Willigenburg. The demand for cuddly cats has even led to cafes dedicated to animals, such as Kopjes, a cat cafe in Amsterdam which charges a cat tax to enter.
The owner, Lenny Popelier, raised €33,000 in start up funds with Kickstarter to bring the first cat cafe to Amsterdam, in the wake of earlier establishments in London, New York and Tokyo. (Tokyo, in fact, is home to cat, rabbit, dog, bird, snake and goat cafes.)
Animals are often more than a fun way to advertise. The police in the city of Delft adopted a cat named Garfield after he was hit by a police vehicle responding to an emergency. They took him to the vet to treat his injuries and tried to locate his owner but none could be found. So Garfield came to call the police station home.
'He doesn't judge anyone, he's just a friendly face to anyone who is brought in to the police station,' the police told DutchNews.nl. But the police officers themselves also find Garfield a comforting presence. 'After a difficult call or a serious accident, he brings a lot of cheer to the office.'
But less stressful working environments also benefit from an animal colleague. 'He just great to relax with,' says Diana Luchin of Dave, their office cat. Luchin and Dave work at Local Makers, a 3D printing shop, where Dave can sometimes be found napping in the printer.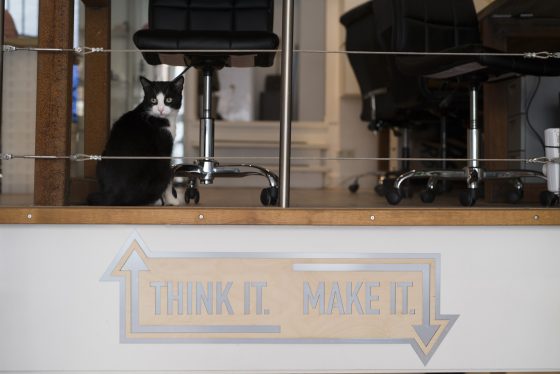 Comfort animals can reduce stress in a number of situations. Mental health facility GGZ Delftland employs Joris, a cat who is a friendly face to patients and employees alike. Animals have been used for therapeutic purposes from as early as the 17th century and Sigmund Freud sometimes allowed one of his dogs to be present during sessions.
Many people with physical disabilities utilise specially trained animals to assist them with daily tasks, but there's been a recent increase in using animals for emotional support as well.
Amsterdam, for example, is home to Europe's largest snoezelen centre. Snoezelen refers to a form of therapy for people with dementia, autism and neurological disorders where they are placed in a room with a variety of stimuli designed to reduce anxiety and encourage relaxation.
Dogs, cats and rabbits, who reside at the centr,e are sometimes included in this therapy. Other groups, such as Stichting Snoezelhond, bring their service animals to homes for the elderly to offer comfort and reduce loneliness.
Animals can offer more than just emotional support. "Claus keeps the mice out of the bar," says Coll, of her ginger assistant.
This is a common refrain among cafe owners. Owners of bars, restaurants, coffee shops and nearly every other type of shop cite cats as pest control. 'Cafes can't survive without cats,' says Coll. She's not the only one. Budget retail chain Xenos even employs night watchmen, as they are known, to police several locations in the evenings and keep them rodent free.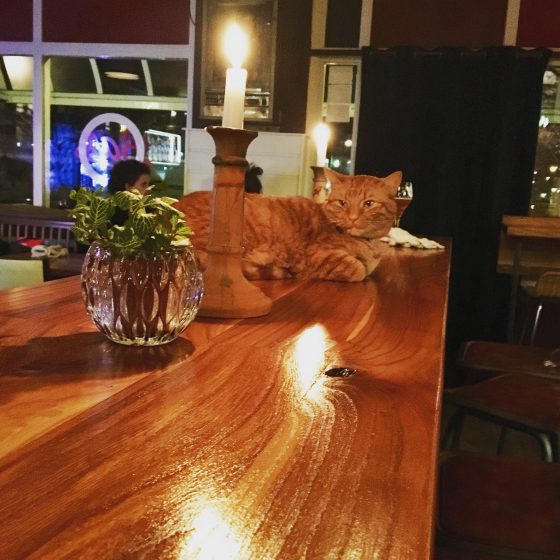 Hygiene regulations prohibit animals from being in areas where food is prepared or, in the case of Kimberly's Beauty Salon, the treatment room.
'Nena is fine so long as she stays out of the back,' says owner Kimberly de Cock. Her three-year-old Chinese crested splits her time between the salon and working on site with Kimberly's husband who works as a roofer.
Simcoe, the brewery dog, isn't allowed in the section of the brewery where the beer is actually brewed, but is confined to the taproom.This is true of the other pets as well 'When Claus visits, which is nearly every day, he stays out of the kitchen,' says Coll. 'If you don't have a cat, you have to monkey about with traps and boxes of poison. Isn't that more unhygienic?' Katja van der Sluijs of 't Blaauwhooft told Vice in an interview.
Sometimes, whether a proprietor wants it or not, the end up with a pet. 'Claus just showed up one day,' Coll says, 'and stayed. A few months later, the owner, a local butcher, came by and collected him. But Klaus just kept coming back.'
Many owners, however, opt for self-employment precisely so they can be close to their animals. 'I always wanted to run my own business,' says De Cock, 'in part because it gives me the freedom to bring Nena to work with me.'
And while most shop animals are cats and dogs, the range isn't limited. The Eerste Klas Cafe at Amsterdam's central station has a cockatoo named Elvis who, the cafe claims, is the most photographed bird in Amsterdam. 'Anytime a dog comes in, he barks at them,' says one employee.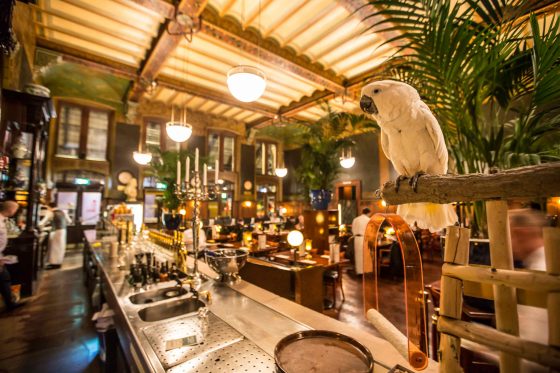 Thank you for donating to DutchNews.nl.
We could not provide the Dutch News service, and keep it free of charge, without the generous support of our readers. Your donations allow us to report on issues you tell us matter, and provide you with a summary of the most important Dutch news each day.
Make a donation