How to go Dutch: The waiting continues as the stakes are unexpectedly raised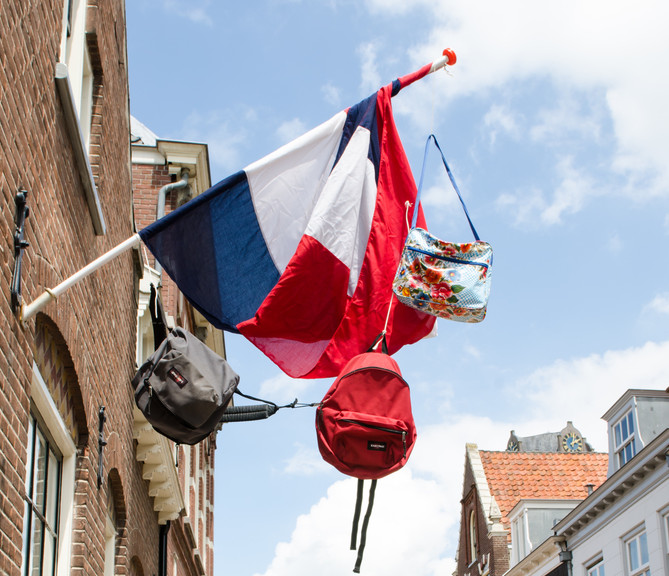 Five years ago Molly Quell moved to the Netherlands with her husband, an academic, for a short-term project. Now she's single, has fallen in love with the country and finds herself in the unexpected position of having to integrate. Read the first, second and third parts of her series.
Well, I did it. I have officially passed all five sections of my inburgeringsexamen. Four language sections (reading, writing, speaking and listening) and the infamous culture exam.
Before anyone jumps in with: 'Well, now you should speak Dutch!' and immediately switches to some complicated narrative in their regional dialect, this exam does not prove I am fluent in Dutch. It proves I can pass a standardised exam about a basic level of Dutch.
In my third instalment, I had already passed Reading and Listening. In the three months since I have added Writing, Speaking and Culture to the pass list.
Exam results
But first I had to wait. Because in the Year of Our Lord 2016 the Dutch authorities send the test papers in a rocket to Mars and Elon Musk has to build a human colony there before they can be reviewed, results take eight weeks to come through. Despite being warned that this was the case, I compulsively checked the website for my results, starting two days after I'd taken each exam. The website itself doesn't tell you your score, only if you passed – so once I'd discovered I'd passed, I then anxiously waited for the letter with my numerical score.
Under duress, I will confess my scores here. Straight 9s with one 10 in Reading. Anyone who has heard me speak Dutch (which is a handful of Belgians and an Albert Heijn cashier in Amsterdam, once) is aware that this demonstrates just what a poor job the exams do of assessing one's actual ability to speak Dutch. As I said before, all it proves is that I can pass a Dutch exam.
Exam practice
As I had suspected, writing and speaking were the most challenging elements. The biggest challenge, for me, was that you couldn't really take a practice exam. Reading, Listening and Culture are all multiple choice, so in my preparations I took a number of practice papers and had a good sense going into the actual exam that I would pass.
Writing is an actual written exam (on actual paper) and for Speaking, you must record your spoken answers to be graded later by an examiner. As such, the best I could get for feedback was to have my Dutch instructor and unlucky Dutch friends grade my responses.
For the writing exam was relatively straightforward: you print the practice exams, you take them, you give them to someone to grade. The Speaking exam proved to be more difficult, since you can't send your recorded answers via the practice exam system.
Instead, I recorded my answers via WhatsApp and sent it off. Shout out to my friend Paul, who was subjected to my 35 answers to questions such as "What do you think of the weather in the Netherlands?" and "What is your favourite thing to cook?"
Dutch culture
My final exam was Culture, which I left until last because, well, it's supposed to be terrible. Everyone who has taken the Culture exam has their favourite absurd question.
Mine involved a worker who felt he was being maligned by a colleague. First, you watch a short video clip of two men working on an assembly line. One of them, Ali, who is darker skinned, is working next to his blonde-haired, blue-eyed colleague Jeroen. Jeroen appears to be avoiding Ali's attempts at conversation. Ali thinks that this is because his colleague is racist and is unsure what to do. Your options are:
Ali should speak to the company director
Ali should speak to his wife
Ali should speak to his colleagues.
Since you're not given the answers, I still have no idea what the correct response is. Feel free to comment below with your thoughts. Comedian Greg Shapiro has written extensively about the various absurd questions on the culture exam if you'd like to see more.
I accidentally scheduled this final exam for the day after the US elections. Being both an American and a person who doesn't want to spend the rest of their life living in a post-apocalyptic wasteland, I was deeply unhappy with the election results. Being a journalist, I had several stories to file about the election results. Being a crazy person, I stayed up all night to watch the election results.
It started out fine, with a group of friends drinking beer and watching the news, but as the night dragged on and the outcome became more and more inevitable, the crowd slowly drifted away. I took a short nap at 8:00 in the morning, filed my stories and then got on my bike to head to the test centre.
The stakes for the exam results were suddenly a bit higher. At the counter, looking like a person who has had 30 minutes of sleep, I handed my ID off to the testing official. He glanced at it. Glanced up at me. Glanced back at it. Glanced up at me and leaned forward. Then he whispered, 'I'm sorry'. 'Ik ook,' I replied.
The next step
Now that I have successfully passed all of the required (I think, though I'll only believe it when the IND sends me my permanent residency card), I had to prepare my permanent residency application. The form itself is 18 pages and required everything from copies of my passport to a letter from my employer.
Ultimately, I mailed the IND 68 pages of supporting documentation proving that I am a good citizen, that I passed my exams, that I am financially secure, that I have a job and that I eat both cheese and hagelslag. Since the IND system is an old-fashioned paper one, I had my short video demonstrating my enjoyment of cheese printed into a flip book. I anticipate this will be sufficient.
Two weeks later (much faster, incidentally, than it took for the exam results to arrive) I got a letter from IND confirming my application and a request to pay them a lot of money to process it. With that final bit arranged, now I wait. Again.
Molly will update us with her progress in the spring, when her application is processed.
Thank you for donating to DutchNews.nl.
We could not provide the Dutch News service, and keep it free of charge, without the generous support of our readers. Your donations allow us to report on issues you tell us matter, and provide you with a summary of the most important Dutch news each day.
Make a donation