Greenhouse emissions in the Netherlands fell 9% last year as industry, private homes and the farming sector cut back on their use of gas, national statistics agency CBS said on Wednesday.
This means that greenhouse gas emissions in 2022 were almost 32% down on those of 1990, and that is below the government target of a 25% reduction. The target was just met in 2020 and slightly exceeded in 2021.
Homes, shops and offices – or the built environment – cut their emissions by 21% last year, helped by a milder winter. Industrial emissions fell 11% as the oil and chemicals industries switched to alternatives or halted production temporarily.
However, the use of coal and oil was virtually unchanged and industry remains responsible for 32% of all emissions, the CBS said. There was also no change in the volume of green gas produced by cars, lorries and other forms of mobility.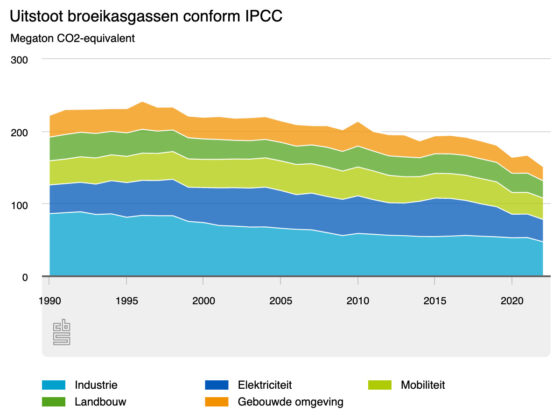 Marjan Minnesma, who set up the Urgenda climate campaign which forced the government to take action, welcomed the news but pointed out 2022 was not a representative year. The reduction was mainly due to external factors, such as the energy crisis, she said.
'It remains to be seen what will happen this year,' she told news agency ANP. 'The government's climate policy shows no sense of urgency.'
The official Dutch government target is for a 55% reduction in greenhouse gas emissions in 2030, when compared with 1990.