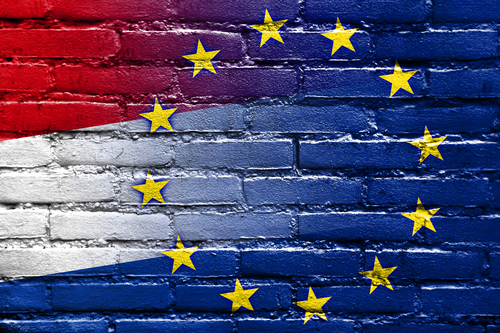 Some 250 businesses from all over the world have contacted the Netherlands Foreign Investment Agency (NFIA) to discuss starting a Dutch operation because of Brexit.
A spokesman for the government-funded agency said the number of inquiries has increased year-on-year as 'uncertainty' grows about access to the EU after Britain leaves, especially with a possible no-deal Brexit.
By the start of 2017, 80 companies had contacted the agency, by 2018 this was 150 and the total has now increased to 250.
'These countries are certainly looking at the Netherlands,' a spokesman told DutchNews.nl. 'It is highly probably at they are also looking at other ones too. They want to expand to remain in the European market, in relation to Brexit and a possible no-deal Brexit.'
Signed and sealed
The contacts – which led to 20 signed-and-sealed deals by the end of 2017 – include businesses from Asia and America, as well as those currently vested in the UK itself.
In February, the NFIA will publish its official figures on how many more deals were firmed up in 2018, and the spokesman said that with Brexit uncertainty there has been a clear increase in interest from Asia.
Earlier this week, it was widely reported that Sony would move its European headquarters to Amsterdam, although staff are expected to remain in the UK. Panasonic and Japanese bank Mitsubishi UFG have also chosen the Netherlands for future bases.
Innovation funds
The NFIA is, according to its spokesman, a 'matchmaker' in the process. 'This is an attractive country to do business,' he told DutchNews.nl. 'If you want to have a data centre, you need a reliable energy supply and space, and if you are a research and development company you need a good university nearby so you can use the young talent. We do a sort of matchmaking for these companies.'
Incomers will not have any special subsidies, he stressed, but like other Dutch companies will have access to schemes to stimulate innovation.
According to a London corporate lawyer who has been overwhelmed with interest from businesses seeking a new European headquarters, the Netherlands and the Nordic countries are also seen as straightforward places to establish a legal entity.
DutchNews.nl has been free for 13 years, but now we are asking our readers to help. Your donation will enable us to keep providing you with fair and accurate news and features about all things Dutch.
Donate via Ideal, credit card or Paypal.