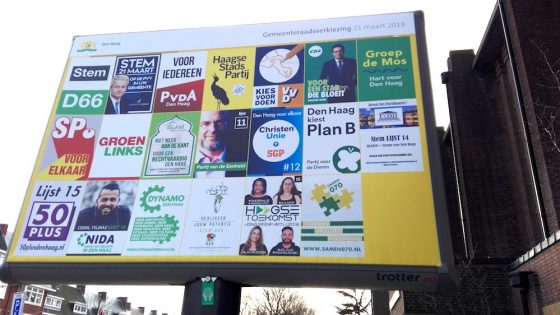 Even by Dutch standards, The Hague's political scene is remarkably fragmented, with the last election producing a coalition of five parties led by D66. This time opinion polls suggest the contest is between D66 and the VVD, with local party Groep de Mos and GroenLinks close behind.
Labour (PvdA) and the Haagse Stadspartij look like being the losers among the coalition parties, while Geert Wilders's PVV has slipped from second place to fifth.
Polls show the environment is the main priority for voters in The Hague, followed by healthcare and housing. D66, GroenLinks and PvdA want to ban vans and older cars from the city centre's environmental protection zone, which currently applies to lorries, while the VVD and CDA are opposed.
GroenLinks and D66 have also called for the council to invest in offshore wind farms. Most parties, with the exception of the PVV, say new housing needs to be greener and more energy efficient.
More social housing is needed in the city, but parties are divided on where to build it. D66 wants to promote mixed neighbourhoods by spending €75 million on social housing in more prosperous areas, while the VVD argues that the council should build homes where land is cheap. The left-wing parties also want to invest in affordable student housing.
Other contentious issues include whether the council should require healthcare providers to tailor their services to reflect the needs of minority ethnic groups, the provision of chapels and prayer rooms in council buildings and whether cyclists should be banned from the bustling Grote Marktstraat.
Current council coalition: D66, PvdA, Haagse Stadspartij, VVD, CDA
Current council make-up:  D66 (7) PvdA (6) Haagse Stadspartij (5) PVV (5) VVD (4) Groep de Mos / Ouderen Partij (4) CDA (3) SP (2) Islam Democraten (2) GroenLinks (1)Partij van Eenheid (1) CU/SGP (1) PvdD (1), plus three one-man splinter parties.

Total number of voters: 350,000
International voters: 57,000, 16.3% or seven seats on the 45-seat council
2018 local election information in English
The Hague, key issues: housing, integration and jobs
The DutchBuzz podcast featuring local politicians
The Hague city council information
D66, the main issues
VVD in the Hague
GroenLinks election website
Bond voor Student Actie (BSA), student party
PvdA manifesto summary
Election debates and events in English
March 15, election debate at the Gemeente Museum, organised by The Hague International Network