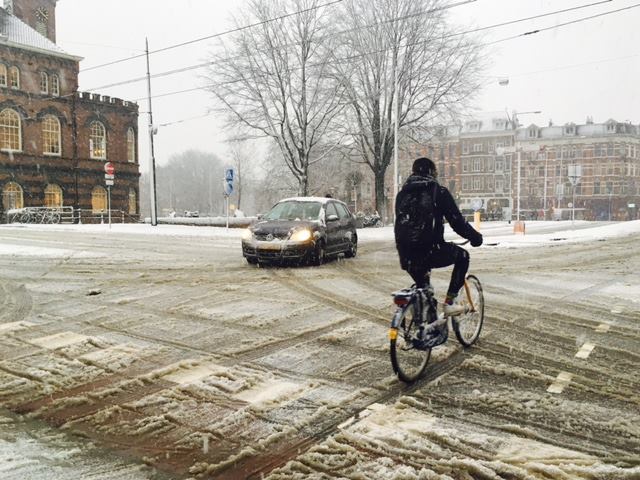 Weather forecasters are warning of more disruption on the roads and railways on Monday afternoon as a fresh band of snow sweeps in from the south.
On Sunday KLM cancelled 282 flights from Schiphol and the motoring organisation ANWB reported dozens of accidents on snowbound motorways. One driver died in hospital after his car collided with a train near Velp.
A further 122 flights have been cancelled to European destinations on Monday afternoon as a precaution, a KLM spokesman told RTL.
Monday morning was dry and clear, but roads were reported to be quieter than usual as commuters appeared to heed warnings to work from home or postpone appointments if possible.
NS is running a reduced rail timetable on Monday, with intercity services on the busiest lines cut from four trains an hour to two. 'That means longer journeys, more frequent changes and busier trains,' warned a spokesman.
Vannacht wordt het geleidelijk droger en gaat het licht vriezen. Let op gladheid! Morgenochtend start droog, maar daarna: zie de beelden hieronder. https://t.co/kSgc5q6k0W pic.twitter.com/rJpl0tZeQA

— William Huizinga (@WilliamHuizinga) December 10, 2017
Weather bureau KNMI has issued a Code Orange warning from midday, when heavy snow is expected to move in through the south of the country. Some areas could see as 15cm in the course of the afternoon.
The heaviest snowfalls are predicted to be in south-western and central regions. Temperatures in these areas could fall as low as minus 6C, with subzero conditions in most of the country on Monday evening.
Voor het dikste pak sneeuw moet je naar de hoge Veluwe: 34 cm! Morgen valt opnieuw sneeuw, heb jij er al zin in? Foto: Mark Wolvenne uit Terwolde.https://t.co/LO4NcKEV6v pic.twitter.com/5fDl22Hcg0

— Weeronline (@weeronline) 10 december 2017
The ANWB warned that 'extreme delays' were likely and advised drivers to delay their journeys if possible.
UPDATE Reisadvies ANWB: Stel maandag, indien mogelijk, de reis uit en schort afspraken op: https://t.co/9s9EF7LGmp pic.twitter.com/nzSd3J4q0d

— ANWB (@ANWB) 10 december 2017
Flights from Schiphol were cancelled on Sunday because the airport was only able to keep one runway clear of snow.
One passenger, Tanya Cunningham, told DutchNews she was stranded at the airport overnight after a delay to her inbound flight from Luxembourg meant she missed her connection to Minneapolis.
She said lack of communication and long queues at transfer desks had compounded the problem: 'The terminal is full of hungry, tired, frustrated travellers like myself who have paid for service from airlines… to provide, at the very least, a cup of coffee, a snack, [and] some assurance of our safety and well-being.'
Schiphol said it expected to run a normal service on Monday morning after clearing the overnight snow, but warned that more delays were likely after 3.30pm as conditions deteriorate.