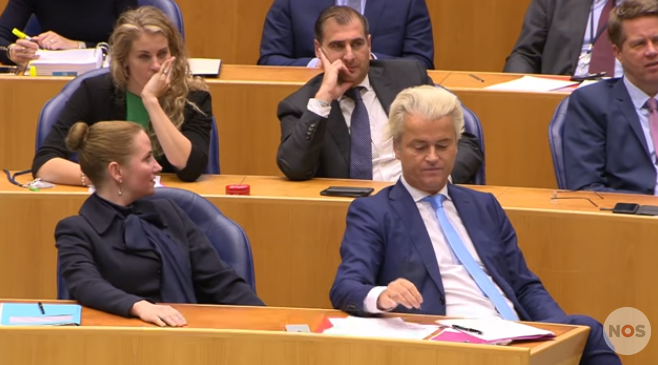 Opposition leader Geert Wilders has filed an official police complaint accusing prime minister Mark Rutte of illegally discriminating against Dutch people.
Legal experts said the move had 'no chance' of succeeding, mainly because Wilders' complaint concerns laws that Rutte has submitted to Parliament in his job as prime minister rather than his behaviour as an individual.
'It's highly likely that the public prosecution service won't pursue this,' Wim Voermans, professor of public administration law at Leiden University told NOS. 'It's hard to see how the Equal Treatment Act can be applied here.'
A spokesman for the prosecution service in The Hague, which will have to decide whether charges should be brought against Rutte, said it would comment once police had sent the case file. 'Then we'll see what's in there,' said a spokesman.
Wilders said he had taken legal advice before filing his complaint, but declined to say who from. The legal practice of Geert-Jan Knoops, who defended Wilders when he was convicted of inciting discrimination against Moroccans in 2016, declined to comment.
Accommodation facilities for asylum seekers, free healthcare for refugees with no income and the abolition of dividend tax to attract overseas investors are all examples of legislation where the government discriminates in favour of foreigners, according to the PVV leader.
Wilders also launched a special website, rutte3discrimineert.nl, inviting people to support his campaign and send in instances of discrimination. The method is similar to the PVV's 'shop a Pole' website in 2012, which was condemned by Dutch MPs and European commissioner Viviane Reding, and turned out to have been inundated with false or satirical complaints.
The move is a change of tack for a politician who has spent the last decade calling for anti-discrimination laws to be scrapped or rewritten to enshrine the pre-eminence of Judeo-Christian culture.
Wilders has been prosecuted twice under discrimination laws in the last seven years. In 2011 he was cleared of insulting Muslims and inciting hatred and discrimination in a series of public statements and his documentary film, Fitna.
DutchNews.nl has been free for 13 years, but now we are asking our readers to help. Your donation will enable us to keep providing you with fair and accurate news and features about all things Dutch.
Donate via Ideal, credit card or Paypal.