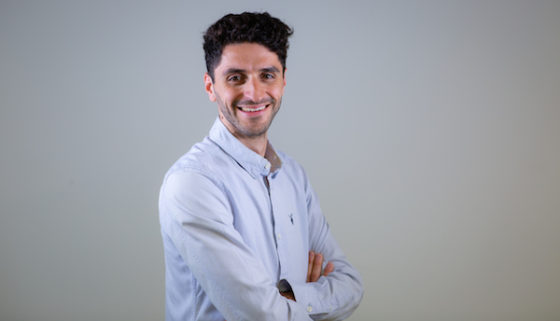 British national Nicolas Deskos grew up in Manchester and moved to Amsterdam to do a master's degree seven years ago. He enjoys the city's entrepreneurial spirit, is a Johan Cruijff fan, and thinks Dutch is a bit like a secret language.

How did you end up in the Netherlands?
While I was at a university in the UK, a lot of my friends were doing year abroad study programmes. I was amazed at how good of a time they were having, but I never got the opportunity myself. Once I graduated, I wanted to keep studying but in a more international setting.
I moved to Amsterdam to do my master's in 2013. It was only supposed to be temporary. I was just going to do a one-year programme and then go back to the UK but, like a lot of people, I fell in love with the city and decided to stay spontaneously. I wanted to start my life and my career here. I spent a couple of years at tech startups, liked the entrepreneurial spirit of the city, and started my own eyewear company called LUMES in 2019.
How do you describe yourself – an expat, lovepat, immigrant, international?
I guess I consider myself an international. I feel like 'expat' has the connotation that you're staying here for only a temporary period of time. That was the case for me, but not now, so I guess I'm an international. I'm British, I have a British passport, but I've lived in the Netherlands for a quarter of my life. At this point, I feel quite at home here.
How long do you plan to stay?
That's a question I keep asking myself. For the foreseeable future I'm staying, since I launched my business here. I think Amsterdam is a really great place to do a startup. The ecosystem and the vibe are perfect for a business, and it's well connected with a nearby international airport.
In comparison to places I've lived in the past, the entrepreneurial spirit that's in Amsterdam and the Netherlands is really encouraging. There's a great community with lots of workshops always going on so it's really easy to find mentors and people willing to meet up with you for a coffee.
I think what's really kept me here though is the work-life balance. At the companies I worked for, there's a very relaxed attitude toward work, which in turn leads to a higher quality of life, makes you more productive, and helps you prioritise things outside of work like meeting friends and keeping fit.
Do you speak Dutch and how did you learn?
Before moving here, I was aware the Dutch could speak good English, but I wasn't aware of the true extent of that. Before I moved over here to study, I taught myself basic Dutch. I really practised various phrases and sayings and really immersed myself. Then I quickly realised it wasn't needed and people kept speaking English to me. It was a bit of a shame, actually.
After a year of living here, I took an advanced beginner's course. Having worked for only international companies though, I've barely had to use what I learned. I have lived here for almost seven years though, and my understanding is pretty good now. I can usually make sense of conversations, but like a lot of people in my situation, I don't practice speaking enough. I'm pretty good at reading and listening, but I should put myself out there and start speaking more.
A friend mentioned something recently that Dutch is kind of a secret language since only people in the Netherlands, Belgium, and kind of South Africa speak it. So if you ever need to communicate secretly abroad, it comes in pretty handy.
What's your favourite Dutch thing?
My favourite Dutch thing is the attitude of the people. It can be difficult to adapt to at first. I come from the UK, which is more of a polite society so it can be quite jarring. Once you embrace the culture, you can see why the Netherlands, generally speaking, is such a happy country. People seem to be very open and friendly here, which I like and enjoy.
How Dutch have you become?
British people have a reputation for never saying what they really think and being overly polite. I feel like I've personally changed, so I'm more direct in the Dutch way. Not necessarily rude, but I no longer beat around the bush. If there's something I want to say, I'll say it.
This is a more natural way to be and something I definitely wasn't before I moved here. People say this is something you see more in Amsterdam than around the rest of the Netherlands. That's a good kind of distinction to make as well.
Which three Dutch people (dead or alive) would you most like to meet?
Johan Cruyff. I'm a big football fan. In my opinion, he changed the world of football and no one had more of an influence on the game than he did. He turned the failing Barcelona team into one of the best in the world.
Besides his football legacy, he came from a working class background and never forgot where he was from. He did a lot to give back to those communities through his foundation and institute. I think it would be very inspiring to get a coffee with him, talk about his philosophy, and how he kept so true to his ideas, even when it might have been difficult.
Femke Halsema. We're living in constantly changing times. There's so much happening in the UK and a lot of things in politics. I'd love to pick her brain and ask how she sees the city of Amsterdam evolving but at the same time how she plans to preserve its culture and what has defined it throughout the years.
Ed van der Elsken. He was a Dutch photographer. When you think of Dutch artists, you think of Van Gogh, Rembrandt, and Mondrian, but I discovered him at an exhibition at the Stedelijk Museum a few years ago. I really liked how he documented the social culture around him and showed another side of Amsterdam that you won't find in the history books; things like the counterculture. Many of his photos are nearly 60 years old now, but his methods still resonate and are universal today.
What's your top tourist tip?
I always tell people to expand their boundaries and go outside the main part of Amsterdam. One place I take a lot of my friends when they visit is the Amsterdamse Bos. When people think of coming to Amsterdam, they usually think it's a city break and imagine that it will be very busy. Then, not too far from the city centre, there's a beautiful natural park that's great to visit during the summer.
There's so much to do there. You can cycle around, there's a natural lake you can swim in, and I think there's even a spa if you're looking for more of a laid back wellness experience. If you don't want to travel by train to another city, it's a great place to go to see another side of the Netherlands.
Tell us something surprising you've found out about the Netherlands.
The emergency alarm that goes off around the whole country on the first Monday of every month. The first time I heard it I was in my office, and I assumed it was a mistake, like that someone accidentally pressed a button. Then it happened the next month, the month after that, and it kept happening. I finally figured out why they do it, but I still find it pretty weird.
If you had just 24 hours left in the Netherlands, what would you do?
I think the best part of Amsterdam is the canals. Some of my happiest memories here come from being on one of those small, old Dutch boats. I'd probably get one of those and just float around on what would hopefully be a sunny Amsterdam afternoon with some friends. I think that would be the best way to say farewell to the city.
Nicolas Deskos was talking to Brandon Hartley
Thank you for donating to DutchNews.nl
The DutchNews.nl team would like to thank all the generous readers who have made a donation in recent weeks. Your financial support has helped us to expand our coverage of the coronavirus crisis into the evenings and weekends and make sure you are kept up to date with the latest developments.
DutchNews.nl has been free for 14 years, but without the financial backing of our readers, we would not be able to provide you with fair and accurate news and features about all things Dutch. Your contributions make this possible.
If you have not yet made a donation, but would like to,
you can do so via Ideal, credit card or Paypal.