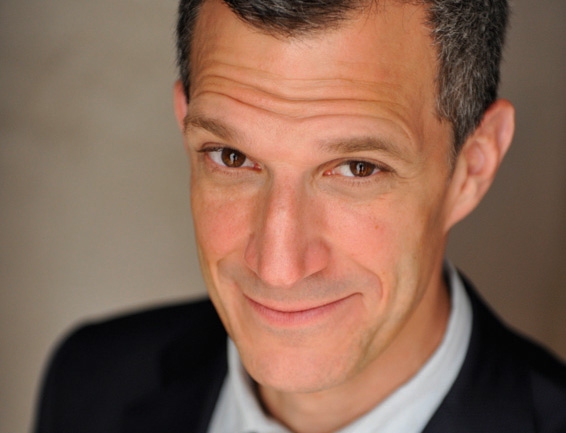 Amsterdammer and comedian Greg Shapiro is 50 and has lived in the Netherlands for over half his life. He likes cooking boerenkool stamppot, would like to meet several Dutch kings who share the name Willem, and is surprised by how little Dutch people know about Het Plakkaat van Verlatinghe.
How did you end up in the Netherlands?
It was the Boom Chicago comedy theatre that hired me to perform in Amsterdam for just one summer…. That was 24 years ago. A few years into my time in Amsterdam – the same year Seth Meyers came to work at Boom Chicago – I met the love of my life, a Dutch woman.
She was very direct. She said 'We're getting married.' I said 'yes'. We toyed with the idea of living in the US. One year, I took her to meet my family in Chicago for Christmas. And then we stayed on a bit, in January, in Chicago. I guess I didn't feel comfortable asking her to move to a climate where – if you don't wear the right clothes to go outside – you'd die.    
How do you describe yourself – an expat, lovepat, immigrant, international etc?
I'm an expat. I have no problem being called expat. If someone wants to lump me in with diplomats and rich families of multinational companies, I welcome the company. Soon, I hope to be able to afford the International School.
I also identify as International . Or, as I like to call it 'Superburger:' burger as in 'citizen,' and super as in 'more than one.' I identify with people who have more than one passport. If you get culture shock going back home to your own country. If you suffer from 'MND: Multiple Nationality Disorder.' If you no longer feel 100% at home anywhere – you're my people.
How long do you plan to stay and why?
I guess I'm here to stay. Yes, I miss the US. Then every time I go back for any length of time, I remember 'Oh, right… that's why I left.' The three big reasons I resist moving back to the US are 1) education, 2) the healthcare situation and 3) no vacation.  
Do you speak Dutch and how did you learn?
I do speak Dutch. But I don't enjoy it. My wife is Dutch, and we're raising our kids to be bilingual. That means – at home – mama speaks Dutch, and papa speaks English. Any time I try practicing Dutch at home, my kids cover their ears and yell until I stop.
I'm stuck in that phase where my Dutch comprehension is okay, but my Dutch speaking skills are embarrassing. One time I was picking up my son from school, and it was when the Dutch team was playing in the World Cup. All the kids in the school yard were wearing orange, and I asked 'What's your prediction for tonight's game? Who's going to win?' But – instead of saying voorspelling, or 'prediction,' I said voorspel, or 'foreplay.' So yes, I was the old guy hanging out by the schoolyard asking the kids about their foreplay plans for later.

What's your favourite Dutch food and why?
I like making boerenkool stamppot, because it's easy, and the kids (claim to) love it. We eat it with apple sauce and a bit of mustard. I do believe we all need to eat less red meat, and so we tried the Unox fake meat rookworst, but that was not a winner. We prefer Little Willies from De Vegetarische Slager. But those guys just got bought by Unilever. So – either the Unox worst will get a lot better, or the Little Willies will be worse.

My guilty pleasure is a kroket from Febo. 

How Dutch have you become and why?
I do a lot of corporate speaking, and the stereotypes about Dutch lunches are true. I've frequently encountered the traditional sad raft of floppy Dutch broodjes: one with meat; one with cheese; one with egg and one with vegetables.
My American colleagues will tear apart several of these broodjes to make one 'proper' sandwich, with meat and cheese and egg together. But then one day we got an upgrade: the bread was proper bakery bread, and the cheese was Dutch aged cheese. The Americans went to pull the broodjes apart, and I said 'No! This is a true Broodje Oude Kaas.' That's when my colleagues told me 'Yeah, you're really Dutch now.'
Which three Dutch people (dead or alive) would you most like to meet and why?
1) Willem II. I'm working on a Trump-themed show called 'The Madness of King Donald,' portraying Trump as a mad king. And the Dutch have had their share of mad kings. Willem II was known as 'Willem de Gekke'.
2) Willem III. Even crazier was this Dutch king, who was famous for firing all of his ministers, openly disrespecting his troops and pretending to resign – but then revealing it was 'Fake News.' Trump could be related.
3) Willem Alexander. He could have been named Willem IV, but he didn't want to be associated with his great grandfathers. I'd like to congratulate him.
What's your top tourist tip?
My top tourist tip is to rent a bike and get lost – works great with relatives.
Tell us something surprising you've found out about the Netherlands
I'm continually surprised to find out how much of the American identity started in the Netherlands. Just this year there was a Dutch TV show about the Dutch Declaration of Independence Het Plakkaat van Verlatinghe.
In America, we are taught that modern democracy began in 1776. But the Dutch Declaration is from 1581. It provided inspiration – and a few direct quotes – for Thomas Jefferson. I was surprised how many Dutch people had never heard of it.
If you had just 24 hours left in the Netherlands, what would you do?
24 hours left to live? I suppose I'd try the euthanasia.
Greg Shapiro, the voice of Donald Trump in the Netherlands Second video, is about to go on a 41-date nationwide solo tour with his show The Madness of King Donald. The tour kicks off in Utrecht on Thursday.
Thank you for donating to DutchNews.nl
The DutchNews.nl team would like to thank all the generous readers who have made a donation in recent weeks. Your financial support has helped us to expand our coverage of the coronavirus crisis into the evenings and weekends and make sure you are kept up to date with the latest developments.
DutchNews.nl has been free for 14 years, but without the financial backing of our readers, we would not be able to provide you with fair and accurate news and features about all things Dutch. Your contributions make this possible.
If you have not yet made a donation, but would like to,
you can do so via Ideal, credit card or Paypal.