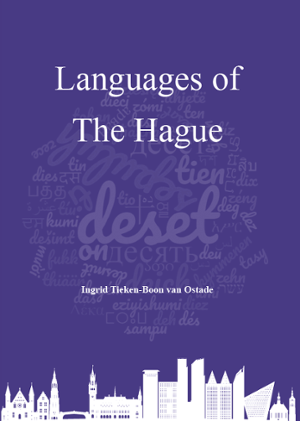 Every so often a book drops into the DutchNews.nl offices that makes you smile, and Languages of The Hague is one of them.
Based on a column in local paper Den Haag Centraal, the book covers 35 of the hundred or so different languages spoken in The Hague, from Russian, to Kurdish, Dutch Malay and Ngiemboon.
The inspiration for the columns, says writer Ingrid Tieken-Boon van Ostade, was a newspaper article about The Hague being the most segregated city in the Netherlands.
'But neither article provided a source for the claim, nor were the authors able to give one when I asked,' she says. Nevertheless, The Hague does, she says, have the largest number of inhabitants with a multi-ethnic background, making it a 'veritable linguistic goldmine' for a linguist like myself'.
And it was not hard to find people to talk to for the columns. 'My hairdresser is Russian, my foot specialist from Curacao and her mother tongue is Papiamentu,' Tieken-Boon van Ostade writes.
'The optician where I went for a new pair of glasses is a Berber speaker from Morocco. My Ngiemboom informant I knew from Tai Chi, which were also attended by a Spanish speaking Mexican…'
The 35 interviews in the book take the form of informal conversations about language. The style is warm and chatty and each section is packed with facts about the languages under discussion.
Did you know that tomato and chocolate are words which derive from the ancient Aztec language Nahuatl or that the Dutch words koets derives from Hungarian town of Kocs, where they made a particular type of vehicle?
Or that in Finnish, you always stress the first syllable. This, Tieken-Boon van Ostade points out, is very useful because it tells you where a new word begins. Or that the Armenian alphabet has 36 letters?
If you are interested in languages or just other nationalities, Languages of The Hague is a neat little book to dip into.
DutchNews.nl has been free for 13 years, but now we are asking our readers to help. Your donation will enable us to keep providing you with fair and accurate news and features about all things Dutch.
Donate via Ideal, credit card or Paypal.