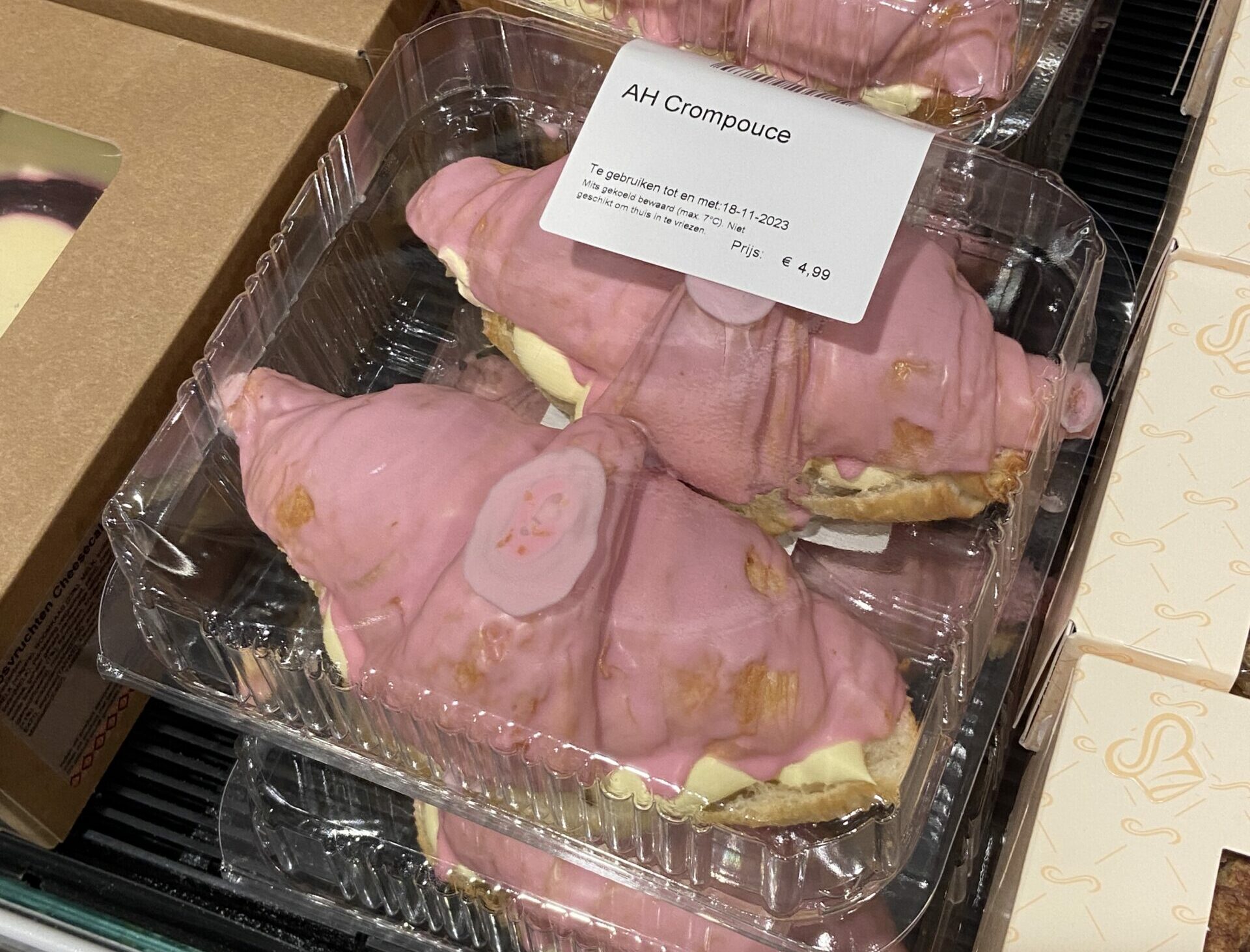 In recent months, the crompouce has become a sensation in the Netherlands. The pastry, one part tompouce and one part croissant, is currently available in bakeries and grocery stores across the country. It also inspired an ongoing fad on TikTok.
But what has delighted those with a sweet tooth and social media mavens alike took a dramatic turn earlier this month when a baker named Ulrika Menig, the owner of the currently closed Bammetje Bakery in Utrecht, began claiming she's the one who came up with the crompouce in 2020 and was selling it the following spring. She's also called in the lawyers.
The crompouce started making waves earlier this year when it began popping up in various places around the Netherlands and in online photos and videos on social media. In the many months that followed, others decided to start making and selling them.
It's become one of Bakker van Maanen's top sellers and the company opened a 'pop up' House of Crompouce in Amsterdam on 8 November that sells other flavours including pistachio and dulce de leche.
Jumbo and Albert Heijn cashed in on the craze and AH now stocks them in their bakery sections and sells them online. Meanwhile on TikTok, various businesses around the country have shared crazier varieties featuring everything from fried fish to bagels.
But Menig now says these stores are violating her claims to the crompouce. She's hired a legal team and they've begun contacting bakeries and other businesses about their infringements on her patent.
"I felt strengthened by the massive positive reactions through all kinds of media and knew that this product I had developed was here to stay," she wrote on the bakery's Instagram account on November 14, the first posting since November 2021.
The inventor
The true creator is currently the subject of debate. A baker at Bakkerij Koppejan in Meliskerke in Zeeland claims he's sold the pastry for 30 years, but he calls it roze flap [pink flap]. His version sells for €1.92 and it's listed on the menu of his bakery's website.
Meanwhile, Menig and her lawyers are continuing their crompouce crackdown. Visitors to her bakery's website will find a stern legal rundown.
"Crompouce ® is a protected trademark and copyrighted design," the text on the website says. "If you would like to be able to sell this beautiful product in your bakery, you can contact us for a collaboration. We are prepared to make licensing agreements with some parties."
According to BOIP, the trademark register, Menig and her bakery at least owns the brand name 'crompouce.' The filing date is listed as October 15, 2020. However, according to the register, the rights were transferred to them on November 2 2023. The reasons why are unclear and it could simply be an administrative correction. Menig did not respond to requests for clarification.
Bakker van Maanen, meanwhile, started selling crompouce last winter. "We've sold this product since February as a joke, beginning with our tompouce festival, not knowing it would be mentioned again in the media in September," owner Henk-Jan van Maanen told Dutch News.
The chain now sells thousands of crompouce each day across 65 locations. And Van Maanen has agreed to Menig's terms to keep them on his bakery's shelves.
"Last week we made agreements to licence it, so we will continue to sell the product," he said. "I would have liked to see it remain available to all artisan bakers, so that we would give them all a nice turnover boost. Unfortunately, that plea was not accepted. I was willing to buy it from Menig. My thought is if you can divide, you can also multiply."
And the rest?

It's unclear whether or not Jumbo, Albert Heijn, and various bakeries around the country will also agree to Menig's terms. Dutch News contacted Jumbo and Albert Heijn for further information but they did not respond.
Van Maanen, meanwhile, admitted he was frustrated with the situation.
"This product has grown in a month via social media, we have contributed to that, and we are very proud of that," he said. "You have to respect the fact that it is now such a success and that is also because everyone has picked it up."
"Claiming a brand now is not nice and does not fit in with the positive vibe surrounding the product," Van Maanen added. "I would have liked to see that differently, but I have to respect the trademark. For now we would like to look ahead and we are proud of the House of Crompouce in Amsterdam."
Meanwhile copyright lawyers have told news website Nu.nl that Menig would have a hard time proving her case in court. The name is a clever compilation but the idea behind the product, a croissant filled with custard and with pink icing, "can't be copyrighted," lawyer Radboud Ribbert told the website.
Update November 17: Both Albert Heijn and Jumbo say they will continue to sell the product but under the name "tompouce croissant".
Thank you for donating to DutchNews.nl.
We could not provide the Dutch News service, and keep it free of charge, without the generous support of our readers. Your donations allow us to report on issues you tell us matter, and provide you with a summary of the most important Dutch news each day.
Make a donation