"The Dutch shop like they're the only person in the supermarket"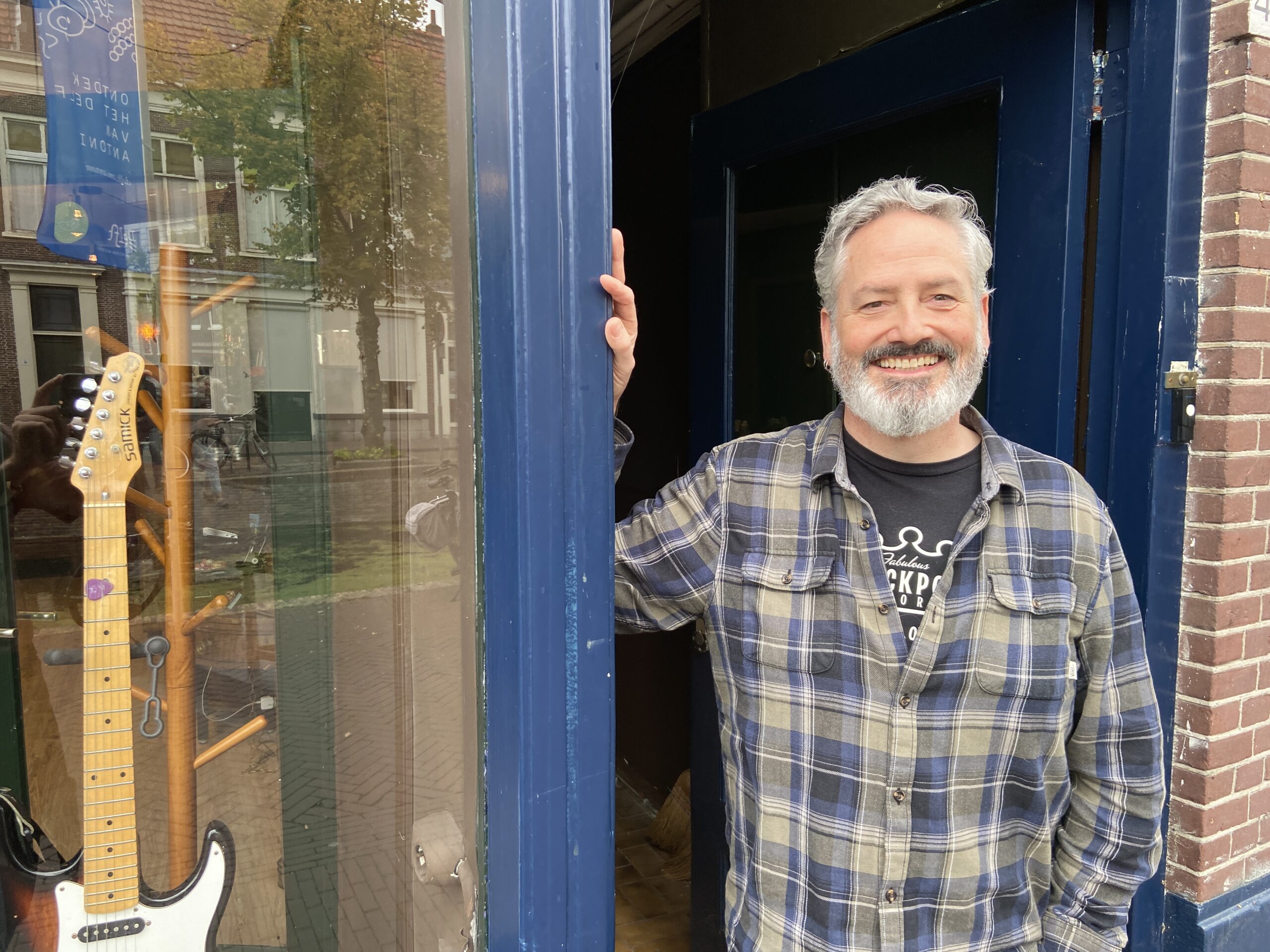 Knute Knutson owned a recording studio in his native Seattle and worked in the catering industry before becoming a barber. He and his wife later relocated to Delft where he now owns and operates the West Coast Barbershop.

How did you end up in the Netherlands?
We came by plane, of course. But seriously, we never had children and we thought it would be fun to live in Europe, but it's difficult to just move to another country. We'd already lived in the UK for a while, but we had to go back. We still wanted to live and travel in Europe, though. We later found out the Netherlands has the Dutch-American Friendship Treaty.
If you're not familiar with it, it helps Americans become self-employed in the Netherlands. We both had transferable skills and I'd learned how to work as a barber about 11 years ago. My wife is an academic English teacher, so we came over here and set up shop. We didn't really want to live in Amsterdam. Delft seemed like a nice place and it was easy to get to The Hague where my wife was working at the time. It really feels like you're living in Europe here. That was about six years ago.
How do you describe yourself – an expat, lovepat, immigrant, international?
I suppose, by definition, we're technically immigrants rather than expats because we came with the intention of staying. 'Expat' infers that you plan to return home or came over temporarily for other reasons. So we're immigrants because we came with the idea of getting permanent residence and living in Europe.
How long do you plan to stay?
We plan on staying indefinitely. We like living here. There's lots of travelling you can do. Having a shop like this one and being self-employed is so much easier in terms of healthcare. In the United States, the costs are so prohibitive that you can't really afford to have both healthcare and a small business. That was one reason we moved here, but it was mostly for adventure. We wanted to come over and do something new while living a different kind of life. Maybe someday we'll move further south but, for now, it's Delft.
Do you speak Dutch and how did you learn?
A little, but not very well to be honest. We had to speak Dutch to get through the inburgering exams, but I think we actually spoke Dutch better before we moved here. My wife is a linguist and she now teaches language classes. We got text books, did Duolingo, and practised a lot, but I'm sure our pronunciation was terrible.
When we got here, we attended the volksuniversiteit and really worked at learning and improving our Dutch, but we never wound up using it. Now five years after that, we should really get back to speaking. I can read it fairly well and understand it okay, but speaking is difficult.
Neither of us are Dutch, we don't have kids, and I can't really practise it here at the barbershop with customers because I get distracted and stop using my hands. Instead, I freeze and wind up trying to think of words. But we have been hanging out with our Dutch friends and speaking the language with them to get up to par.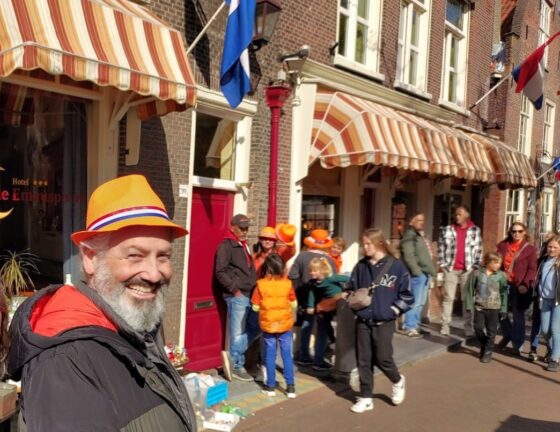 What's your favourite Dutch thing?
The freedom that you have and the work/life balance. I always think that in the US we sell freedom to people, but we don't always have it, whereas here we do. I'm free to own a small business and I'm free to have healthcare.
You're free to do what you want. For example, you can have a bottle of wine in the park and not be bothered by the police. In the US, you have to worry constantly. You have to worry what will happen if you lose your job and the healthcare tied to it. You never have vacation time and everything just seems so much more stressful.
Over here, the Dutch always seem like they're in a rush, but it's actually much more relaxed and calm. If I don't take a vacation, people notice. They'll say, 'you haven't taken a vacation and it's been months. I saw that on your website. Maybe you should take a week off.'
And there's the overall safety. My wife worked at universities and colleges in America and there's always lockdown procedure drills in case there's an active shooter. You have to really worry about that. My wife's favourite thing here, and for most of her female clients from other countries too, is that she can go out alone at night. We've lived in Seattle, Portland, and Sacramento. They're nice cities, but you really don't want to be a woman out alone after dark in them.
How Dutch have you become?
I don't know. Somewhat Dutch, but not really Dutch. Maybe 30%, I guess. Since we moved here, I definitely take things slower and less seriously. I'm willing to take more time off work. The US is an instant gratification culture. Here, everything's slower. If you need something done in July or August, it's not going to happen. If it's in December, it's also not going to happen.
I also don't think I'll ever complain enough to be Dutch. My Dutch customers always joke that I should work on my complaining. In the winter they'll say, 'Oh, the weather is terrible!' If only they could see what the winters are like in Portland and Seattle. It doesn't rain nearly as much here.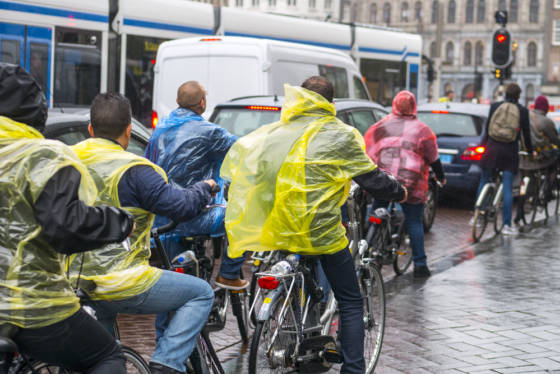 But what is it to be Dutch, especially in the Randstad? What is 'Dutch' anymore? I don't know. We've got a Dutch friend who lives in Apeldoorn and he's said the Randstad isn't the Netherlands. I think 12 of the 17 million people in this country who live in the Randstad might say otherwise. It was the same thing when we lived in London. People would say, 'London isn't the UK!' But something like 25 out of 60 million people live in the greater London area.
Which three Dutch people (dead or alive) would you most like to meet?
Jan Akkerman or Eddie Van Halen for the first one. They're two amazing guitar players. I love them both and it would have been great to get them into a room together while Van Halen was still alive. He's probably my favourite Dutch person. He had a tremendous impact on music and many people, myself included, think he's one of the most influential musicians of all time, especially for rock. It would be fun to meet him and have a talk about guitars and why I don't play them better.
Jan Steen. I think we need to talk about art if we're going to talk about the Dutch. I like that a lot of his art is lively. It captured the daily life of his times. I love the fact he was a brewer and a tavern owner in between being a very successful artist.
I think if you're going to have to hang out with somebody from the 17th century, he would be a lot of fun to spend time with since he was someone who wasn't so puritanical. You could have a good time with him, have a few drinks, and discuss how the world is going by just like you would in a bar with anybody else.
Anne Frank. Of course, this is a pretty standard answer. My mother is Jewish, which technically makes me Jewish. Frank was born a few years before my mother who passed away a few years ago. I remember reading the book when I was 13 or 14 and my mom gave it to me. She grew up in the late 1930s and 1940s. There was a lot of talk in the family about the ongoing issues of being Jewish and what was going on over here. It was quite rough at times for them even over in America. I'd like to speak with someone who was here, had to hide, and endured something a thousand times worse.
What's your top tourist tip?
For me, some of the best things here are the art and the museums. One thing that not too many people see is the amazing Panorama Mesdag in The Hague. It's an immense, circular painting and a building was designed for it  – a 360 degree seascape of Scheveningen around the turn of the 20th century. Apparently, these paintings were quite common back then and you could find them all over Europe, but this one is the last still on display in its entirety and in its original building.
My other tourist tip is to walk and don't try to ride a bike if you're a tourist. You're just going to piss off all the Dutch people and get in the way. You'll also miss everything.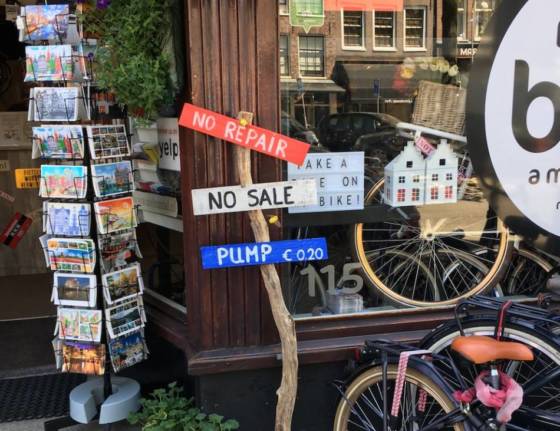 Tourists, especially American ones, try to do everything while they're over here. They're in Paris or Amsterdam for two days and try to see as much as possible. I think they should pick a few things and spend some time on a terrace just watching the world go by. They should enjoy the place and try to get the vibe of it. When they run from one thing to another, they experience less even if they see more.
Tell us something surprising you've found out about the Netherlands
There's lots of small differences between the Netherlands and America, but what I find surprising after six years of living here is the Dutch view on personal space. I know this is one of the most densely populated countries in the world, but they shop like they're the only person in the supermarket.
I can't tell you how often we'll be walking down a sidewalk and there's someone right behind us. My wife will say, 'I guess there's a third person with us.' Or they'll buzz right in front of us on their bike and park when we're trying to walk into an Albert Heijn.
They're packed in and they're all so used to it. Being American, we're used to having a lot more room. We're used to a certain amount of personal space and you don't get in it. I've asked my Dutch friends who have visited America how often people cursed at them for getting too close. Here, if you bump into someone, you keep going. In America, you say you're sorry.
Sometimes it seems like the Dutch are completely unaware of their own surroundings, but they also don't seem to worry much about safety. That's a good thing, of course, but we were over in America one time with a Dutch friend and left a bar at 2:30 am. He was drunk and wanted to walk back alone to his Airbnb. We talked him out of it because he could have been robbed. He later told us, 'I have never considered even one time in my life that I was unsafe anywhere.'
If you had just 24 hours left in the Netherlands, what would you do?
I would probably just take a really long walk through the old parts of Delft and soak up all the history and think about the streets we walk down every day. This is the longest we've lived anywhere in 20 years. When we've moved in the past, I've spent those last few days thinking about the place we've lived and how that's become part of who we are now.
Then I'd invite everybody I know to meet up for a borrel, Dutch treat of course. We'd go to a nice terrace, have some drinks and snacks, and hopefully forget to send them the Tikkie afterward.
You can learn more about the West Coast Barbershop and its haircare and beard products that are made in-house via this link.
Knute Knutson was talking to Brandon Hartley
Thank you for donating to DutchNews.nl.
We could not provide the Dutch News service, and keep it free of charge, without the generous support of our readers. Your donations allow us to report on issues you tell us matter, and provide you with a summary of the most important Dutch news each day.
Make a donation