Asylum seekers contest 'noise' fine for pot banging protest
Senay Boztas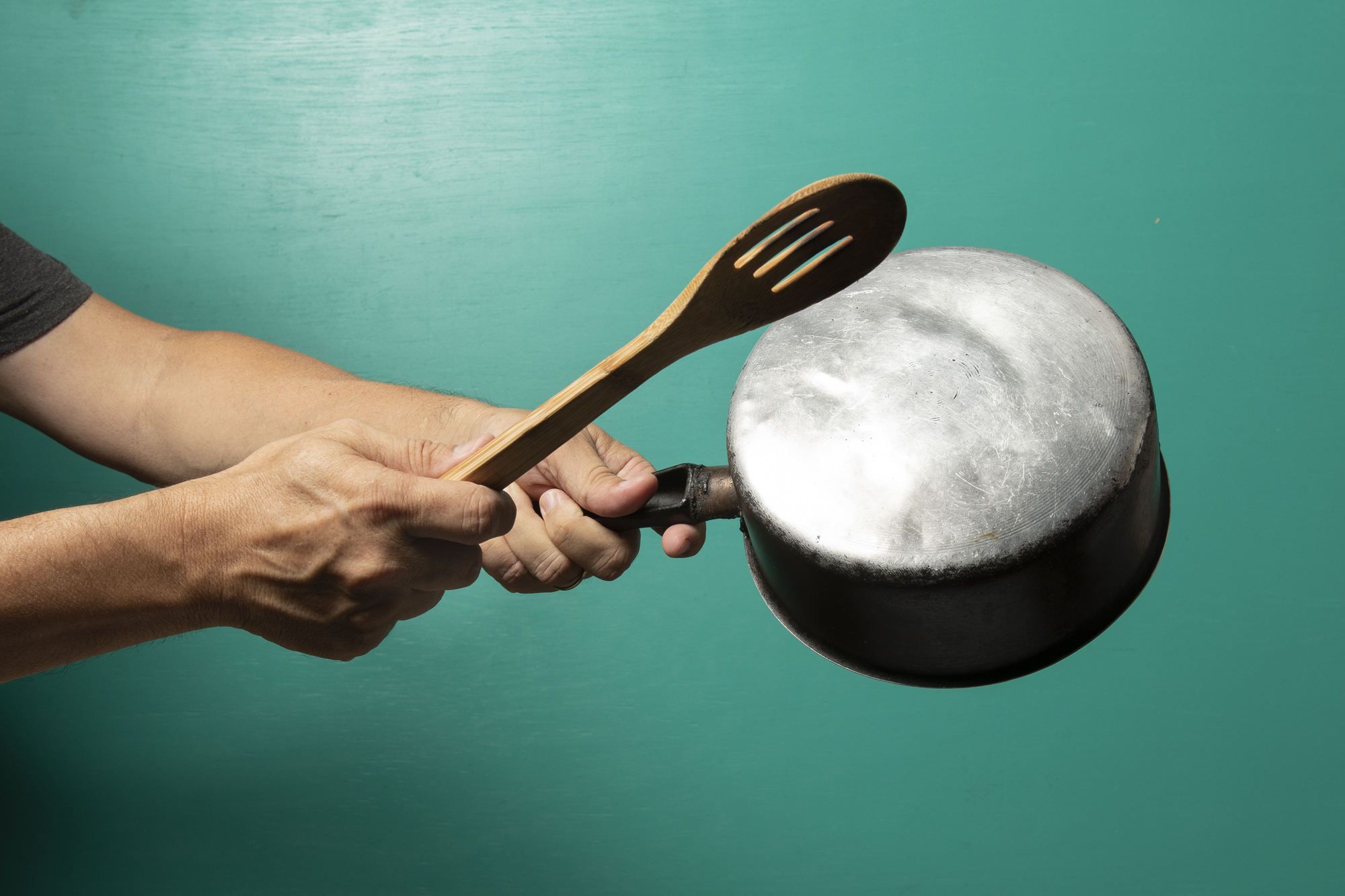 An asylum seeker is contesting fines for making a "noisy" protest in an asylum centre and taking photographs of a wounded man to help him get aid, saying they are disproportionate and a breach of his constitutional rights.
The man, 33 and from Syria, who asked to be referred to by his initials M.A, claimed in court that two fines believed to total around €100 were incorrectly levied by asylum organisation COA.
He appeared at a hearing in Groningen on Wednesday to protest the penalties for incidents on March 28 and April 16 this year, which happened at a temporary asylum location on the Regulusweg in The Hague.
In the first incident, the court heard, he and around 35 people were "striking" in the afternoon in a public reception room because they wanted to speak to the location manager about conditions. They were banging with spoons on pans, which the asylum organisation COA had said was a "mid-impact" breach of house rules, on a level of three out of 11, causing "light damage" in terms of noise nuisance. It fined him and four others €12.95 in reduced allowance for four weeks.
House rules
In a second incident, the man took and messaged images of another asylum seeker's hand injury from an accident to a Dutch-speaking contact, after the man had been bleeding for 100 minutes, to help him get urgent hospital care. This was also deemed a breach of "house rules" in the centre, and he was fined with reduced weekly "pocket money", the state-funded COA said in court documents.
Although the judge said that the court could only rule on whether or not the fines were correctly imposed, the asylum seeker told the judge his actions were motivated by desperation at sub-standard conditions.
"The level of doing things in the camp is far below a respectable level, there are bad conditions and bad treatment, and nobody listens to our complaints," he told the court, through an Arabic interpreter. "If we ask anyone in administration, they say we have to talk to the director.
"Nobody dared to talk about it. We took action to make it known that there are problems for the residents. Before I came here, I had a lot of dreams. I don't have any hope any more.
"Every resident has their own story, worries about the destruction of their hopes, ambitions, expectations. In our camp there are so many protests and three people have tried to kill themselves."
He added that he had found and signed a work contract but said the COA would not cooperate, which was deeply "depressing".
Pan with a spoon
He claimed residents had tried for 13 months to contact their location manager, first checked to see if anyone was available on other floors and then began a protest on the ground floor. His lawyer, Pim Fischer, said this was an open access space and nowhere near living accommodation for some 370 asylum seekers on upper floors.
"Pots and pans were brought from upstairs where there was a kitchen," Fischer told the court. "It cannot be the case that this disturbed other asylum seekers. Pot banging is the classic manner in which protests develop, for example in Chile. This is an expression of protest, a pan with a spoon."
The asylum seeker told the court that administrative workers and security guards took it in good spirits. "The people danced from the administration and security to our sound – or 'noise'," he said. "The only thing we wanted was a meeting with the director to make our complaints known.  But…to this day, nobody has met him."
A lawyer for the COA, who did not wish to give Dutch News her name, told the court house rules were to protect the privacy and safety of employees and other asylum seekers. "The COA has a group of 400 people and needs to care for their safety," she said. "The behaviour rules are an interpretation of societal norms…This is why we have house rules, and this gentleman broke them. Regarding noise, many people have so many problems, for them noise can be a trigger and that's what the house rules are for.
"Privacy in general is a great good, and it is forbidden to make recordings of workers, residents and visitors. The gentleman says he had permission, but this was not at all the case."
The COA did not submit evidence of residents' complaints about noise from the incident or video material of either incident, although it is believed the location has its own cameras.
Deleted
The asylum seeker said he first deleted images of an injured man made – he said – with permission of the man and a security guard present. He did not submit evidence of this.
He told the judge he had retrieved one file from his phone's "bin" when he received a fine. The image of a man's bleeding hand, a blood-stained cloth and multiple blood spots on the floor was shown in court.
Around 20 asylum seekers and supporters attended the hearing with migrant interest association, MiGreat.
Fischer told Dutch News that this was the first known case involving fines relating to a protest. "We recognise people have the right to protest," he told Dutch News. "They made too much noise while protesting. You can protest against living conditions but not make noise? What you [the COA] are doing is contrary to Dutch law. Everyone has the right to protest in the Netherlands. We will see if it's legal – putting house rules above the law."
Roos Ymeka, chair of MiGreat, said that in her view the fines were "very strange and wrong". She told Dutch News that whistleblower rights should also weigh more heavily than house rules.
A spokesperson for the COA told Dutch News that it does not comment on ongoing court cases. A verdict is expected in six weeks.
Additional reporting Lauren Comiteau
Thank you for donating to DutchNews.nl.
We could not provide the Dutch News service, and keep it free of charge, without the generous support of our readers. Your donations allow us to report on issues you tell us matter, and provide you with a summary of the most important Dutch news each day.
Make a donation