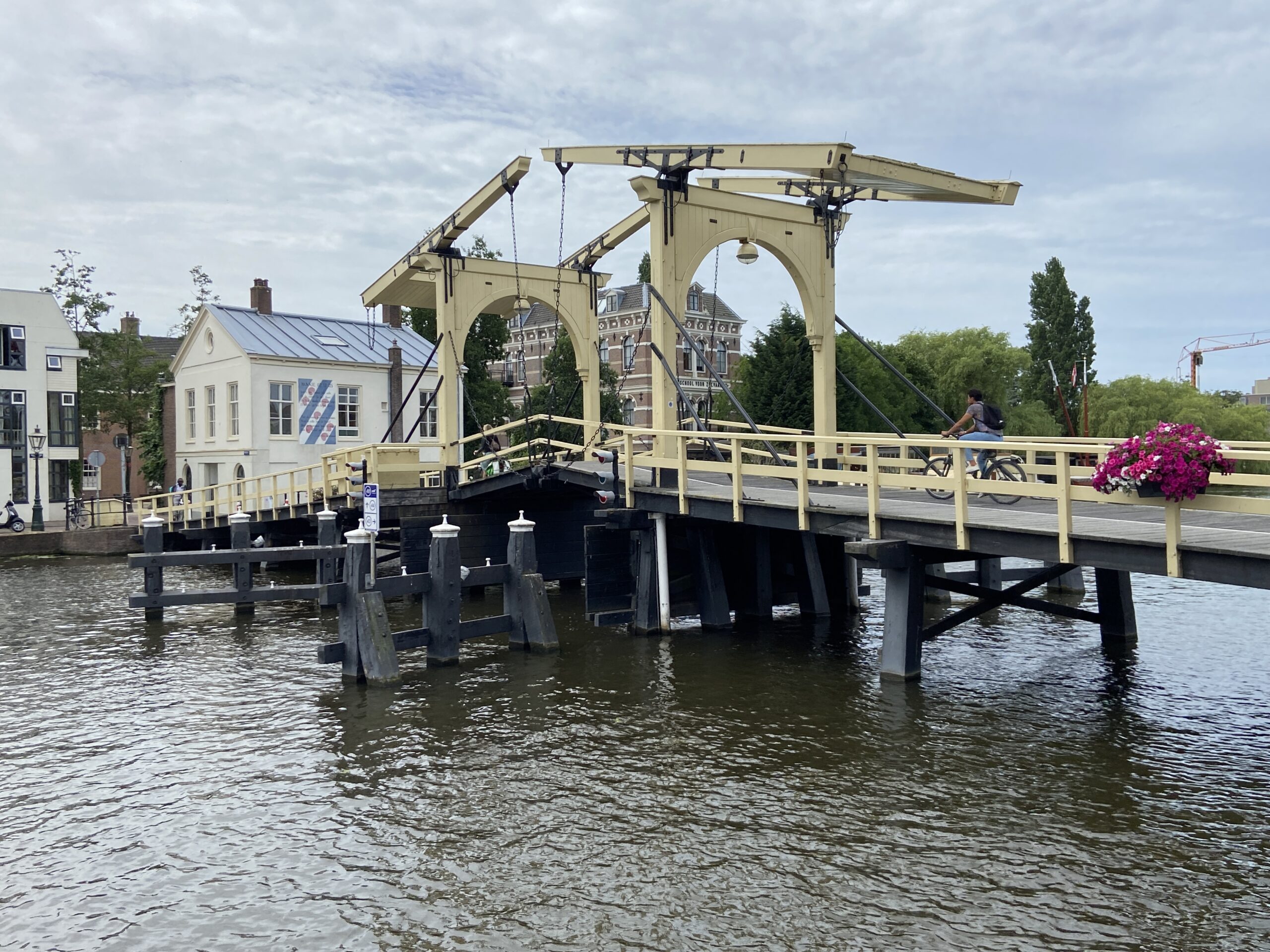 Some see the shade of Leiden's Rembrandtbrug as an expressive reference to historical identity; others see before them the hue of "melted Cadbury's Creme Eggs."
Last week, the mayor and city executive decided Leiden's bridges should be painted with these and other colours unconventional to the modern eye.
The decision follows a study between 2015 and 2018 compiled by Monique Roscher from Erfgoed Leiden en Omstreken, an archival organisation.
After examining old photographs and historical documents, it determined the city's bridges were originally painted in colours including dark brown, steel blue, and various shades of grey. It recommended they should once again be these shades.
"Bridges are an important part of Leiden's historic cityscape," Roscher said. "In recent decades, like many historic buildings, they have been painted green and/or white. With that, their shapes and materials have lost their expressiveness."
Leiden has 28km of canals and at least 88 bridges within the official city limits, according to the Visit Leiden tourism site. The oldest, the Visbrug, dates back to the 12th century although it has been replaced and renovated several times.
The Rembrandtbrug received a historic makeover in April 2018, to the concern of nearby residents, members of the city's VVD party and an activist group called Vrienden van de Rembrandtbrug. A compromise was eventually reached for the bridge, which is among Leiden's most photographed and was a creamy white. Instead of being painted "English red", reported the Leidsch Dagblad, it was coated in a "tan colour" referred to in an old document.
A few other bridges have had the same treatment since, including the Kleine Havenbrug, which was repainted grey and brown. The rest of Leiden's bridge stock will now follow.
"With this, Leiden is embellishing the city's appearance," André Vanhaelen, a communications officer for the city council, told Dutch News. "By painting the bridges with historic colours, they gain meaning, identity and expressiveness, and make a visible contribution to the history and historical stratification of this beautiful city."
Some residents disagree. Designer Thom van den Eijnden is worried the policy could be a first step towards encouraging residents and businesses to paint their doors and window frames in similar colours.
"Those colours are historic, but there's no life in them," he said. "They say nothing. Look at that windowsill, it's white. Look at that bush out there, it's green. Much better, much more vibrant."
One Leidenaar said the Rembrandtbrug reminded him of blended Cadbury's Creme Eggs, or worse, while resident Joe Silber also expressed reservations.
Just because the bridges were painted in these muted colours in previous centuries, I don't feel this should be the guidance we follow now," he said.
"This city can be, and should be, vibrant and bright. As a university town, we have an influx of fresh, young energy every year. The city should reflect and enhance that energy."
The plan is to gradually redecorate the city's bridges in the old colours when they need maintenance, to avoid extra spending. "That happens every seven to eight years," Vanhaelen said.
Thank you for donating to DutchNews.nl.
We could not provide the Dutch News service, and keep it free of charge, without the generous support of our readers. Your donations allow us to report on issues you tell us matter, and provide you with a summary of the most important Dutch news each day.
Make a donation