Inburgering with Dutch News: 12 reasons why life is better today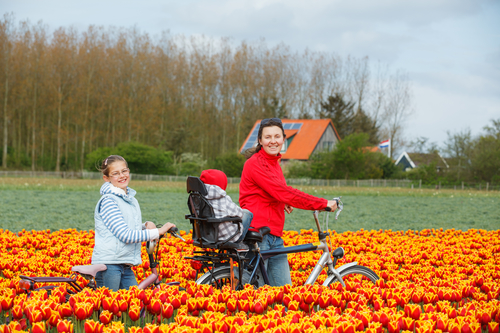 Inflation is high, we have a climate, a housing and a nitrogen crisis and public confidence in the government has shrunk to an all-time low. But not everything is gloom and doom, as the next lesson in our inburgering course points out.
Lesson 40: Reasons to be cheerful
Politicians may wax lyrical about the way the Netherlands used to be, but nostalgia for the 1950s is largely misplaced. Women were stuck at home, it was perfectly legal to discriminate against gay people, we were less well educated and even though there were far fewer cars, we were more likely to die in a traffic accident.
1 Women are working more and earning more
Seven in 10 women now have a job. They might only work part-time but hey, it was not until 1956 that a law requiring married women to have their husband's permission to work was actually torn up. And until 1957, married women were banned from working for the civil service.
There is still a pay gap but it is closing, and young women in their 20s now earn between 5% and 15% more than their male colleagues.They are also more likely to go on to further education.

2 We are better educated
In 1950, fewer than 10,000 people graduated from university or college. Now, around 100,000 graduates join the workforce a year.

3 Most people don't vote for the far right
Despite the masses of television and newspaper attention for the far right parties in the Netherlands – most people don't vote for them. In the 2021 general election, for example, they won 28 out of 150 seats in parliament – or less than 20% of the vote and in the provincial elections in March 2023, no more than 18% – excluding the pro-farming BBB. We haven't quite worked out what they are about.

3 The Dutch are among the happiest people in the world
Dutch children are so happy, people write books about them. Teenagers are pretty content too – although the coronavirus pandemic has had an impact. And in the most recent CBS survey this May, 83% of the population gave their lives a score of at least seven out of 10.

5 Gay people have more rights
Although same sex sexually activity in the Netherlands has been legal since 1811, it was not until 1973 that homosexuality was declassified as a mental illness and 1993 before discrimination on grounds of sexuality was made illegal. Gay marriage followed in 2001, as did same sex adoption, but it took a further 13 years before it became illegal for registrars to refuse to marry gay couples.
6 Immigrants are doing better
The Netherlands has always been home to a mixture of different peoples and religions and most people are pretty relaxed about it. Today, second generation immigrants and refugee children are doing better at school, they are more likely to have jobs and they are making inroads into higher education.
7 No deforestation here
In 1952, there were 260,000 hectares of woods in the Netherlands – but that has now soared to 360,000 hectares. At the same time, the otter and the wolf are back, and we've so many deer and wild boar we have to shoot them
9 The crime rate is down
We can dispute the actual figures, but however you calculate it, the crime rate has been falling steadily for years. In 2022, there were around two murders a week in the Netherlands, in a population of 17.4 million.
10 There is less terrorism
We don't want to tempt fate, but it is worth pointing out that in the 1970s and 1980s, some 30 people were killed in 70 terrorist attacks in the Netherlands. The last coordinated attack, apart from the murder of Theo van Gogh, was the killing of two Australians by the IRA in Roermond in 1990.
11 Less church and foster care abuse
In the 1950s, thousands of children faced physical and sexual abuse in institutional care and via the Catholic church in particular. Today there are more checks on carers and the victims from all those years ago are finally getting recognition and compensation.
12 We're much better protected against the sea
Over 1,800 people died in the great floods of 1953, when the dykes in the south of the country broke. The tragedy led to the development of the Delta Works flood prevention scheme, a massive complex of dykes and sluice gates along much of the southern coastline. And today, Dutch experts are involved in water defence projects all over the world.
And by the way, we might think that the entire country is low lying, but in fact only 26% of the land mass is below sea level. So even with global warming, we can just nip up to Groningen to keep our feet dry.
Thank you for donating to DutchNews.nl.
We could not provide the Dutch News service, and keep it free of charge, without the generous support of our readers. Your donations allow us to report on issues you tell us matter, and provide you with a summary of the most important Dutch news each day.
Make a donation