'I don't consider myself an expat. I consider myself an immigrant'
Brandon Hartley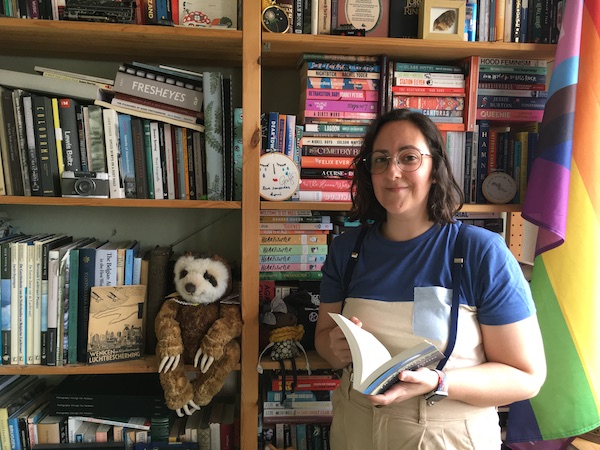 Carina Pereira grew up in Povoa de Varzim in Portugal and moved to the Netherlands after spending several years in Belgium. She now lives in Rotterdam and works as a bookseller, writer, podcaster, and receptionist.
How did you end up in the Netherlands?
It's kind of complicated. When I was 24, I moved to Belgium with my Portuguese boyfriend. We had friends there and started out in a very small town right at the border with the Netherlands. It got to the point where it sometimes felt like it was tough to tell where we were living. Was it Belgium or the Netherlands?
We broke up and, about three or four years later, I met my current boyfriend, who is Dutch. He had been living in Rotterdam for several years. When it came time to decide if we were going to move in together, it made more sense for me to go there. I figured it would be easier for me to find work in Rotterdam. At the time, I was working as a cleaning lady and I didn't want to do that anymore. I moved there in 2019.
How do you describe yourself – an expat, lovepat, immigrant, international?
I currently have a beef with the word expat because I think a lot of people use it to distance themselves from the word immigrant. For me, this makes no sense. Expat usually means one specific thing; that you're working in a place for a certain amount of time and often for a company from your own country.
I see a lot of people, especially from the upper and middle classes, calling themselves expats even though they'll be living here for a long time and have office jobs or, let's say, jobs that don't involve cleaning or working in a grocery store. I also used to follow several blogs for many years written by 'expats' and would wonder why they called themselves that. I didn't get it.
So I don't consider myself an expat. I consider myself an immigrant or maybe a bit of a lovepat. I did come here because of my boyfriend. We chose Rotterdam because it made sense, but we considered other options.
How long do you plan to stay?
Forever, I guess. I know a lot of people in Portugal who often ask me 'you're not going to come back here even when you're retired?' No, I'm not planning on going back. My plan was always to stay wherever I went and kind of leave Portugal behind. I hope things continue to go as well as they are going now and that I can just stay here, probably forever.
Do you speak Dutch and how did you learn?
Yes. I started learning Dutch, in this case it was Flemish, as soon as I moved to Belgium. I moved that September and the classes began that same month. I went to classes for about two years, but then I started working more. I suddenly had less time. I must admit that, while I was there for eight years, I didn't learn as much Dutch as I could have. I usually spoke English or Portuguese most of the time.
But when I moved to Rotterdam, I applied for a job in a bookstore because I really like books and wanted to work in a bookstore. Part of the agreement to work there was that I had to improve my Dutch. I could speak it, and I wasn't too bad, but I definitely had to get better. So I started reading in Dutch and practising a lot more. I also started working as a receptionist last July and have learned a lot there. I have to use a lot more Dutch words for that job than I do at the bookstore, as strange as that might sound.
Dutch people still very often switch to English with me at the bookstore. It sometimes makes me wonder if they are doing this because they want to speak English and it's fun for them, or if it's because my Dutch is so bad that they don't want to speak Dutch with me. I assume other people who move here and are trying to learn Dutch also wonder about this.
Sometimes it really helps if you pressure them to speak Dutch, but then you get into these weird and very awkward conversations where you're speaking Dutch and they're speaking English back to you. Then it keeps going like this and you're, like, what am I supposed to do now?
But I consider myself fluent and it was mostly through the receptionist job because I have to answer the phone, respond to emails, and speak to people, but what's been frustrating is that I'm still not as good in Dutch as I am in English. I'm very confident in English and it's the language that I use the most now even though it's not my native language. I also sometimes get stuck in Dutch. There are days when I say, 'Oh, mijn Nederlands is kapot' (my Dutch is broken), but my work has helped me become a lot better. I hope that, in another few years, I'll be as comfortable with Dutch as I am with English.
What's your favourite Dutch thing?
I have to say it's my boyfriend, right? No, I think my favourite Dutch thing is the way people here perceive work and their personal lives. I come from a bit of a conservative country where hierarchies are everywhere. For example, your boss is your boss and you have to respect them a lot more than they have to respect you. I think here there's less formality, even when it comes to doctors, architects, engineers, and professors.
I once worked as a dental assistant in Portugal and there would have been a whole thing if I had called the dentist mister instead of doctor. Here, I've never seen that or there's less of that. Your boss tends to respect you and both of your jobs are considered important. That's something I really like. You can also have a good quality of life and a good job life. In Portugal, most people work full-time and they're expected to stay late or work extra hours without getting paid. I don't see that mentality here.
I also love the open-mindedness here. If I went back to Portugal now, I would find myself in discussions and even fights on a daily basis. By the law, Portugal is a very open-minded country, but it's not always actually like that.
How Dutch have you become?
Actually, quite a bit. I cycle to work most of the time. Portuguese people are all about cars. If you're going to a cafe 500 metres down the road in Portugal, you'll take a car. So I cycle to work now, I use Tikkie, and I really like patatje oorlog (fries with mayonnaise, peanut sauce, and chopped onions).
And I actually like the weather here. Most people don't. I don't really like the heat, but I'm not a fan of the rain either. I'd rather have it be a bit cold and rainy than hot. I mean, I'm still Portuguese. That's still me to my core. I grew up there and spent too many years there, and I can't shed that. I don't want to shed it in any way.
Which three Dutch people (dead or alive) would you most like to meet?
Vincent van Gogh. He would be one, for sure, because he's one of my favourite painters. I've read a few books about his life. I don't think I would like him as a person, to be honest. I understand why a lot of people had beefs with him, but I think he would be very interesting to talk to, especially if we spoke about how he saw the world and worked that into his paintings.
Anne Frank. I read her diary when I was 15. Yes, I know she was born in Germany, but she's still considered Dutch, I think. I was 27 or 28 when I went to visit the Anne Frank Huis. I think it would be really interesting to talk with her. 
Mata Hari. She seems like a very interesting historical figure for what she did and her work as a spy.
What's your top tourist tip?
Kinderdijk. It's not far from Rotterdam and I've been there a few times. It's very pretty. For Portuguese people, it's very unlike what we're used to seeing. There's also Kop van Zuid in the city. It has the Hotel New York and I think it has one of the prettiest views in town.
I love Rotterdam. I think it's a very beautiful city. It's very open and there's a lot of water, which I really like. I think they should also take a water taxi. I've done that with friends and I think it's a really great experience. One more thing is the S.S. Rotterdam. The ship is so pretty and it also has a great view of the city.
Tell us something surprising you've found out about the Netherlands
I think most of the things that have surprised me are related to language. 'You say it like that, what does that mean again?' is something I often wonder about. Sometimes I'll come home and ask my boyfriend, 'Is it true that you say this and this and this and that?'
But this is a tough one. Much of what has surprised me has to do with the openness, the life/work balance, and not having a marked hierarchy.
If you had just 24 hours left in the Netherlands, what would you do?
I think I would like to visit a few cities like Utrecht and The Hague, which are very pretty, but there's also the Vermeer Museum in Delft. I haven't been there. Oh, and the Van Gogh Wandelroutes in Nuenen. I've always meant to do those, even when I lived close to there, but never did. So, yeah, maybe I would do that and see those paths.
If it were something like I'm leaving and not coming back, I would want to see my friends. I would visit some of my favourite places, stop somewhere to eat, and meet with them. 
Carina was talking with Brandon Hartley. You can read many of her articles over on Book Riot and check out her podcast, A Story of Sorts, via this link.
Thank you for donating to DutchNews.nl.
We could not provide the Dutch News service, and keep it free of charge, without the generous support of our readers. Your donations allow us to report on issues you tell us matter, and provide you with a summary of the most important Dutch news each day.
Make a donation