Partner content
Dynamic energy contracts: How to make money charging your car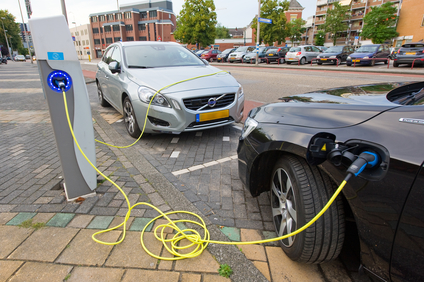 One of the little-reported advantages to having a dynamic energy contract – one in which the price you pay for gas and electricity varies by the hour or the day – is that you may sometimes be paid by your provider to use your electrical equipment.
Can you, as a consumer, actually make money by using electricity? It might seem bizarre but it is completely possible.
The last weekend in May, for example, was both sunny and windy, leading to a surfeit of solar and wind power. And that in turn caused electricity prices to plummet to an all-time low, for a few hours at least.
So on May 29 between 2 pm and 3 pm, 190,000 Dutch households were paid as much as 30 cents for every kWh of electricity they used.
Boil an egg
Take Thijs, who has a dynamic contract. When he got up on Saturday morning at 9 am, he was paying 17 cents per kWh for the electricity he used while having a shower and boiling an egg.
By lunchtime the charge had gone down to just under five cents but by the early afternoon, when the sun and wind were at maximum strength, he was being paid. In fact, for three hours Thijs received money from his supplier for the energy he used. What did he do? He charged his electric car, and was paid €4.86 to do so.
It's a phenomenon that is likely to occur more often as renewable energy sources increase.
"With strong growth in solar and wind energy and the emergence of technological innovations, we will increasingly face negative power prices in the future," says energy expert Koen Kuiper. "But you will only benefit if you have a dynamic energy contract."
So far this year, the number of hours with negative electricity prices has topped 100. And this is just the beginning, experts argue.
Sun and wind
"On sunny and windy days, we have an abundance of electricity," says Kuijper. "These are the times you should use as much power as possible, so that at other times – when there is scarcity – you don't need to. It's good for the environment, the energy grid and your wallet."
If you have a dynamic contract, it means what you pay for gas and electricity depends on the wholesale markets. What you pay for gas will vary by the day, while electricity charges vary on an hourly basis. And that means your bill will vary as well month to month.
Of course, there are some disadvantages and it is important to be aware of them.
After all, if you are being paid to use electricity, it means you will have to pay for the power you feed back into the grid from your solar panels. "So would make sense to switch those off at times when the electricity price becomes too negative," Kuijpers points out.
When to wash
You also need to be actively involved in your contract and make sure you are matching what you use with prices. And that means putting on your washing machine in the afternoon when prices are low rather than at night when they are likely to be higher.
If knowing how much you will pay every month is important to you, opt for a fixed contract which runs for six months or a year – and gives you security about how much you will pay.
A variable contract is a good option if you are more concerned about having a cheap deal than security about how much you will pay – and is also beneficial to solar power panel owners who feed a considerable amount of electricity back into the system.
Find out more about the different options available via energy comparison website energievergelijk.nl. They also have an English language tool.
Thank you for donating to DutchNews.nl.
We could not provide the Dutch News service, and keep it free of charge, without the generous support of our readers. Your donations allow us to report on issues you tell us matter, and provide you with a summary of the most important Dutch news each day.
Make a donation