Amsterdam's expats don't live in a bubble, it's a glass cage
Gordon Darroch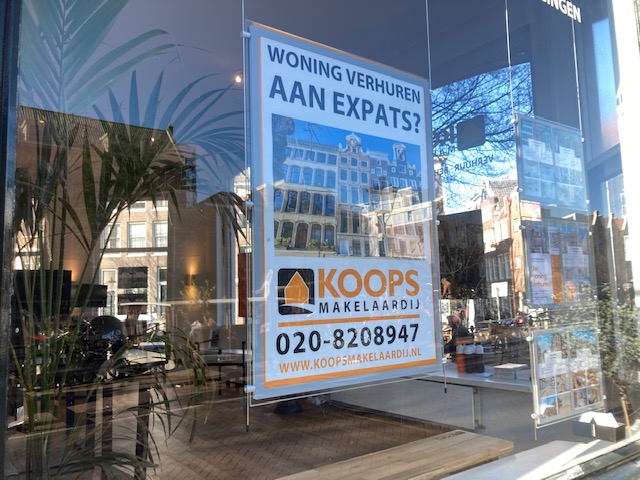 During the Second World War, the refrain about American servicemen in Europe was that they were 'overpaid, overfed, oversexed and over here'. The issue wasn't that they were wealthy: it was that they flaunted it, and did it "over here", swaggering around like they owned the place.
A similar sense of grievance is growing up around international residents in Amsterdam, to judge from a recent survey by NH Nieuws. Expats were denounced as "parasites" and "a plague on the city", "Pokemon zombies who contribute nothing to society". "They don't speak Dutch and suck the soul out of the city," another said. "The city council should be ashamed of itself for letting this happen."
Such sentiments are not uncommon in international cities with diverse populations, a shortage of space and growing inequality. What was shocking was hearing Amsterdam's mayor, Femke Halsema, endorse them in an interview with the local television station AT5. Halsema was being interviewed about a recent Rabobank report which found that families were moving out of many areas of Amsterdam and being replaced by expats.
Asked if this was having a negative effect, Halsema gave a response that would have caused a weasel to knock back a stiff genever. "I don't want to send out the message that internationals are no longer welcome," she said, before continuing: "What I do think is important is that if you come and live in this city as an international, set down proper roots. Make sure you get involved in your neighbourhood. Take part in our community life."
And how should internationals repair this social fissure? Preferably, said the mayor, with hard cash. "Maybe I should say this in English, but don't sit in your own bubble. Become an Amsterdammer and be concerned, especially if you're well to do, about the people in your city who have far less. Think about food banks. Consider getting involved as a volunteer or through money for people in our city who have it tough."
It was as concise a summary of the "overpaid, overfed and over here" stereotypes as you're ever likely to hear. But it also betrayed an abject failure to understand the reality of how internationals interact with their adoptive home. Politicians frequently make the mistake of assuming that integration is some kind of natural law: invite people to come and live in your country, make it attractive for them, and they'll figure the boring stuff out by themselves.
Not only is that untrue, it leaves new arrivals vulnerable to isolation at best and exploitation at worst. Integration demands commitment from both sides. To arrive in a new country, especially one as regimented as the Netherlands, is to be thrust into a world of unfamiliar social customs, obscure rules and mountains of paperwork in a language you don't know. Without a guide to show you the ropes, you can rapidly get lost in the maze.
Research by the International Community Advisory Panel has shown repeatedly that most international workers send their kids to local schools, try to learn Dutch and want to fit in. And the best way of feeling at home, ICAP's final survey found, is having friendly neighbours.
Halsema's caricature of the well-heeled expat also conflated two distinct subgroups: the high-earning multinational hirelings who tend to stay for a short time before moving on to the next European city, and are very much in the minority, and the long-stay foreigners who do, by and large, find their own way round and put down proper roots. The easiest and most cost-effective way to integrate the first group is to reach out to the second.
But of course, Halsema wasn't really addressing either. She did not in fact issue her soft rebuke in English. She did it in Dutch, on a local cable news channel, for the consumption of those who gripe about "Pokemon zombies". You might think it reasonable to expect the mayor of a city with a large international population to engage with them directly occasionally, not just pontificate over their heads.
Corrosive myth
Like many Great Replacement narratives, the notion that expats are shunting out locals and creating a parallel society is a seductive, but corrosive myth. Incomers become a convenient scapegoat for a council struggling to get to grips with overcrowding and inequality.
Much of the reporting on the Rabobank report presumed a causal link between two of its central conclusions: internationals are moving to Amsterdam in large numbers and residents – young families in particular – are selling up and moving out.
Some people said they were moving because the city lacked a sense of community. The conclusion was obvious: the foreigners are poisoning the atmosphere, sending house prices through the roof with their 30% tax breaks and driving honest, decent Amsterdammers out.
It is true that the number of international workers in Amsterdam has grown rapidly in recent years. According to a study by ING in 2019, the total rose by 33% in the previous six years. But by European standards the Netherlands has relatively few knowledge migrants.
Amsterdam has the largest expat population, but that's not surprising given the way the city has rolled out the red carpet for multinational firms. Last year 90 foreign companies set up shop in the Amsterdam metropolitan region creating, apparently, 2,800 jobs.
Bending the rules
The Dutch government bent the tax rules so flagrantly to lure Starbucks to Amsterdam that it was rebuked by the European Union. In its successful bid to lure the European Medicines Agency from London in the wake of Brexit, Amsterdam boasted that "the city … hosts a vibrant international community with an excellent quality of life for expats that reside there."
The influx of international workers is a consequence of the city's choice to promote itself as a modern, cosmopolitan home for global citizens. Now that Halsema is experiencing buyer's remorse, her first reaction is to shift the blame to those the city fought to bring in.
Similarly, the constant complaint that the 30% tax break distorts the housing market is misconceived. The rule exempts people recruited from abroad from paying tax on the first 30% of their income, but most expats are not entitled to it. There are strict rules in income, for example, and it is not open to the self-employed or anyone who signs up for a job after they move here.
Among those who are eligible for the tax break, the total outlay is dominated by a small pool of top earners and around 5% of them are Dutch nationals returning home. In total, just 60,000 people are currently benefiting.
Researchers
It should be pointed out, too, that 30% rule wasn't devised by international workers, but by the Dutch government, so that local companies could recruit them without breaking their wage structures, enabling them to pay the high rents, transport costs and everything else expected of them. There is even a special clause to enable young, low-salaried researchers to work at Dutch universities and keep up their coveted international reputation.
The main factor driving the exodus of young families from Amsterdam is the simple fact that the city's housing market has raced ahead of the provinces in the last decade. Moving up the chain is unaffordable, but moving out gives Amsterdammers far more buying power. They are, in that sense, expats in their own country.
The distorting effect of international workers on property prices in the capital, on the other hand, is relatively modest. Only 15% of newcomers buy a house within a year of arriving in the Netherlands and those who rent are forced into the overpriced "expat rentals" sector even if they are working for a start-up. According to ICAP research, most expats do not get a relocation package and support with paying the rent falls only covers the first few weeks.
Since Amsterdam cracked down on short-term Airbnb rentals, private landlords have trained their sights on "British bankers, American insurers and Japanese techies" who often need to find a place at short notice and have little knowledge of the market. They end up paying €2,500 for a small flat because they see no alternative.
Rip-offs
So if native Dutch Amsterdammers seriously want a more affordable housing market, they could start by asking their fellow citizens to stop ripping off the expats, or lobby for tighter rent controls.
The good news for international workers is that they're not confined to overcrowded, overpriced, self-righteous Amsterdam. Just across the IJmeer is a city that is all the things the capital was once reputed to be: laid-back, welcoming and inclusive. In the same survey in which Amsterdammers bemoaned the invasion of the Pokemon zombies, respondents from Almere struck a different tone.
"The arrival of the expats has enriched our lives," one said. "We need these people to do the work," commented another. A third said internationals "give our region more recognition."
So if your company has just posted you to Amsterdam, give Almere a look over. It's well connected, there's more space, rents are cheaper and you won't be paying local taxes to a mayor who thinks you live in a bubble. And you'll get along just fine with the locals as long as you cheer on Almere City against the likes of Ajax in their debut Eredivisie season.
Thank you for donating to DutchNews.nl.
We could not provide the Dutch News service, and keep it free of charge, without the generous support of our readers. Your donations allow us to report on issues you tell us matter, and provide you with a summary of the most important Dutch news each day.
Make a donation