Utrecht stall owners fight to stay in business (and stay put)
Brandon Hartley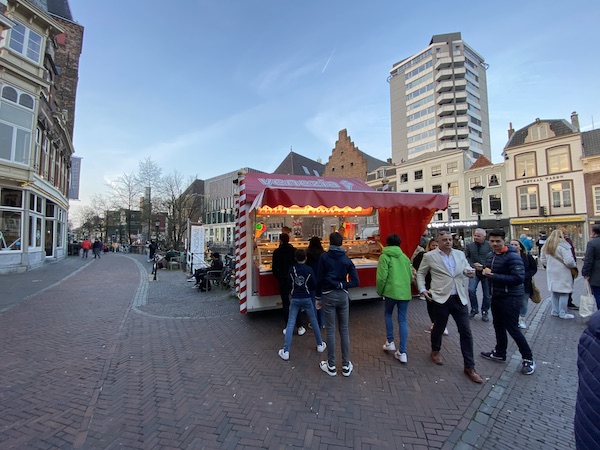 The owners of flower kiosks, cheese stands, and similar street-based businesses have found themselves in an increasingly tense battle with city officials in Utrecht. And some may have to close up shop altogether due to new regulations that could soon impact their counterparts around the country.
The problems stem from a recent decision by local officials that will require Utrecht's standplaatshouders [kiosk owners] to reapply for permits for a limited number of spots around the city. The shakeup could force many of them to give up their current ones, move elsewhere, or shut down. Several stalls, like the popular Venezia ice cream stand on the Jansbrug, have been in the same locations for decades.
The stall owners, many of whom have invested tens of thousands of euros in their stalls and nearby storage facilities, say the decision is arbitrary, cruel, and could easily put them out of business. City officials, meanwhile, claim their hands are tied and they're merely caught in the crossfire between these local business owners and a slew of regulations from the EU and Dutch government.
Under city regulations, stall owners can no longer have their standplaatsvergunning [location permits] renewed automatically. Up until 2013, this was usually the case. That year, city officials began issuing them in ten year increments.
With the 10-year period now ending, the Utrecht stall owners have been told by letter that their permits wouldn't be automatically renewed on 31 December 2023, as many of them expected.
"We thought, when our contract ends, we'll just get a new one," Peter Verwijk, who has been running an oliebollen stand in Utrecht for over 30 years, told the Volkskrant. "It's always been that way."
The city says that under EU rules, the current stall holders cannot be given priority over new applicants because it would conflict with competition law. So earlier this year, Utrecht decided the easiest and fairest way to sort things out would be to hold a lottery for the city's limited number of spots. As a recent article in Trouw noted, "the plan hit stand owners like a bomb."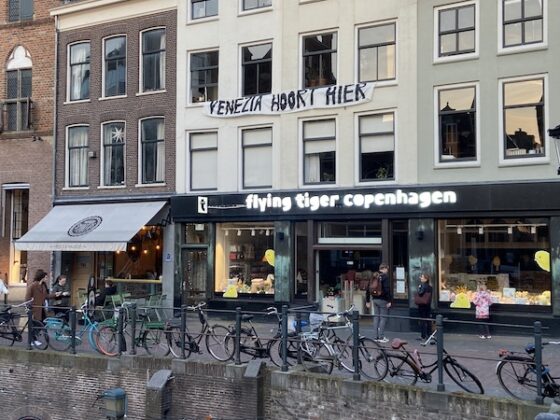 Boy van Petten is just one of the stall owners who has objected to the plan and says the rollout has been poorly communicated and terribly managed. For the past nine years he's been the operator of Broodje Ben, a cart that sells sandwiches at the Bakkerbrug and has helped spawn several other locations around the country.
"Is it fair if this spot is assigned to someone else?" he asked in Trouw. "Who puts down a sandwich cart and then loses out on thousands of customers?"
Dozens of stall owners are currently grappling over spots in Utrecht, but this is a situation that could soon repeat itself in other cities around the Netherlands as municipalities decide how to best deal with these regulations. Meanwhile, many of the ones in Utrecht aren't willing to let go of their spots without a fight.
The owner of the flower stand Bloemen van Berry, has helped organise a petition that has so far garnered over 7,000 signatures. A banner in support of Venezia, a business that began in 1928 and was the country's first Italian ice cream parlour, hangs alongside a house near its cart.
Many stall owners and their employees, including Kees de Vink who has been working at a cheese stand for over 50 years, have also been happy to discuss the situation with reporters and show up in full force at meetings with city officials.
"Sometimes it takes years to build up a business," he told RTV Utrecht. "And just when you're happy and doing well, you're told to piss off. That doesn't work for any business."
The lottery plan for Utrecht's stall owners is currently on hold, but it hasn't gone away entirely. City officials are trying to come up with another plan to distribute the permits. Meanwhile, stall owners say they're losing sleep and really don't want their livelihoods to remain up in the air for what could be another year or longer.
"Our lives are being destroyed," one shouted at Schilderman during a meeting earlier this spring, according to DUIC.
Conversations with the press have been emotional as well. "We are being thrown into the street by European rules," flower stand owner Nico van de Ven told the Volkskrant. His business, De Kleine Bloemensingel, was opened by his grandfather 70 years ago.
"And what should I do then?" he said. "I have no education, I can't do anything else. So I'll become penniless. My family is going to fall apart."
Thank you for donating to DutchNews.nl.
We could not provide the Dutch News service, and keep it free of charge, without the generous support of our readers. Your donations allow us to report on issues you tell us matter, and provide you with a summary of the most important Dutch news each day.
Make a donation