To Breathe or Not To Breathe: Colossal sculpture makes waves
Brandon Hartley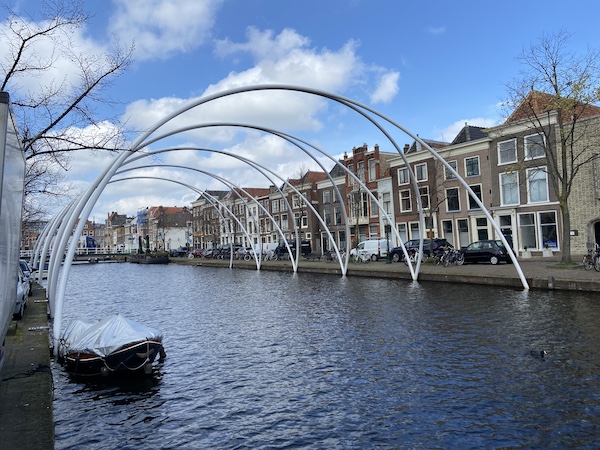 South Korean artist Kimsooja's To Breathe arrived in the centre of Leiden in December and has been creating problems for local residents ever since. It's even been targeted by anarchists. Nevertheless, the colossal sculpture isn't going anywhere, for at least a few more years.
What looks like a whale skeleton, has been attacked by anarchists, regularly violates its lighting permit, and is capable of temporarily blinding cyclists, pedestrians, and motorists?
It's To Breathe, a large conceptual sculpture that was installed over Leiden's Oude Vest canal in mid November.
Designed by Kimsooja, an acclaimed South Korean artist whose work has appeared everywhere from modern art museums to Parisian metro stations, the sculpture is scheduled to remain on the canal for three years.
To Breathe is intended to represent the legacy of the city's art, science, and textile industries. Instead, it's become an eyesore in more ways than one, especially for those who travel along the Oude Vest after dark.
Too bright
Every evening two sets of bright spotlights attached to the Turfmarktsbrug and the Lijsbethbrug, two nearby bridges, illuminate the arches of To Breathe as well as everything else within their path.
Along with arguably posing a safety risk because of the blinding light, the sculpture and its lighting system currently have a meagre 2.5 star rating on Google. Others say To Breathe contributes to light pollution, which is somewhat ironic in a city that hosted a high profile anti-light pollution event last September.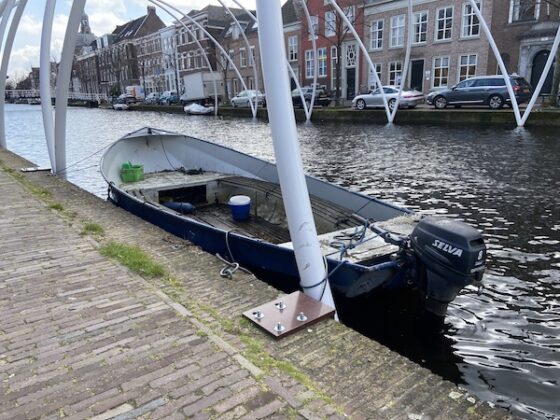 The local anarchist group De Zwarte Tulp targeted the sculpture in December. They deactivated To Breathe's spotlights and broke several of its power strips because they felt it was wasting energy.
Mirjam Flik, the former head of the now defunct Lucas van Leyden Fund, an arts organisation that helped bring the sculpture to the city, was quick to note that its LED spotlights don't use much electricity. That's not the only reason De Zwarte Tulp pulled the plug, though. They also said To Breathe is 'a big middle finger' to Leiden's artists.
'Instead of tax money being spent on Leiden artists, it is being spent on a bourgeois artist with offices in New York, Seoul, and Paris who supposedly knows what's going on in Leiden and how Leiden's identity works,' De Zwarte Tulp said.
NIMBYism
This isn't the first time a public artwork has created problems along the Oude Vest. The now 80-year-old sculptor Gabriël Sterk donated a large statue of Rembrandt to Leiden in 2019 to help honour the reopening of the Museum De Lakenhal following a renovation. It stood across the street from the museum for several months.
Three years later, local officials and neighbourhood councils are still bickering over where to put it. The discussions have become so terse that the statue may actually be returned to Sterk, who currently lives in France. It was originally posted along the canal mere feet from To Breathe's current home.
This also isn't the first time the Lucas van Leyden Fund courted controversy. The group, which got kickstarted in 2018 before folding last December, was granted €1 million in funding by Leiden's city council, too little of which, some say, was used to support the projects of local artists.
Kimsooja was the recipient of the group's Lucas Art Award and was granted an estimated €70,000 for To Breathe of which €15,000 was considered prize money. The remainder was used to help bring the sculpture to Leiden and install it on the Oude Vest, although the total costs were likely considerably higher.
André Vanhaelen, a communications officer for the city of Leiden, told Dutch News that the city is now in charge of maintenance.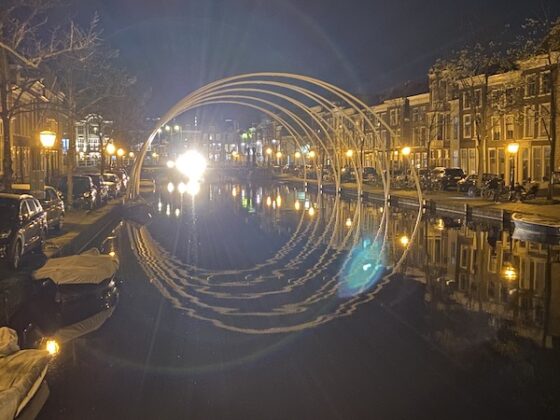 While the situation with the lights may eventually get sorted out, there remains the question of how well the city will take care of the colossal sculpture over the next few years.
Five months into its three year stay in Leiden, To Breathe is already starting to show visible signs of wear and tear. Paint has worn off at water level and the arches appear to be rusting in a few spots. Higher up, scratches and dings are visible as well as a fair amount of bird poop along with a thin layer of dust and muck.
The casing on the lights are also rusting and stickers regularly have to be peeled off an informational marker on the Turfmarktsbrug. Boats have been using the sculpture as moorings.
The city remains committed to keeping To Breathe in its spot through the end of its planned stay on the Oude Vest.
'The work of art has been licensed for three years, after this period the municipality will have the work of art removed in accordance with the permit and agreements with the neighbourhood,' Vanhaelen said.
Thank you for donating to DutchNews.nl.
We could not provide the Dutch News service, and keep it free of charge, without the generous support of our readers. Your donations allow us to report on issues you tell us matter, and provide you with a summary of the most important Dutch news each day.
Make a donation