Partner content
Power to the people: green office building aims to charge up Delta staff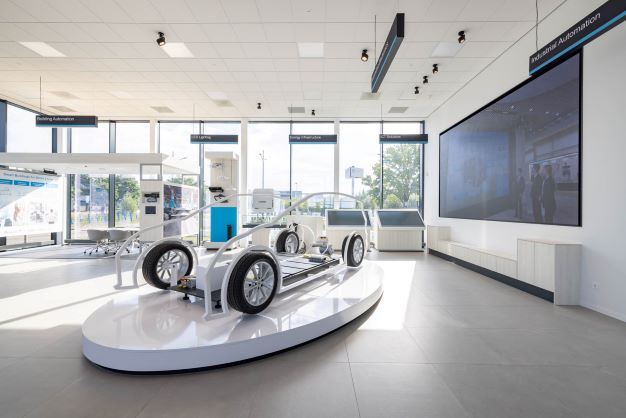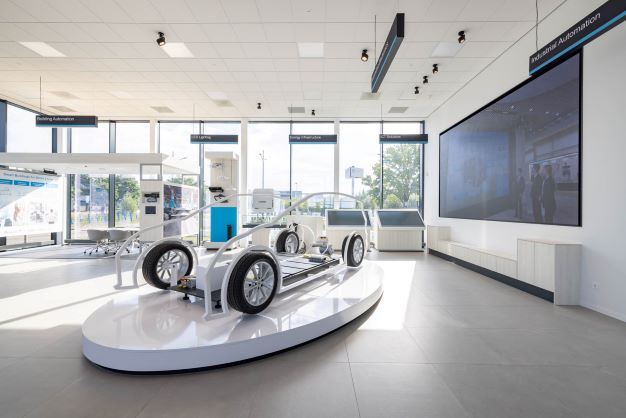 A green wall, fleet of electric vehicle chargers and nest of solar panels are visible signs that Delta's office in Helmond is a little different.
Behind the scenes, this power and thermal management solutions company has put its own technology into practice in its office and R&D centre in North Brabant.
A weather station monitors the climate, the building management system keeps lighting as natural as possible and air quality excellent, while a smart parking system ensures the plot is used to maximum efficiency (and keeps an eye on the cars).
'From the inception of the company in 1971, the mission was to provide innovative, clean, energy-efficient power components to make a better world for the next generation,' says Dalip Sharma, president and general manager of Delta Electronics EMEA. 'Our goal was not only to help the community but to minimise as much as possible our carbon footprint.'
You might not have heard much about this Taiwanese company, but you almost certainly own something it has made. Delta designs and manufactures a wide range of products, from electronic components, energy-efficient 'switching' power supplies and fans to the most modern smart systems for industrial and building automation, energy storage and EC charging and telecoms.
Unsurprising, then, that it puts its know-how into practice with every new office it builds – the last, a 4,055 square metre new build in Helmond that uses almost 57% less electricity than a conventional building and has obtained a LEED Gold green building certificate from the U.S. Green Building Council.
By its very nature, says Sharma, Delta understands how important the flow of energy is in work, as in life. 'In a business like power supplies – which the whole world is using every day from morning to night, even when we sleep –  if you can improve a single percentage point of energy efficiency, you save megawatts per day,' he says.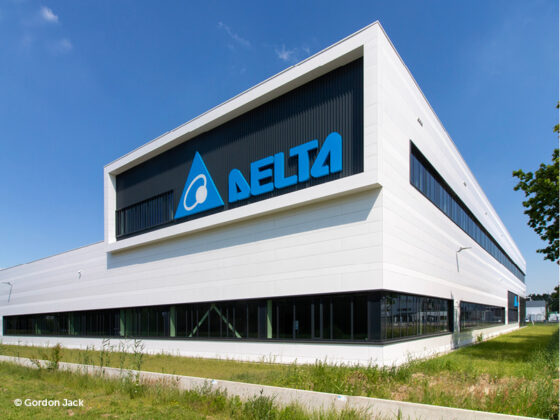 'Our goal was to be the global leader in power supplies, and understanding if our products provide even 1% higher energy efficiency how much energy and carbon footprint it can save every day, comes with certain responsibilities. Our founder was well ahead of his time.'
Twenty years ago in their offices in Taiwan, this awareness of the importance of saving energy meant a little thread hanging over every desk – which employees were encouraged to pull to turn off their personal light when they got up.
These little threads have translated today into a company with 32 green buildings across the world. In the Netherlands, where the firm has a head office in Hoofddorp, it aimed to create a positive atmosphere for 150 employees who will work in Helmond as it grows.
Well-being
'Every building we are constructing now should be green, whether it is a factory, an office, data centre, logistics centre or warehouse – and green to the highest standards,' says Sharma. 'It comes at a cost, but we have learned from experience that it pays off significantly over time. We have even gone past the green building stage to talk about wellness standards: not only the environmental performance but the wellbeing of employees working there.'
Building starts with analysis of the soil, investigating water conservation and preserving local flora and fauna. In the design, it translates into a well-insulated structure using recycled materials where possible, maximising natural light and a clean and healthy airflow, and responding to conditions outside and employee needs. That might mean a kind, diffuse light first thing in the morning, and a bit more brightness to pick people up after lunch, as much fresh air as possible, and plenty of greenery inside and outside the office.
The building has invisible features like infiltration grates under the parking lot so heavy rain does not flood the sewage system but goes back into the ground, helping protect against periods of drought.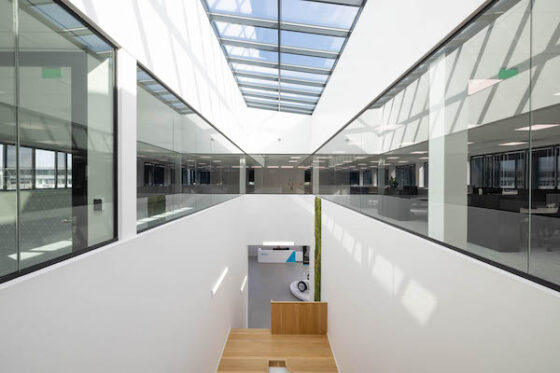 The building was also made column-free so it can easily be adapted to changing future needs. 'The user was at the centre,' he says.
Natural light
'We have a nice inner space, an open plan office environment with good natural daylight to minimise the use of artificial lighting, views outside, and a beautiful atrium in the centre of the building to encourage employees to use the staircase. Small details are a roof terrace outside so staff members can step outside for breath of fresh air. These small details help make it from a spatial perspective a sustainable design.'
Other smart kit includes a 133 kilowatt solar system, sensors to optimise lighting, heating, humidity and air quality, EV chargers for all kinds of electric cars, and an energy-efficient heat pump that helps the building remain warm or cold. In total more than 1200 Delta energy-efficient products have been installed in the building.
A couple of features did need to be added for gold LEED accreditation, including a bike shed and a shower for those who cycle, rather than drive, to work.
This kind of green building is not only a way to try out company solutions that might then be sold to clients. It's part of an ethos that extends from Delta's products to its people, says Sharma: 'If employees are full of energy, charged up well and fresh during the day their output will be very different!'
Thank you for donating to DutchNews.nl.
We could not provide the Dutch News service, and keep it free of charge, without the generous support of our readers. Your donations allow us to report on issues you tell us matter, and provide you with a summary of the most important Dutch news each day.
Make a donation