Inburgerings with Dutch News: Sinterklaas and December 5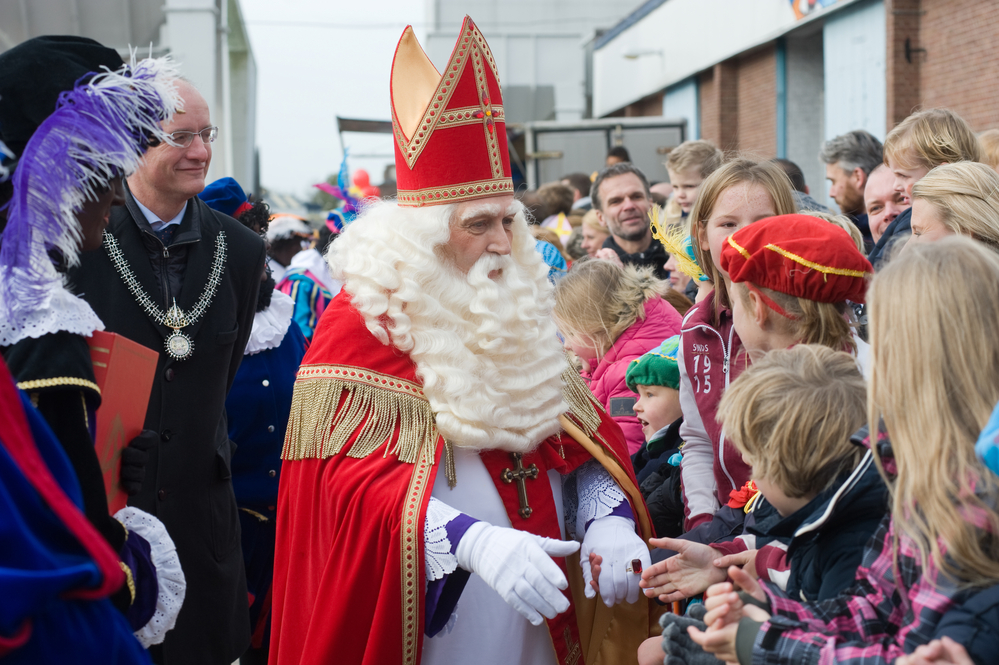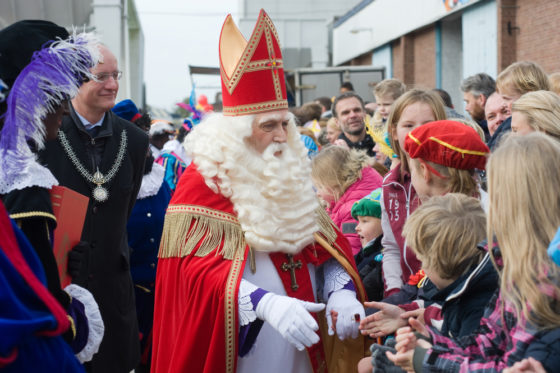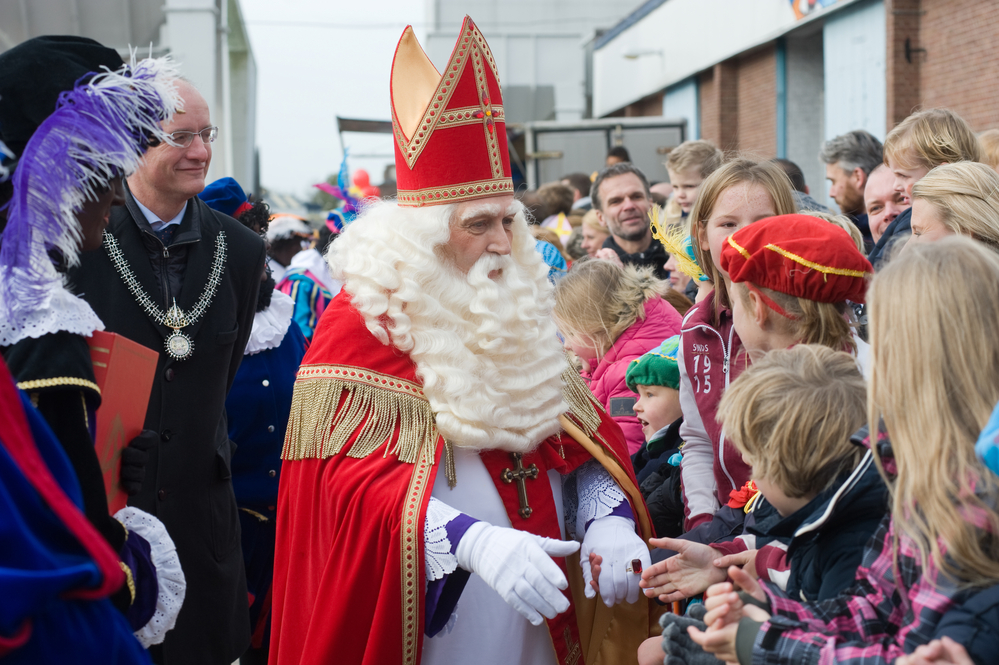 Sinterklaas arrives in the Netherlands this weekend, so if you are a relatively new arrival, here's a special lesson in the Dutch News inburgering course to bring you up to speed.
Lesson 34: Sinterklaas
Who is Sinterklaas?
The man in the mitre is impersonating Saint Nicholas, a 4th century bishop who lived in Myra, in what is now Turkey. From the 11th century onwards, news of his miracles spread around Western Europe and he became the patron saint of practically every section of society, including children.
This goes back to the saint's skill in piecing back together three children who had been chopped up by an innkeeper and put in a vat of brine. The story of how Saint Nicholas comes at night to deliver presents is based on his generosity to three prostitutes who were tossed sacks of gold for a dowry through the window under cover of night. Of course he immediately became patron saint of prostitutes too.
When did the Dutch start celebrating?
The feast of St Nicholas has been celebrated for at least 700 years in the Netherlands and, as a Catholic celebration, went underground when it was banned during the Reformation.
Many of today's traditions – such as Sinterklaas's helper Zwarte Piet (Black Pete, now Sooty Pete), and the steam boat, came from a book written by teacher Jan Schenkman in 1850 and the real commercialisation of Sinterklaas began in the 1930s.
Up until the 1940s, children would find a present in their shoe on December 6, which is officially St Nicholas' saints day in the Catholic church calendar. However, the partying has gradually shifted to the night before, or December 5, which is also known as pakjesavond or parcels evening.
The arrival of Sinterklaas
The Meertens Institute says the first intocht van Sinterklaas, or the arrival of Sinterklaas, took place in Zwolle in 1873 when 'a couple of well-to do farmers had a local prankster dress up as Sinterklaas distributing sweets to poor children'.
Since 1952 the arrival of Sinterklaas has been a televised event which sees the Sint and his helpers land in style from their steam boat from Spain (although Sinterklaas has been known to arrive by train, plane and even a hot air balloon).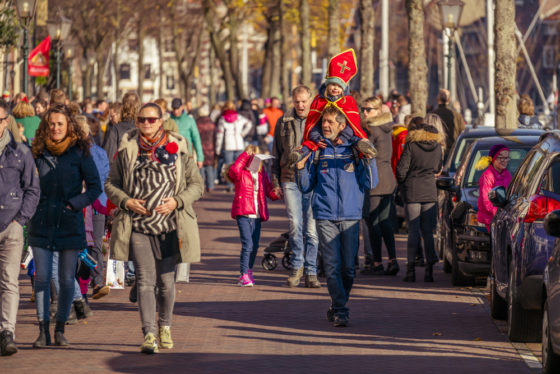 A different place to set foot on dry land is judiciously chosen every year. Sinterklaas always arrives on a Saturday at least three weeks before December 5 so you have lots of time to spend money on presents.
Zwarte Piet
No lesson about Sinterklaas would be complete without tackling the issue of Zwarte Piet, or Black Piet – white people dressed up with curly black wigs, golden earrings, red lips and black face paint, who used to accompany Sinterklaas at his official arrival and at parades all over the country.
However, in 2011 a campaign to 'kick out Zwarte Piet' was launched by a group of anti-racism activists and a lot of demonstrations later, the blackface character has largely disappeared, although there are still pockets of resistance, mainly in rural areas.
Drawing lots
Once Sinterklaas and his sooty Piets actually in the country, the fun can begin. First of all you have to decide who you are going to celebrate with and then you draw lots to determine who you will give a present to. And, another very Dutch tradition, an agreement is made about how much will be spent on the presents.
Shoes
In the days leading up to the all important December 5, children put their shoes in front of the fire (or the radiator) in the hope that Sinterklaas will fill it with a small present or a chocolate goody.
Some children think they can get around the Sint by leaving a carrot for the bishop's horse, accompanied by a wish list. In the olden days a disobedient child would find a potato in his/her shoe, or a roe (a bunch of twigs used tot chastise naughty children) but these days this is deemed too traumatic.
Songs
Sinterklaasliedjes, or Sinterklaas songs, are sung when the children put their shoe in front of the fireplace and at the beginning of the 5th of December festivities.
Most of the songs date from the 19th and early 20th century and some have been adapted to the changing times: in the traditional welcoming song 'Sinterklaasje, kom maar binnen met je knecht' (Sinterklaas please come in with your servant) the word 'servant' has been replaced by 'Piet'.
The visit
At some point, every Dutch child comes face-to-face with Sinterklaas, whether it be at school or their hockey club or even a home visit. Yes, there are lots of specialist agencies around who will supply you with a Sint and Piet, or even a video message from the great man.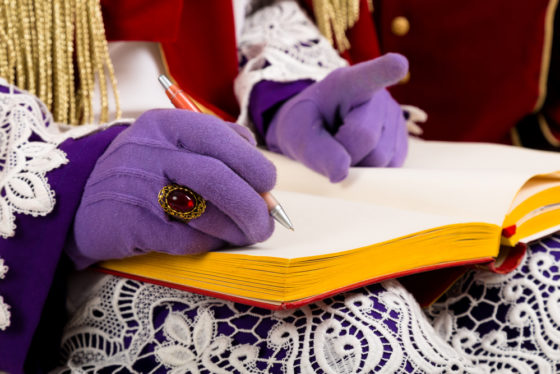 Sinterklaas carries with him 'het grote boek': a big book with the name of every man, woman and child in it which tells him if they are deserving of a present or not. If Sint visits your home, he will read out all about you from the book (slipped to him in advance by mum or dad) and hand over your gifts.
Sinterklaas used to be much more moralistic than he is now, and stories of him threatening to put naughty children in a sack and take them to Spain are very much grandparents' era.
Poems
Sinterklaas is a feast primarily for children but make no mistake: it's also an annual grudge fest for grown-ups. People all over the Netherlands are rolling up their sleeves and licking their pencils to have a go at their siblings and friends via another great  tradition: the poem.
The poem, which should rhyme and is read out loud by the recipient, is often used as way to score points and take public revenge on your fellow party-goers. As a parent, it is a great way to remind your offspring of the importance of cleaning their teeth or being nice to their brothers and sisters. However, be aware that you may get a poem pointing out that your Dutch accent is crap or you drink too much.
Surprises
Another Sinterklaas tradition is the so-called surprise – or extremely elaborately wrapped up and disguised present. This will plunge households into a frenzy of creativity and closed doors.
Some people become extremely competitive and will go to tiresome lengths: for instance by putting your car keys in a block of ice which then has to be defrosted using a hairdryer after which you have to look for a clue to the present in the car. Others, particularly small boys, like to bury their gift in as much gunk as possible.
Your offspring, if at primary school, will also be required to make a surprise for a classmate – an intensely competitive affair for both child and parents.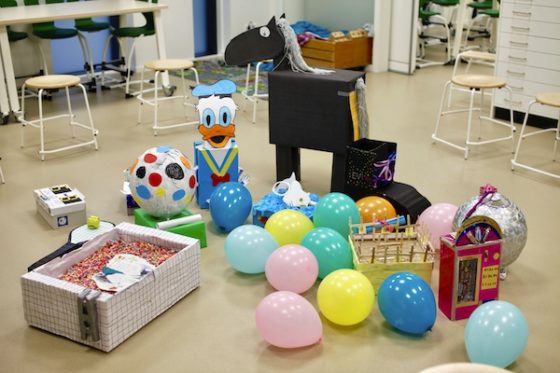 Food
Food is an important part of Sinterklaas and the giving of speculaas (spiced biscuits, often in the form of the saint) dates back centuries. The sale of Sinterklaas goodies seems to start earlier every year, so make sure to buy your chocolate letters in time or you will find you are left with a choice of S or P (for Sint and Piet).
Pepernoten (mini ginger biscuits) which now come in a bewildering number of guises, taai taai (chewy aniseed biscuits) and schuimpjes, comprised of sugar and artificial colourings, will keep children jittery for weeks.
Together, pepernoten and schuimpjes form strooigoed or stuff that is thrown into the room by Sint or Piet (usually by an invisible hand belonging to an obliging neighbour). The tipple for a Sinterklaas feast is bisschopswijn, or mulled wine.
Bonus point
Although there's a shift towards present-giving at Christmas, some 60% of Dutch households still celebrate Sinterklaas, especially ones with small children.
International families may well end up celebrating both, urged on by children who are quick to see the advantages of getting two lots of presents within the space of one month.
Thank you for donating to DutchNews.nl.
We could not provide the Dutch News service, and keep it free of charge, without the generous support of our readers. Your donations allow us to report on issues you tell us matter, and provide you with a summary of the most important Dutch news each day.
Make a donation