Government to listen harder and tackle own corruption in fight against crime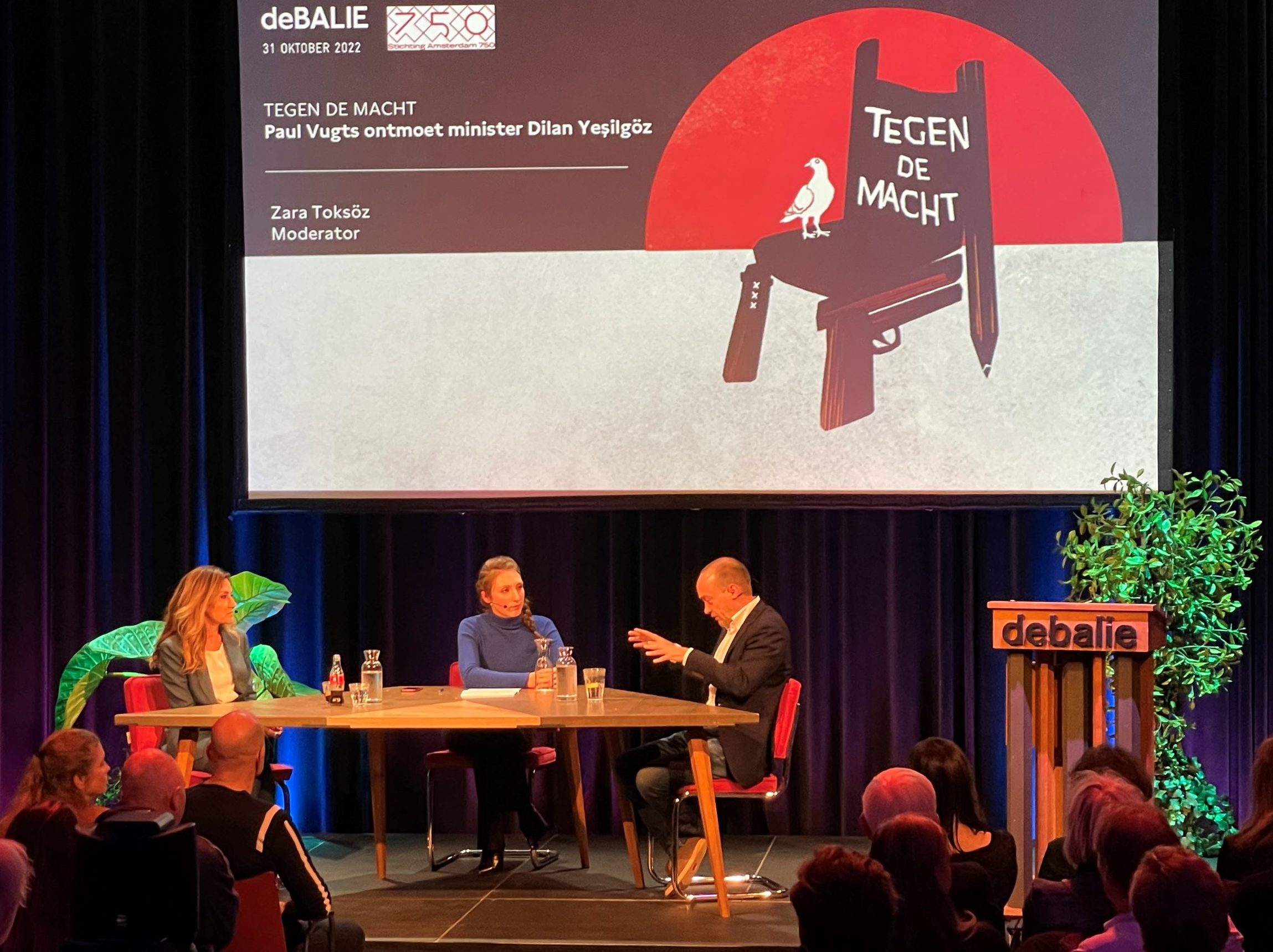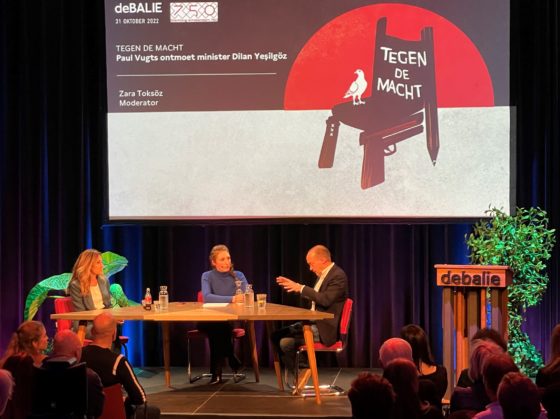 Government has not listened enough in the past to people on the front lines of fighting crime, while the civil service is also vulnerable to corruption, according to justice minister Dilan Yeşilgöz.
The justice minister said the new crackdown on crime is broader and listening harder than ever before, at a 'speaking truth to power' event at De Balie in Amsterdam on Monday night.
But while co-operation with countries such as Turkey, Morocco and Dubai to confiscate the proceeds of crime was on the table, she said drug legalisation in the Netherlands was not.
Yeşilgöz was speaking in conversation with crime reporter and author Paul Vugts, who spent six months in a safe house after threats to his life during his years reporting for The Parool.
'Naive'
'The way we have set up our system and the laws and rules we have, have been far too naïve if you look at who is up against us,' admitted Yeşilgöz.
'In past years, when the VVD often had a leading role in the justice ministry, we didn't listen enough to the experts and people on the front line who said that there was a huge, systemic problem…undermining our public order. This has not been recognised enough, and my party had a role in this.'
Tackling corruption in the Dutch 'upper' world – amongst harbour employees, lawyers, estate agents – was now a priority, she said. Vugts proposed that civil service corruption should also be tackled, after allegations that a corrupt local council worker created passports for criminals and tax office employees sold private addresses.
'If a criminal can travel with a passport with their picture and someone else's identity, that's a golden ticket to the world,' he said. 'If a criminal can buy a license plate number for a few hundred euros – it's unbelievable. We need to look at the lower levels of government too, and that's a huge task.'
Corruption and cash
Moderator Zara Toksöz pointed out that government employees are currently not on the list of sectors identified as vulnerable to corruption – and the justice minister pledged to change this. 'That is a good idea,' said Yeşilgöz.
'It begins with awareness. If you work at the harbour…you are very attractive to criminals, so don't go to the pub in your work jacket, showing where you work. Lawyers, estate agents: people are asking us to help clean up their professions.'
Vugts said not enough attention has been paid to money laundered abroad, in property, cars and cash in other countries, and the justice minister agreed. 'I would like to take all of the money from them,' said Yeşilgöz.
'But not all of the money is in the Netherlands. This is why I was talking to the Turkish home minister two weeks ago, why we have contact with Morocco and Dubai to say that this money is being laundered in your countries.'
Legalise?
However, questions from the audience about legalising drugs including cocaine – a passing comment by Amsterdam mayor Femke Halsema at a European meeting of justice ministers last month – were firmly rejected by the justice minister.
'It's not really a discussion, and colleagues from other countries did not want to discuss it because it's really not on the agenda,' she said. 'It's not practical. This is about criminal networks that earn billions, and use them to murder lawyers and journalists, and you want me to facilitate them, to inspire the rest of the world? That is what I would be doing.
'The market is not [mostly] in the Netherlands, so what would I change by legalising it here, apart from making it easier for criminals? Rotterdam [harbour] holds the international crown for the drugs trade, and you say: please make that easier!'
De Balie
The event was the last in a week-long 'Free Thinkers Festival', held in both English and Dutch, and beginning with a debate between Russian 'dissidents' writer Maxim Osipov, director Kirill Serebrennikov, and journalist Ivan Kolpakov – all of whom have found a refuge and temporary home in the Netherlands.
At the opening debate on Friday night, Amsterdam mayor Femke Halsema said that freedoms should not be taken for granted at home and abroad, and that journalists, writers and artists play an important role in exposing tyranny.
Yeşilgöz said the fight against serious crime should be taken more seriously by all of the Dutch, in this spirit. 'The fact that we can sit here in freedom, can have a difference of opinion, that you are free to ask me critical questions, is the heart of our democracy,' she said. 'This is being seriously undermined by murderous drugs criminals.'
Thank you for donating to DutchNews.nl.
We could not provide the Dutch News service, and keep it free of charge, without the generous support of our readers. Your donations allow us to report on issues you tell us matter, and provide you with a summary of the most important Dutch news each day.
Make a donation