Supporting the Iranian protests in NL: two campaigners speak out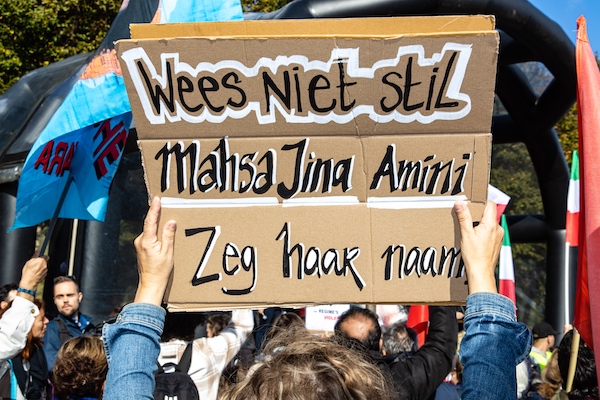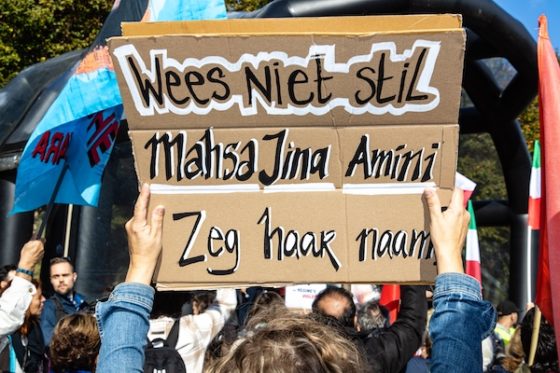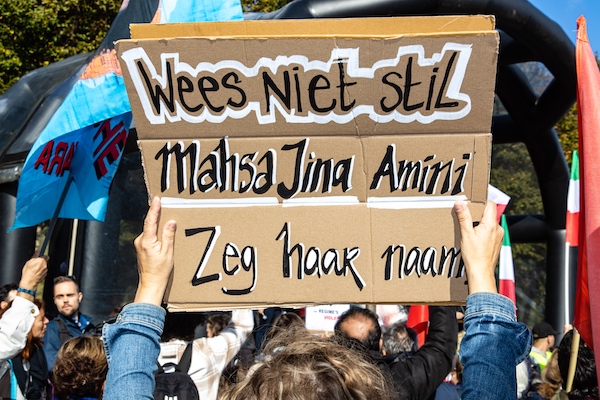 In the wake of the death of 22-year-old Iranian Masha Amini on September 16, who died after being arrested by Iran's morality police for allegedly not covering her hair properly, signs of solidarity with Iranian women have appeared across the Netherlands.  
An image of Amini was projected on Amsterdam's EYE Film Museum – which the city retweeted with the caption: 'Our city stands in solidarity with the women in Iran and all other women who fight for their freedom and equal rights' – and Dutch justice minister Dilan Yesilgöz last week cut off a lock of her hair live on television in support of women in Iran campaigning against compulsory hijabs.
There have been protests nationwide, with some 1,000 people gathering on the Malieveld in the centre of The Hague on Saturday in the country's biggest demonstration to date. Groningen, Eindhoven and Amsterdam also saw rallies where organisers say more than 1,000 people marched last weekend.
The Iranian
Sara, not her real name, is an academic from Iran who now calls the Netherlands home. She doesn't want to reveal her identity, or even her pen name, fearing for her safety.
A practicing Muslim, she says she wants nothing to do with the 'political Islam' of the current regime. 'The Ayatollah has nothing to do with Islam,' she says. 'It's called an Islamic Republic, but it's a sham. It's Islamophobia. They are using Islam to support their politics.'
Sara hopes the recent protests in her home country finally lead to regime change. Born after the Islamic Revolution, she says what she's seeing on television and social media now is like another revolution. 'I've never experienced so many people in the streets,' she says. 'There's an energy and power coming from there. I hope it's the last uprising before the regime collapses.'
She says it's the first time that younger young people have been involved, with high school pupils and college students making up a large segment of demonstrators. 'It's a different type of uprising,' she says. 'It used to be older people. Now it's the tech generation.'
A generation, she points out, that has been given hope by Elon Musk's activation of his Starlink satellite internet to circumvent the country's internet censorship. It's far from functional yet in Iran, but 'the gesture,' she says, 'has given hope to Iranian protesters, especially the younger generation.'
Dutch protests and politicians
Back on Dutch soil, Sara says she felt the energy of the protestors on Dam Square. 'There were Dutch people in the crowd, and I was so happy to see them! They came out to show their support.'
But Dutch and EU politicians, she says, can do more. They need to start doing something 'real and to stop feeling good about themselves for speaking against dictators or for accepting their refugees.'
She calls the justice minister's televised public hair clipping a 'good start to show her support for the protesters, to raise awareness or to just show her dedication to feminism. But it is too soft a reaction.'
Political power instead of scissors
'Hair cutting is a symbolic act without executive power,' Sara says. 'Politics has the executive power and these politicians know it well. Iranian women are cutting their hair to make these politicians use their political power instead of scissors.'
Sara says they can use their political will by not supporting Iran's nuclear deal, speeding up snail-paced UN human rights processes and not releasing any Iranian assets. 'Sanctions are a weak weapon against dictators,' she says. 'They're good up to a certain point, but then those they target use the sanctions for themselves.'
For now, Sara will stay in the Netherlands, where she can work.
As for the hijab that sparked a million protests?
'The hijab is not the real problem,' she says. 'The problems are the Ayatollahs who violently react to people's freedom of choice and expression.'
The Dutch woman

Grettie Lambeck spells out her name. A Groningener, she has no fear revealing her identity.
The mediator for a social living corporation has been married to an Iranian man for the past seven years. During that time, she says, he's often told her about the troubles back home, especially for women.
'I always felt strongly about women's rights,' she says, 'but I never took action. Now is my opportunity.'
Lambeck has been attending the protests in Groningen; her husband joined Sunday's protest in The Hague with friends. 'I want to march to show other people that it's not only Iranian people fighting against the regime and for women's rights,' she says. 'It's Dutch people, too.'
Lambeck has set up a Twitter account strictly dealing with the Iranian situation and she uses Facebook to share information about the protests with friends and family. 'I want to draw more attention to the situation, not just in Iran but also in other countries.'
Government response
Like Sara, Lambeck thinks politicians need to up their game. 'The Dutch government is not doing enough, at least in the public eye,' she says. 'I also think that western countries should stop negotiating a nuclear deal with Iran and freeze the money of the rich mullahs and their children, who live rich and free lives in other countries.'
As for the minister's hair snip heard across the country, Lambeck, like Sara, agrees it was a good way to draw attention to the problems Iranian women face.
'But we will not win this "fight" only by cutting hair,' she says. 'Cutting hair means something for Iranian women, but not for us. For them, it means you're protesting, getting ready for action. I hope all the non-Iranian women who cut their hair are taking more action now. I did not cut my hair. I'd rather take more action and let my hair flutter in the wind.'
Thank you for donating to DutchNews.nl.
We could not provide the Dutch News service, and keep it free of charge, without the generous support of our readers. Your donations allow us to report on issues you tell us matter, and provide you with a summary of the most important Dutch news each day.
Make a donation