'Less is more': new study of The Milkmaid reveals Vermeer's method before blockbuster exhibition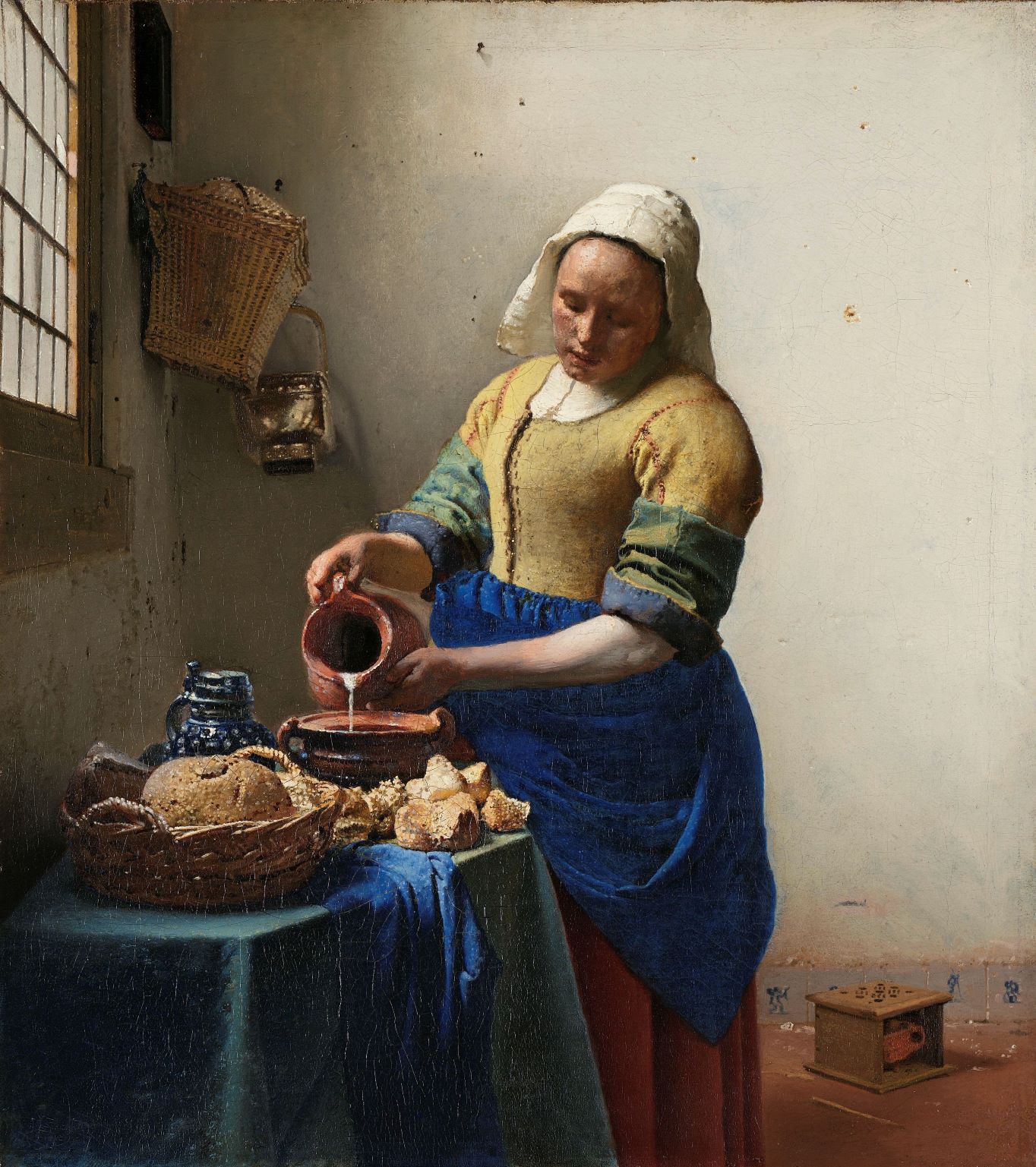 The Rijksmuseum in Amsterdam, which will for the first and last time unite 28 paintings by Johannes Vermeer, has used the most modern techniques to see how the craftsman discovered that 'less is more'.
An analysis of The Milkmaid, one of the Dutch master's most famous works, has shown bold, dark underpainting on the canvas, and revealed that he honed down the work to paint out a jug holder on the wall and a large 'fire basket' – the 17th century equivalent of a portable radiator, filled with hot coals.
'Vermeer's overpainting of the objects has a number of consequences,' said Dr Gregor Weber, head of fine arts at the Rijksmuseum. 'The milkmaid now stands in front of us in a much more monumental way, like a free standing sculpture. This step had consequences for his whole work.
'He learned less is more, which became a sort of motto for Vermeer's art: simplicity, strong images, not many distracting details, but concentration on the essential.'
Careful simplicity
Taco Dibbits, general director of the Rijksmuseum, said that the new investigation showed apparently simple recreations of domestic life are anything but. 'It is for us very difficult nowadays to look at Vermeer's painting without the realisation of photography,' he said. 'We tend to look at them as photographs, tend to think they depict reality – a snapshot of her pouring milk. Why these discoveries are interesting is because they show it's not a snapshot. He carefully composed these images to arrive at this great simplicity, for which he has been so much loved in the 20th century.'
Using techniques from medicine, also used on Rembrandt's The Night Watch – such as short wavelength infrared reflectance (SWIR), a team from the Mauritshuis, Rijksmuseum and University of Antwerp, have already investigated all seven Vermeers held in the Netherlands.
According to Weber, the findings reveal how carefully the compositions work, focusing the attention on a person in the minutest detail where there are no brushstrokes visible, just spots of light and dark – something that is of huge appeal to a modern audience hungry for domestic detail on Instagram.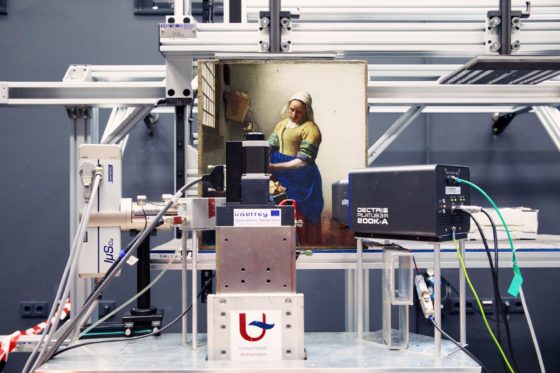 'Greatest'
'Vermeer is now one of the great artists of 17th century art, next to Frans Hals and Rembrandt,' he said. 'I must confess that I have made five or six exhibitions about Rembrandt – very boring man, only painting in brown and very dark colours. But Vermeer is the greatest. Vermeer's paintings enchant us with their stillness and introversion, still life figures which are completely at one, quite different from those comic strips [by Jan Steen].
'The girl with a pearl earring smiling at you is very attractive – he's always playing with what's inside and outside the painting. He does it in a very different manner, a more modern manner, to get the beholder inside the painting – and that's the reason why he is so popular.'
The Rijksmuseum is uniting 27 of just 35 extant works for a blockbuster Vermeer exhibition from 10 February to 4 June next year, with limited tickets in order to offer an intimate view of the works. Due to a renovation of the Frick Collection, meaning three Vermeers can be loaned, director general Taco Dibbits said such a large collection of Vermeers is possible one time only, and is shown united for the first time in the Rijksmuseum.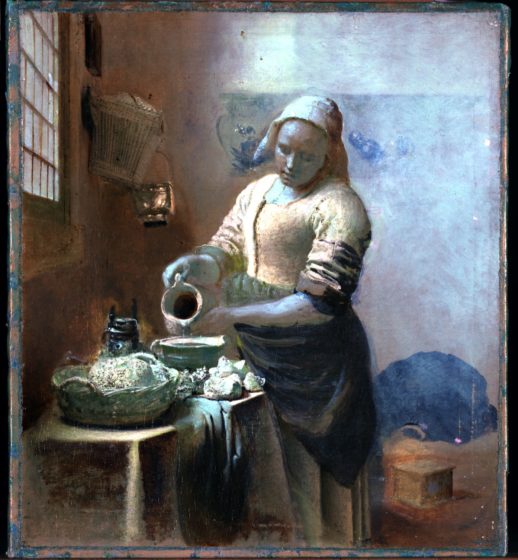 Secrets
Previously, experts assumed Vermeer worked carefully and with extreme precision, but now we can see the rapidly applied thick line of paint, sketching the milkmaid's left arm to make a picture in light and dark, as well as early parts of the composition, abandoned quickly to strengthen the image.
Annelies van Loon, paintings research scientist at the Rijksmuseum, said that previous x-ray and infrared scans suggested painted-out objects in the Milkmaid, but they were unclear until the latest, non-invasive techniques were employed – to surprising result. 'It's a painting loved by people all over the world, reproduced millions of times on mugs, cookie jars and T-shirts,' she said. 'You would think these iconic paintings have no secrets for us any more.'
At a press conference in Amsterdam, Dibbits also appealed for the return of Vermeer's The Concert, stolen from the Isabella Stewart Gardner Museum in Boston in 1990, which could itself reveal more clues to Vermeer's method. 'That was a disastrous, dramatic event, and of course we hope that the painting will be found again,' he said, 'but we never know.'
Thank you for donating to DutchNews.nl.
We could not provide the Dutch News service, and keep it free of charge, without the generous support of our readers. Your donations allow us to report on issues you tell us matter, and provide you with a summary of the most important Dutch news each day.
Make a donation